This post may contain affiliate links. As an Amazon Associate, I earn from qualifying purchases.
Imli chutney in English is translated as Tamarind Chutney. This chutney also known as khatti meethi chutney or khatti chaat ki chutney. It is a popular Indian dip served with snacks. The recipe is a vegan, gluten-free, beginner-friendly & bachelor-friendly recipe.
If you love Indian food you are bound to love this sweet & sour flavourful dip no matter what kind of snack you are having.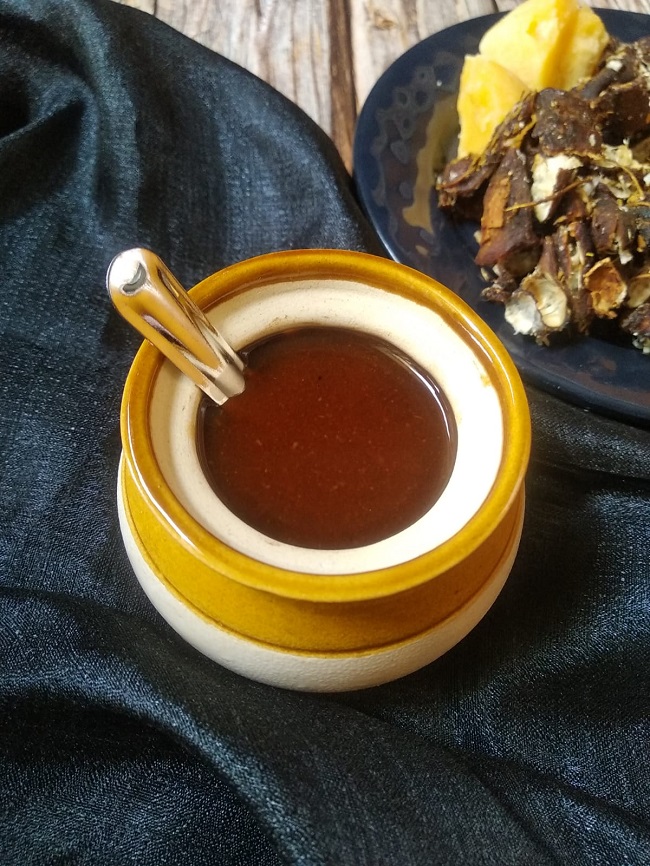 This chutney is popularly known as Imli ki chutney or khatti chaat chutney. Khatti means sour.
This simple & delicious khatti chutney- tamarind chutney is made with tender tamarind fruit along with earthy spices like cumin & garam masala. This is super easy, quick, no oil and one of the most delicious chutney recipes.
Chutneys are an integral part of the Indian diet. They are a staple in many households across India. At home, I often make this chutney every other fortnight as it comes so handy during meals or snacks.
Recently I have shared Green Chutney (Coriander Chutney) which pairs well with this sweet & sour tamarind chutney and is mostly served with Indian snacks.
You can also check out raw mango chutney which turns out spicy & tangy. Some other chutneys like dry garlic chutney, curry leaves chutney are always stocked at my home.
It is easy to store and remains good for months in the refrigerator. This is such a versatile chutney that it goes with everything.
This effortless condiment is served with snacks, such as pakodas, , samosa, kachori, batata vada, dhokla, cutlets, and aloo tikki the list is endless.
This chutney is extensively used in chaat recipes like dahi poori, shev puri, bhel puri, pani puri, ragda pattice. This imli chutney for chaat is a finger-licking delicious condiment.
There are many ways in which this tamarind chutney can be prepared. Many add sugar, dates, amchur powder (raw mango powder), garlic for that perfect sweet & zingy taste. Every household has its unique recipe for making this Imli / tamarind chutney.
I normally like to add jaggery for the texture and sweetness. You may also add brown sugar or white sugar.
The combination of sour tamarind & sweet jaggery gives you that burst of flavours in every bite.
This tamarind / imli chutney has a good shelf life when stored in the refrigerator. It stays good for months.
Always make small batches if you want to store them for a few days. Also, you need to make sure, not to use a wet spoon when using this chutney for serving.
This is a vegan and gluten-free chutney recipe. 
Let's see how to make tamarind chutney – Imli Ki Chutney in your home kitchen.
1 cup Tamarind
1 cup Jaggery
1 teaspoon Red chilli powder
2 teaspoon Garam masala powder
2 teaspoon Cumin powder
1 teaspoon Black salt
Salt to taste
1/2 cup water for cooking
3 cups of water for soaking
Let's start by soaking the tamarind.
You can soak the tamarind in normal room temperature water or hot water. I have soaked in normal room temperature water here.
If you are using hot water, soak tamarind for 20-30 minutes.
If you are using room temperature water soak for 4-5 hours.
Once the tamarind is soaked, mash it by hand and squeeze the pulp. Sieve it through the strainer. Discard the pulp.
Now in the tamarind water, add jaggery (gul), red chilli powder, garam masala powder, cumin seeds powder, black salt and normal table salt. Mix well. Add 1/2 cup of water.
Cook this tamarind in water on low to medium flame. Let this mixture come to a boil.
If there is a lot of foam forming on the top, using a spoon try to discard it.
Once the tamarind chutney has come to a boil, remove the pan from heat and keep it aside till it cools down.
Tamarind Chutney is ready.
Transfert this tamarind chutney in a clean, dry jar and refrigerate and use when required.
This chutney stays good for about 3-4 months.
You may also check out below how to make spicy coriander chutney also known as green chaat ki chutney.
Important:
While scooping out the chutney, always use a dry spoon and not the wet one. If this chutney comes in contact with water post boiling it may spoil soon.
You can adjust the consistency of this chutney as per your liking. Some like it thick and sticky and some a little watery. So adjust the water as per your personal preference.
Suggestions:
You can also add ginger powder (suntha) for extra taste.
If you do not have jaggery, add 1/2 cup of sugar or brown sugar whichever is available.
Thank you for stopping by, I would really love to know your thoughts on this recipe.
If you like this recipe or make this recipe do leave a comment and share the picture. I would love to see your creation.
If you like recipes like these, let's connect on Instagram & Facebook.
Use the hashtag #thespicycafemumbai to feature on Instagram and Facebook.
You can subscribe to my weekly newsletter to get more recipes, tips, and special updates directly in your mailbox.
For newbie bloggers: In case you are a beginner blogger, do check my other blog eralivine.com for tips on blogging especially for beginners.