Khajur Imli (Tamarind Dates) Chutney is one of the most versatile chutneys that is extensively served with snacks & used in making chaat recipes such as shev poori, dahi poori, dabeli to name a few.
Let's see how to make this imli khajur chutney with simple basic ingredients in your home kitchen.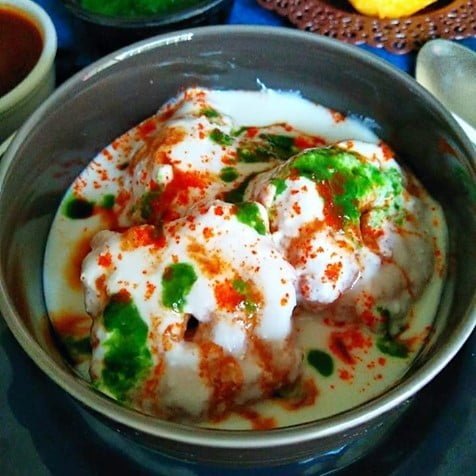 Ingredients required to make tamarind dates chutney:
1 cup deseeded Khajur (Dates)
1/4th cup Chincha / Imli (Tamarind )
1 tablespoon Gul (Jaggery)
1 teaspoon Red Chilly Powder
1 1/2 tablespoon Roasted Cumin Seeds Powder
2 tsp Black Salt
1 teaspoon Ginger Powder (optional)
Salt to taste
Water as per needed
You may also check some of these related recipes:
Method of Preparing Tamarind Date Chutney:
Soak khajur (dates) & tamarind separately in water for 5-6 hours.
After soaking, blend khajur (dates) to a fine paste by adding little water. Transfer this paste into a sauce pan to cook on a medium flame for 15-20mins.
Make tamarind pulp by just pressing out the juice from soaked tamarind. Discard the roughage (hard, thread bits).
Add gul (jaggery), red chilly powder, cumin powder, black salt, salt & tamarind pulp into the khajur (dates) mixture and let this chutney come to a boil.
Discard the thick froth with help of a big spoon that will appear when chutney starts to boil.
This froth should not be consumed.
Keep on stirring occasionally.  Add water as per your requirement. Adjust the sweetness & sourness at this point of time as.
Tamarind Date Chutney – Imli Khajur Chutney is ready. 
Serve this chutney with any snack or in chaat recipes.
What is the shelf life of this chutney?
This chutney remains good for about a week in refrigerator. Store this chutney in an air tight container.
What can I serve along with this chutney?
This tamarind date chutney is best accompaniment to Indian snacks such as Samosa, khasta kachori, Pakoda, Vada Pav.
This sweet and tangy tamarind dates chutney is extensively used in Indian chaat recipes such as shev poori, bhel poori, dahi batata poori, pani poori to name a few.
Note:
Discard the froth that appears when the chutney starts boiling. This froth should not be consumed.
Thank you for stopping by…..
Did you like this recipe? Do try & share the picture by tagging us on any of our social handles or use the hashtag #thespicycafemumbai on Instagram and Twitter
If you like us to deliver the recipes straight to your inbox then do
subscribe to our weekly Newsletter

.