This post contains affiliate links. As an Amazon Associate, I earn from qualifying purchases.
Pinwheel samosa is a unique twist to original Samosa recipe. Made by using spicy potato filling which is placed in maida (plain flour) roti then rolled out, sliced to make bite-sized pinwheels that are deep-fried to crispy and flavourful disc aka Pinwheel.
If you follow Me on my Instagram account, you know I am a samosa addict!!. Yes, I know …. I know it's not a healthy snack but there are times when I just could not control the temptation of this chatpata crispy samosa filled with flavourful spicy aloo sabji dipped into coriander – tamarind chutney!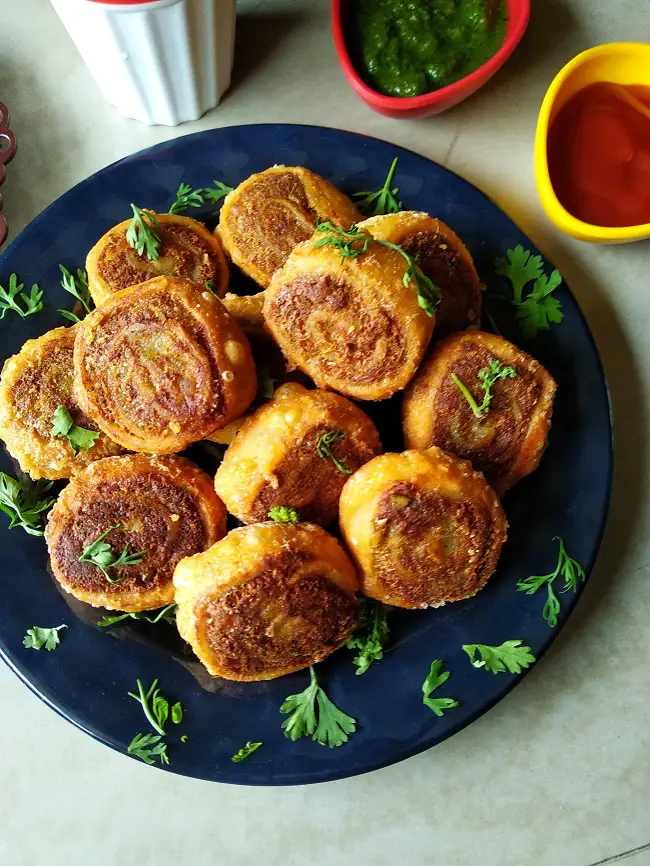 It daunts upon me the time consumed to make individual samosa and the mess it creates in the kitchen. Hence normally when I want to indulge in homemade "ghar ka samosa" I end up making these little delicious bites of pinwheel samosa instead.
Making a samosa pinwheel is far easier to make than the original samosa. It takes less time in prepping and frying. Instead of stuffing individual samosa which is often time-consuming, these pinwheels are easier to stuff then rolled like a swiss roll, sliced, dunked into Maida mixture (plain all-purpose flour slurry) and deep-fried till golden brown.
Pinwheel Samosa are a unique twist to original samosa recipe. These are known by several names such as aloo pinwheels, aloo bakarwadi, aloo pinwheels, samosa pinwheels.
These samosa pinwheels are best for party appetizers, birthday parties, kitty parties, and graduation celebrations. This is one of the crowd-pleasing appetizers that your guest will not stop munching upon.
Said that I normally can't wait for such occasions to come along, hence we make these almost once in two or three months for our light evening snack with a hot cup of ginger-infused tea!
These little bites of samosa pinwheel are super addictive and taste amazing!
You don't need to make separate aloo filling for this recipe if you have leftover sukhi (dry) potato sabji around. Just smash the sabji and add garam masala, chaat masala along with ginger-green chilli paste and that's it. A perfect way to do a leftover makeover of your aloo ki sabji.
This is a vegetarian, vegan, no onion no garlic preparation. Outer layer of this pinwheel is made up of maida (all-purpose flour) and the inside spicy and savory filling is made of boiled potatoes, and green peas mixed with finger-licking Indian spices. Then rolled, sliced and deep-fried till golden brown.
These pinwheel samosa are eaten with a dip such as mint chutney, coriander chutney, tamarind date chutney and ketchup.
Sometimes we make a finger-licking chaat recipe out of this pinwheel samosa by lightly crushing the pinwheels, adding chilled curd, drizzling with coriander chutney, tamaraind dates chutney and sprinkling spice powders like cumin powder, chaat masala, garam masala. For that extra crispness, a handful of shev and papdi are added. And Voila! your fastest samosa chaat is ready to serve.
This is such a versatile recipe that you can tweak the ingredients that suits your taste buds. Sometimes I add peanuts, raisins, cashew for flavour and texture.
In my hometown, we have a sweet shop where they add little sweet potato in samosa for texture. If you are making for kids, adding sweet potato will cut down on that spiciness, that sometimes is not well tolerated by the kids.
(If you love sweet potato then have a look at this sweet poato stir fry recipe / upma & sweet potato sabji)
The best thing about these pinwheel samosa is that you can make the rolls ahead of time and refrigerate them. When you want to serve them, thaw them first and then deep fry them.
For a healthier option, you can also bake these pinwheels. Preheat the oven to 180 degrees Celsius and bake for 17-20 minutes or till it turns golden brown.
Not only for parties or as a tea time snack, but these irresistible pinwheels are normally made in our home during festive occasions such as holi, dahi handi to name a few.
To make samosa normally maida (all-purpose flour) is used. Hence I like to make the crust using maida itself which gives a nice crunch to the outer layer. You can also use wheat flour or readymade pastry sheets.
Let's see how to make Samosa Pinwheels with basic ingredients in your home kitchen.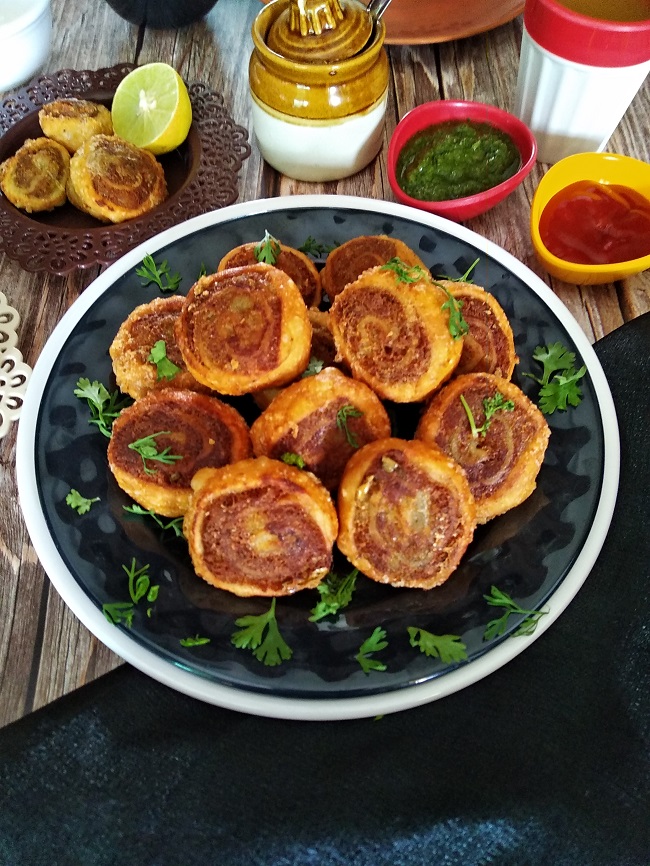 For Potato Filling:
4-5 nos. Potatoes (Boiled , Peeled, Mashed)
1/2 cup Green Peas (Fresh or Frozen)
2 teaspoon Ginger – Green Chilies Paste (coarsely crushed)
1 teaspoon Red Chilly Powder
1 1/2 teaspoon Garam Masala Powder
2 teaspoon Chaat Masala OR Amchur (Dry Mango) Powder
1 teaspoon Jeera (Cumin) Powder
1 teaspoon Dhaniya Coriander Powder
Salt to taste
Coriander leaves finely chopped
Juice of Half Lemon
Oil for Frying Pinwheels
For Outer Crust:
1 cup Maida ( All purpose flour)
1 teaspoon salt
Water to knead the dough
For Maida Slurry:
3 tablespoons Maida (all-purpose flour)
1/4th cup Water
 For Dough
In a mixing bowl add maida, oil and salt. Mix well. Start adding water little by little at a time and start kneading a stiff dough. 
Apply a little bit of oil on the kneaded dough to keep it from drying out. Cover the dough and keep it aside for 20 minutes.
For potato filling
In a bowl, add mashed potatoes, green peas, red chilly powder, garam masala powder, chat masala or amchur powder, jeera (cumin) powder, coriander powder, salt, and finely chopped coriander leaves and lemon juice. Mix everything well. Check for seasoning and adjust accordingly.
For Slurry
In a bowl add 3 tablespoons maida.
Add 1/4th cup of water (at room temperature) and mix well. Make a thin slurry.
Make sure no lumps are formed.
A slurry is a mixture of two ingredients, mainly water or any liquid (cold or at room temperature) and a thickening agent such as cornstarch, arrowroot, all-purpose flour, etc.
Making of Pinwheel Samosa
In a kadhai / pan heat 2 tablespoon of oil, add ginger-green chilli paste and sauté for a minute till the raw smell fades away.
Now add the potato mixture that we made along with all the spices. Mix well and cook this mixture for about 5 minutes on high flame so that spices nicely get incorporated with the potatoes.
Take this mixture off the heat and keep it aside to cool down to room temperature.
On a rolling board, knead the maida dough that we prepared just to loosen it out.
Divide this dough into equal parts. Take one part of the dough and roll it into a roti like we do for chapati.
Place the potato stuffing on this rolled maida roti and spread it evenly. Leave a 1-inch space at the edges.
Now roll the maida roti tightly.
Apply the maida slurry on the edges at the end of the roll and seal the ends.
Once the roll is prepared, cut it into 1/2 inch thick slices. Press each pinwheel lightly between your palms to flatten it out little bit.
Meanwhile keep oil to heat in a kadhai, once the oil is hot, take one pinwheel, dip it into the maida slurry and gently slide the pinwheels in the oil.
Likewise, fry the pinwheels in small batches
Deep fry till golden brown from both sides till they are nicely crisp.
Once done, transfer pinwheels on an absorbent paper to remove excess oil.
These are so flavourful that you actually don't need any condiment with it.
Note:
Make sure you knead a stiff dough.
To avoid aloo stuffing ooze out of the pinwheel, always dip each pinwheel into maida slurry before frying in hot oil.
Thank you for stopping by…..
If you like recipes like these, let's connect on Instagram & Facebook.
Use the hashtag #thespicycafemumbai to feature on Instagram and Facebook.
If you like us to deliver the recipes straight to your inbox then do subscribe to our weekly newsletter.
For newbie bloggers: In case you are a beginner blogger, do check my other blog eralivine.com for tips on blogging especially for beginners.