This post may contain affiliate links. As an Amazon Associate, I earn from qualifying purchases.
Bhadang is a Maharashtrian crunchy spicy chivda made with thick variety of puffed rice also called as kurmura / murmura that is tossed with peanuts, dried coconut slice (kopra), curry leaves and spiced with red chilli powder, turmeric powder.
Each bite of this bhadang is extremely flavourful that appeals to your taste buds. Peanuts, dry coconut, curry leaves adds wonderful crunch and texture to this dish. There are many ways in which this bhadang is made across Maharashtra and Karnataka. Most popular being Sangli and Kolhapur bhadang which are way to spicy and flavourful.
Making bhadang is extremely simple, quick and easy. This snack that can be made within minutes. No fancy ingredients are required to make this dish, just basic spices that are easily available in every household. This is our most favourite go-to evening snack along with hot cup of tea!
Bhadang is vegan and gluten-free recipe that is extremely low in calories which makes it a perfect guilt free snack to munch upon.
The best part of this flavorful bhadang is, you can make a large batch of it and store it in an *air tight container at room temperature. It stays good for about 10 -15 days. But normally it won't last that long in your house either like mine. It gets finished off super quickly 🙂
Bhadang is extremely addictive, healthy and filling. Many a times this recipe is made in edible coconut oil which adds a nice taste to this chivda. I however use *Fortune rice bran oil to make this bhadang.
Readymade bhadang packets are easily available in grocery stores all across India. But when you make this snack at home, you are rest assured of the quality of ingredients that goes into this bhadang making it more healthy and nutritious.
Bhadang is perfect to carry along during long distance travels. It is a good option to munch upon when hungry as it is quite filling. I personally used to take this in tiffin during my office days to have it during tea time. The spicy bhadang along with hot sip of tea is a jodi made in heaven!
Bhadang can be made plain or spicy. In my home, we normally alternate the recipe so that we don't get bored eating the same flavour again and again. Some times we add garlic to enhance the taste and sometimes we just make with basic two spices using just red chilli powder and turmeric powder.
This is such a versatile recipe, that you can tweak the ingredients every time you make a new batch of this crunchy bhadang to suit your taste! In Karnataka, metkut ( A Maharashtrian spice powder made from rice, wheat lentils with some basic spices) are added to enhance the flavour of this bhadang.
In many household, bhadang spice mix are prepared which are then added to the kurmura / murmura. Sometimes the fiery Kolhapuri spice mix – kanda lasun masala is also added to give that spicy kick to this dish.
When we have bhadang ka dibba stored in our pantry, their are time's when we can't resist to make bhel out of it. Being healthy and lite snack this bhadang can be easily converted into sukhi bhel OR gili bhel (wet one with chutneys) with addition of some veggies, shev and papdi. And Oh yes! during mango season I couldn't help to add generous amount of finely chopped Kairi (raw mango) on top of my sukhi bhel! Bliss!!
Bhadang is favourite among kids, adults, elders. When making for children do cut down on spice and serve them in tiffin or when they come home hungry after school or play. Bhadang is great option to pack for children's tiffin during short break hours. Instead of munching upon junk food this would be the best healthy snack for them.
You may also check some of these related recipes:
Let's see how to make this quick and easy crunchy, flavourful Bhadang recipe with simple basic ingredients in your home kitchen.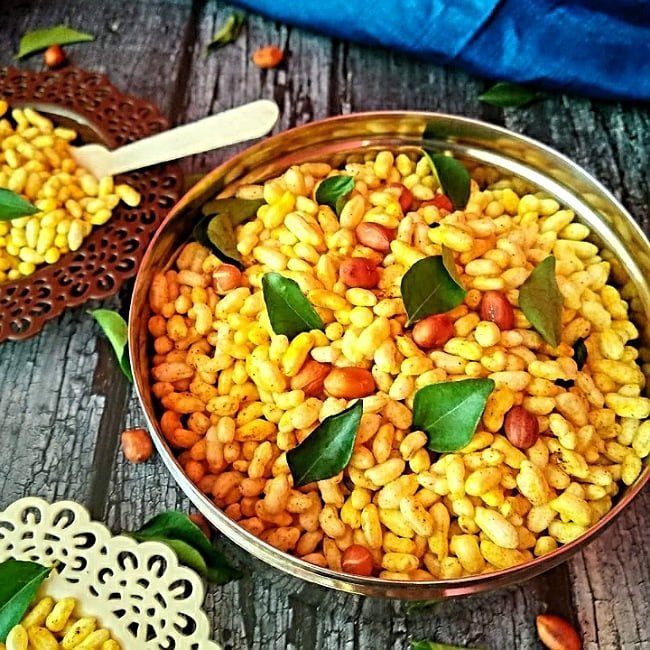 Serves: Makes up to 6-7 Big Bowls
Prep time: 5 minutes
Cook time: 15 minutes
Cooking level: Very Easy
Taste: Spicy
Ingredients required for the recipe:
200 gram Puffed rice
1/2 cup Raw Peanuts
1/4th cup Dry Coconut Slices
1 tablespoon Mustard Seeds
1 teaspoon Turmeric Powder
1/2 teaspoonHing (Asafoetida)
4 tablespoon Red Chilly Powder (depends on how spicy to like)
2 teaspoon Coriander Powder
2 teaspoon Cumin Powder
2 teaspoon Garam Masala
9-10 nos. Curry Leaves
1 tablespoon Sugar
Salt for taste
3 tablespoon Oil
How to prepare Bhadang (Spicy Murmura Chivda):
In a heavy bottom pan heat oil.
Add mustard seeds, when mustard seeds begins to crackle add turmeric powder, hing, curry leaves, coconut slices and peanuts. Keep the flame on low.
Sauté for 2 mins till peanuts changes colour to light brown.
Now turn off the flame, add a cup of kurmura / murmura followed by red chilly powder, cumin powder, coriander powder, garam masala powder and salt. Mix and now add the remaining kurmura / murmura.
(I add half kurmura first so that the spices don't burn in the hot oil. But if you wish you can add the spices directly in the oil first then followed by kurmura).
Now mix the kurmura / murmura with the spices and on low flame now start roasting the kurmura / murmura. Roast kurmura / murmura continuously till they turns crisp. This process might take approximately 15 mins on low to medium flame.
Once the kurmura / murmura are crispy and covered with all the masala add 1 tablespoon of sugar and mix well for a minute.
Bhadang / Spicy Murmura Chivda is ready.
Once Bhadang cools down, store it in an airtight container.
Serve Bhadang as a snack with hot cup of tea or for mid day meal.
Note:
Always make sure that you roast every item on low flame.
If you want to add more flavour to this bhadang, you may add roughly crushed garlic in the tempering before you put curry leaves.
You may add roasted chana dal (dalia / pandharpuri dal) for taste and crunch. I personally don't add chana dal in Bhadang but always add in Poha Chivda, it gives a nice taste and texture to the chivda.
Sometimes instead of red chilli powder, fresh green chillies are used. But you need to be very careful while adding the chillies. If the chillies does not dry up completely and retains any water then it might make the kurmura soggy.
Thank you for stopping by…..
Did you like this recipe? Do try & share the picture by tagging us on any of our social handles or use hashtag #thespicycafemumbai on

Instagram

and

Facebook
If you like us to deliver the recipes straight to your inbox then do
subscribe to our weekly newsletter

.
Happy Cooking!