This post may contain affiliate links. As an Amazon Associate, I earn from qualifying purchases.
Coriander chutney! who doesn't love it? Coriander chutney also known as green chutney or hari chutney is a popular Indian dip served with snacks & meals. The recipe is a vegan, gluten-free, diabetic-friendly, beginner-friendly & bachelor friendly recipe.
If you love Indian food you are bound to love this spicy, flavourful dip no matter what kind of meal you are having.
This chutney is popularly known as hari dhaniye ki chutney or chaat chutney.
This simple & delicious Green chutney- coriander chutney is made with fresh green cilantro (coriander leaves) along with green chillies, onions, and garlic. This is super easy, quick, no oil and one of the most delicious chutney recipes.
Chutneys are an integral part of the Indian diet. They are a staple in many households across India. At home, I often make this chutney every other fortnight as it comes so handy during meals or snacks.
Recently only I have shared raw mango chutney which turns out spicy & tangy. Some other chutneys like dry garlic chutney, curry leaves chutney are always available at my home.
This is a zhatpat hirvi chutney. Making coriander chutney takes just a few minutes. All you have to do is put everything in a blender and blend to a smooth paste, it's that easy. This is such a versatile chutney that it goes with everything.
This effortless condiment is served with snacks, such as pakodas, sandwiches, samosa, kachori, batata vada, dhokla, cutlets, and aloo tikki the list is endless. This chutney is extensively used in chaat recipes like dahi poori, shev puri, bhel puri, ragda pattice. This hari chutney for chaat is a finger-licking delicious chutney.
There are many ways in which this green chutney can be prepared. Many add tomatoes, peanuts, spinach, and ginger for that perfect texture and taste. Every household has its unique recipe for making this coriander chutney.
I normally like to add onions for the texture and garlic for that awesome flavour. The other kind of green chutney is the coriander-mint chutney, where mint leaves are added along with coriander, herbs and spices. This coriander-mint chutney is far more refreshing!
You can use this green chutney in rolls, frankie, salads, it gives that burst of flavours in every bite.
In the olden days, any kind of chutneys were made on grinding stone (pata -varvanta) and in many parts of rural areas they still make them in the old traditional way.
No doubt the taste differs, the ones done on grinding stone taste way much better than done in our electric grinder.
But who has the time to sit and grind the chutney, which takes longer time? No matter which way you choose to make this cilantro chutney, it always comes out refreshingly delicious!
Coriander chutney not only tastes delicious but has a tone of health benefits, such as:
Coriander leaves are rich in vitamin K
They are rich in anti-oxidant
Good for heart
Promote digestion & gut health
Helps lower blood sugar
Protect from skin rashes
Many times, curd is also added to this chutney to make it more smooth & silky, I personally do not prefer to add it. It changes the taste of this recipe completely.
The combination of fresh coriander leaves, with tangy lemon juice, spicy chillies & flavouful garlic gives you that burst of flavours in every bite.
This coriander chutney has a good shelf life when stored in the refrigerator. It stays good for a week. Always make small batches if you want to store them for a few days.
At home, we even like to serve this green chutney with parathas, dosa, chilla, bhakri, roti, dal rice, sambar rice, medu vada, and pakoda. This is a vegan and gluten-free chutney recipe. 
Coriander leaves (Cilantro): I have used 2 cups of fresh coriander leaves along with some tender stems.
Onion: I have used one small onion which gives this chutney a nice taste and texture.
Herbs & Spices: I have used garlic, ginger, and green chilles in this recipe
Seasoning: I have used salt and lemon juice. Lemon juice is a must in this chutney, so do not skip it.
The addition of lemon gives a refreshing taste and helps to keep the green colour of chutney for a longer time.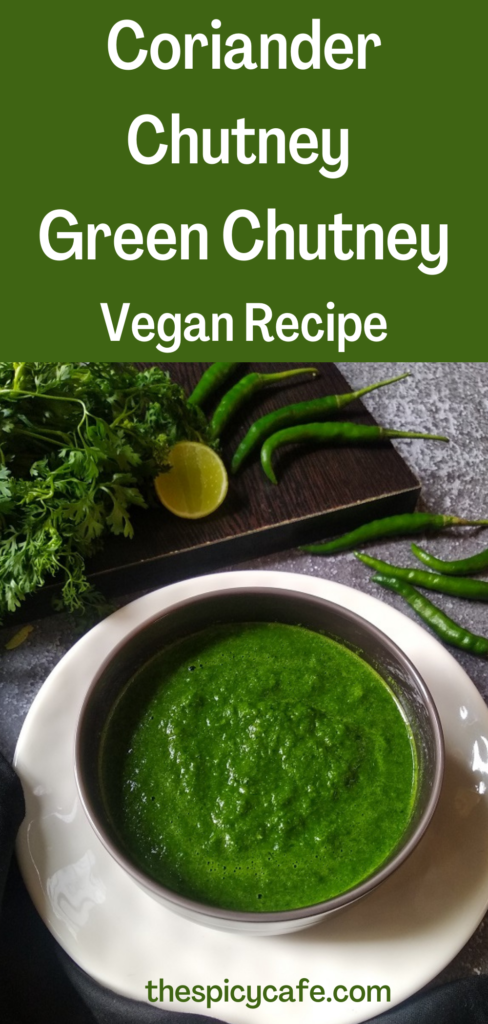 Let's see how to make green chutney- coriander chutney in your home kitchen.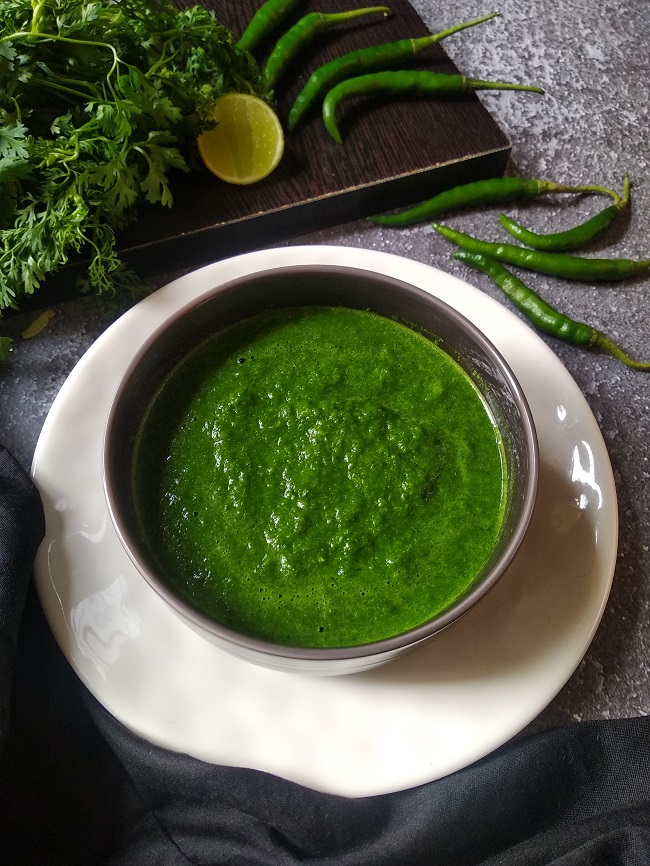 2 cups coriander leaves (cilantro)
1 small sized onion (cut in quarters)
2-3 green chillies (depending on how spicy you want the chutney)
3 garlic cloves
An inch of ginger
3 teaspoon lemon juice (adjust according to your preference)
Salt to taste
Checkout Recipe Video Of Coriander Chutney
To make this chutney I have included the tender stems of coriander aswell which have lots of flavours in them.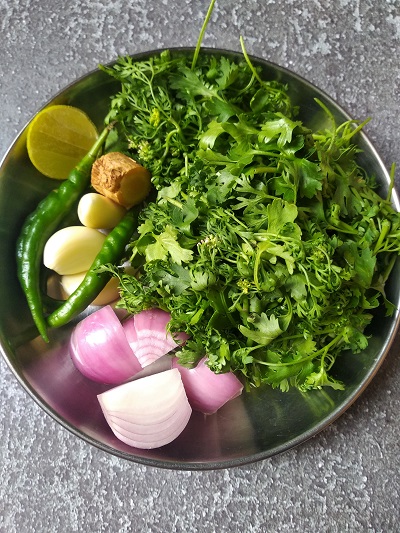 Wash coriander leaves and tender stems under running water.
In a blender, add onion cut into quarters. Add peeled garlic cloves, ginger, green chillies, coriander leaves, lemon juice and 1/4th cup of water.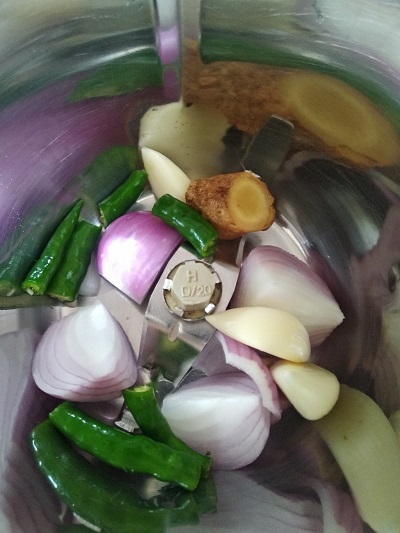 Blend all the ingredients to a fine smooth paste.
I had fresh raw mango at home, hence I included that too for that extra zing. This is optional, if you have and if you like raw mango then do add or you may skip it altogether.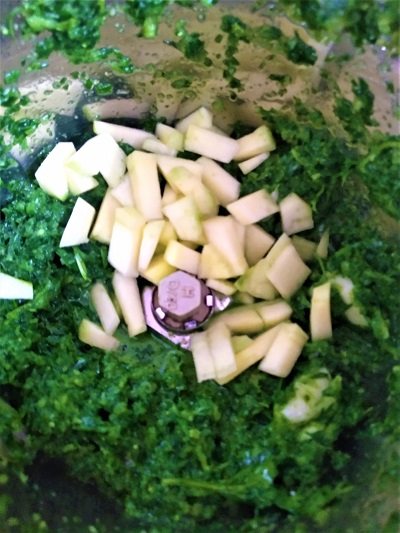 Green Chutney – Coriander Chutney is ready. Serve it with snacks or meals or enjoy it with your chaat recipes!
Store it in an air-tight container in the refrigerator.
Suggestions:
Instead of onion & garlic, you can substitute it with one small tomato and an inch of ginger.
You may also add washed spinach leaves to enhance the colour and health quotient.
For texture, you may add roasted daliya (pandharpuri dal) or raw peanuts.
Skip nuts if you are allergic to them.
Thank you for stopping by, I would really love to know your thoughts on this recipe.
If you like this recipe or make this recipe do leave a comment and share the picture. I would love to see your creation.
If you like recipes like these, let's connect on Instagram & Facebook.
Use the hashtag #thespicycafemumbai to feature on Instagram and Facebook.
You can subscribe to my weekly newsletter to get more recipes, tips and special updates directly in your mailbox.
For newbie bloggers: In case you are a beginner blogger, do check my other blog eralivine.com for tips on blogging especially for beginners.