This post may contain affiliate links. As an Amazon Associate, I earn from qualifying purchases.
Kadipatta chutney in English means Curry Leaves Chutney. Made with fresh curry leaves that are slightly roasted with lentils and spices to make a finger-licking healthy, nutritious and diabetic-friendly condiment that goes best with any meal and snack. A no onion no garlic, vegan and gluten-free chutney recipe.
Throughout the year, I make sure my pantry is stocked with pickles and chutneys. Condiments play an important role in Indian Cuisine. I always need to have some or the other pickle or chutney with my meal otherwise the meal itself feels incomplete.
Normally my pickles are store-bought, except in summers when we make fresh mango pickle from the hard, tangy raw mangoes. But when it comes to chutney the scene is quite opposite.
I avoid store-bought chutneys as My Mom makes varieties of delicious finger-licking chutneys at home like dry garlic coconut chutney, raw mango chutney, dry peanut chutney, sweet and tangy sesame chutney to name a few. One such gem amongst them is super nutritious and flavorful kadipatta chutney also know as curry leaves chutney.
Being crazy about pickles and chutneys, these condiments get over soon at my place. My Mom purposely makes them in small batches so they can retain their taste, smell and benefits till the time they get finished. I am always thrilled when vegetable vendor hands over a huge bunch of curry leaves! Yay! a new batch of curry leaves chutney is about to happen!
Curry leaves / kadipatta leaves are an integral part of Indian cuisine. These aromatic leaves are extensively used in southern parts of India like Maharashtra, Karnataka, and Andra Pradesh. In South India, these curry leaves are used prominently in every other dish. Fresh curry leaves chutney imparts a wonderful aroma and flavour to the meal.
Kadipatta / curry leaves provide numerous health benefits. Let's see some of these benefits:
1. Curry leaves are diabetic friendly (anti-diabetic in nature)
2. They boost iron levels
3. Curry leaves are a rich source of vitamin A
4. These leaves are Antimicrobial
5. They are a rich source of Calcium & Folic Acid
6. Curry leaves are said to be good for digestion
7. They also help in flushing out the toxins from the body
8. Curry leaves oil helps boost hair growth & intake of these leaves boosts skin texture
9. These magical leaves also helps in improving eyesight
Looking at these benefits, who wouldn't like to include this wonderful herb in their diet?
Normally curry leaves are used extensively in tempering and then discarded and not consumed. Intake of this kadipatta chutney ensures that we get all the health benefits this magical plant imparts.
Curry leaves chutney is very easy and quick to make. This chutney is very tasty and healthy. Made using fresh curry leaves / kadipatta leaves along with tangy tamarind, roasted chana dal also known as Dalia or pandharpuri dal, sesame seeds to name a few and then roasted and ground to a powder.
This chutney is vegan and gluten-free. Once made this kadipatta chutney can be stored in an air-tight container which stays good for about 4 weeks at room temperature. Fresh curry leaves infuse wonderful flavour to any dish they touch.
Apart from just including this as a condiment, this is such a versatile chutney that can be added to curries, rolled in chapati for a healthy mid day snack, placed in between two slices of bread for those evening cravings and served along with a hot cup of tea. For a healthier version use multigrain bread or whole wheat bread. And there you go, sorted out for those nasty hunger pangs!
To make this chutney no tempering is used. This is a no onion no garlic chutney (satvik chutney). This kadipatta chutney has a distinct aroma and adds flavour to the meals. This kadipatta chutney / curry leaves chutney goes very well with savoury pancakes like dhirde, ghavan, dhapate (Maharashtrian snacks), pakoda and most South Indian snacks like Rava dosa, idli, vada, uttapams to name a few.
I like to have it with pithla bhat, amti bhat (dal rice), sambar rice and moong dal khichadi too! Curry leaves chutney / dry kadipatta chutney oomph up the taste of any meal you had it with.
You may also check some of these related recipes:
Let's see how to make this healthy and nutritious Dry Kadipatta Chutney / Curry leaves Chutney with simple basic ingredients in your home kitchen.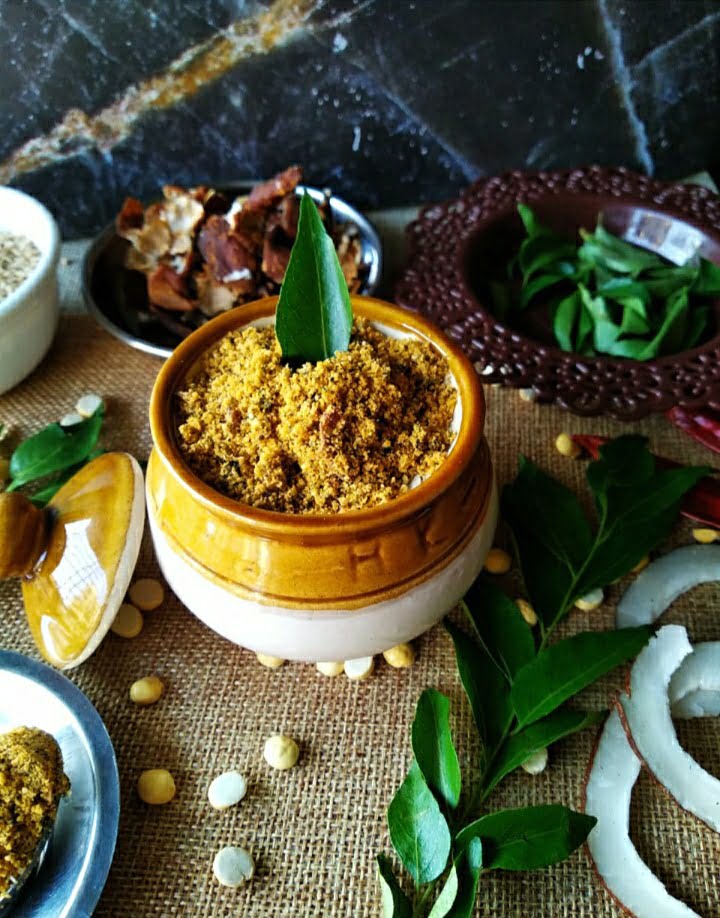 1 1/2 Cup Kadipatta / Curry Leaves
1 cup Dry Coconut (grated)
4 teaspoon Sesame Seeds (Safed Til)
4 teaspoon Roasted Chana Dal ( Dalia, Pandharpuri Dal)
1 teaspoon Tamarind
1 teaspoon Red Chilli Powder
Salt as per taste
1/2 teaspoon Oil
1 Roast kadipatta in 1/2 tsp of oil till they loose the moisture and turn crisp. Once done keep them aside to cool.
2. Now in the same pan dry roast sesame seeds (til), grated dry coconut, chana dal and tamarind individually one by one for 4-5 mins on low to medium flame. Do not use soaked tamarind pulp, use dry tamarind fruit.
3. Make sure not to burn the ingredients, they should slightly change their colour.
4. Once all the ingredients are roasted well, let them cool down.
5. Once cooled, now add all the ingredients along with roasted kadipatta in a blender. At this moment add red chilli powder and salt to taste.
6. In a blender, grind to a coarse or fine powder as per your preference.
7. Dry Kadipatta Chutney / Curry Leaves Chutney is ready.
Note:
This is a dry / sukhi chutney, hence do not use soaked tamarind pulp. Use the dry tamarind itself.
You may also add amchur powder instead of tamarind. Just a teaspoon of amchur powder can be used.
Thank you for stopping by…..
Did you like this recipe? Do try & share the picture by tagging us on any of our social handles or use the hashtag #thespicycafemumbai on

Instagram

and

Facebook
If you like us to deliver the recipes straight to your inbox then do
subscribe to our weekly newsletter

.
Happy Cooking!