This post may contain affiliate links. As an Amazon Associate, I earn from qualifying purchases.
Kairi chi chutney in English translates to raw mango chutney. This is a spicy & tangy condiment made with firm raw mangoes (kairi). This is vegan, no oil, gluten-free, beginner-friendly recipe.
Kairi chi chutney also known as kaache aam ki chutney / green mango chutney / raw mango chutney is a flavourful spicy and tangy accompaniment made using fresh raw mangoes (kairi) along with coriander leaves (cilantro), freshly scraped coconut, garlic, green chillies and spices.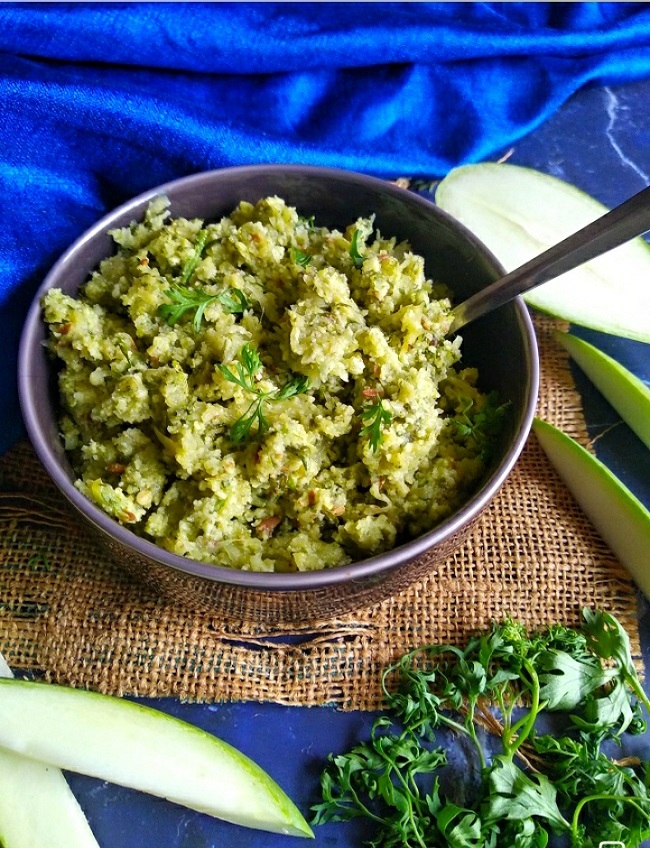 This chutney goes best with Indian snacks and as an accompaniment to the meals. This is a delicious and irresistible condiment to include in your meals. Making kairi chutney / raw mango chutney is super quick and it tastes refreshing.
All you need to do is combine all the ingredients and blend them into a coarse or fine paste, it's as simple as that.
And a cherry on top, it's an oil-free chutney recipe. If you want, you may add tadka, but actually it's not needed at all.
This raw mango chutney – kairi chi chutney is typically eaten as a side dish with meals or snacks. At home, we make this chutney in several variations. Sometimes we use jaggery and red chilli powder. Sometimes we use coriander leaves and mint leaves.
I personally love this chutney with medu vada. It tastes soooo yummy!
I like to keep this kacche aam ki chutney a little rustic hence I don't blend it all the way through to a fine paste. But it's a personal preference, hence you might blend it to a fine paste or keep the consistency a little coarse.
Also as I am a total kairi freak 😁 , I have added fewer cilantro leaves here as I do not want the overpowering taste of cilantro. Hence this chutney is not looking as green as it should be. Again it's a personal preference.
This kairi chi chutney – raw mango chutney has a good shelf life when stored in the refrigerator. It stays good for a week. If you add tadka to it, it will stay good for more two to three days.
Apart from this kairi chutney, you will find so many traditional Indian recipes made from kairi / raw mango all across the country. I always feel like in India, mango season is actually celebrated as a festival! with so many wide varieties of recipes prepared using raw mango or mangoes is a feast in itself.
Some of the most popular raw mango dishes that are prepared are kairi cha loncha (aam ka achar / raw mango pickle), Kairi che panhe (aam panna), a Maharashtrian speciality of ambe dal, kairas (aam ki launji), then the sweet moramba, the list is endless.
Summers are harsh here in India, but this fruit makes the heat bearable!
Consuming raw mangoes in summer has its very own health benefits.
Raw mangoes contain vitamin C which helps to increase immunity.
Raw mangoes help in the prevention of heatstroke.
To make this delicious chutney, always make sure to select raw mangoes (kairi) that are firm to touch and sour in taste. If the kairi is a bit sweet, it will totally ruin the taste of the dish.
This tongue-tickling mango chutney can be served with parathas, dosa, chilla, bhakri, roti, dal rice, sambar rice, medu vada, and pakoda.
This is instant raw mango chutney, you do not need to keep it aside for days. Just blend and serve, it's that simple!
Kairi / Kaccha Aam / Raw Mango: I have used 1 big raw mango here, which is firm to touch and sour in taste. I washed it under tap water and removed the skin using a potato peeler and grated it.
Coconut: I have used freshly scrapped coconut here.
Herbs & Spices: I have used garlic, ginger, green chilles, cumin seeds & cilantro (coriander leaves) here which enhances the flavour of this chutney.
Seasoning: I have used salt and sugar in this recipe. Sugar helps in balancing the sourness of this kairi chi chutney.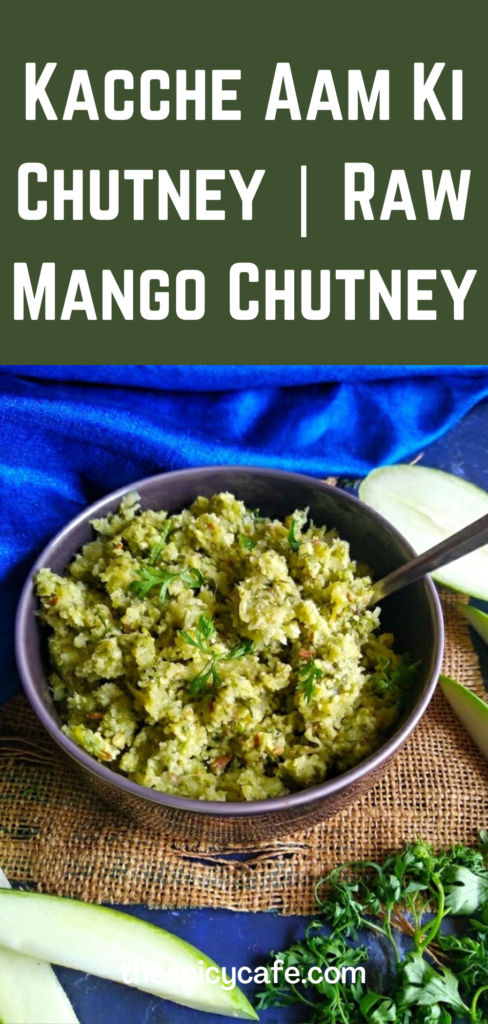 Let's see how to make Raw mango chutney / Kairi chi chutney / Aam ki chutney with basic ingredients in your home kitchen.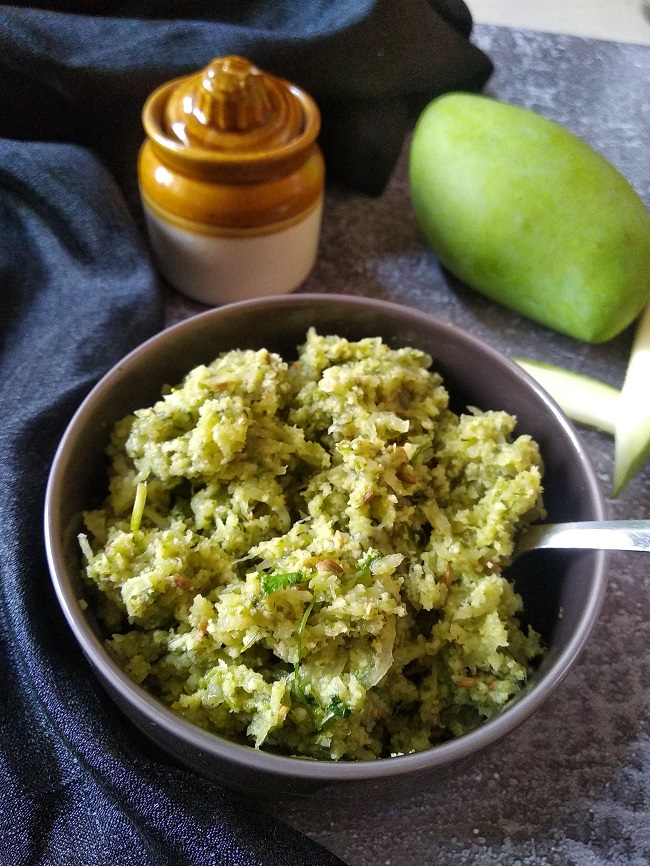 1 cup grated raw mango
1/2 cup freshly scraped coconut
1/2 cup coriander leaves (cilantro)
4 garlic cloves
Half inch ginger
4 green chillies (adjust as per taste)
1 teaspoon jeera (cumin seeds)
2 teaspoon sugar (adjust accordingly with regards to the sourness of the raw mango)
Salt to taste
Peel and grate the raw mango.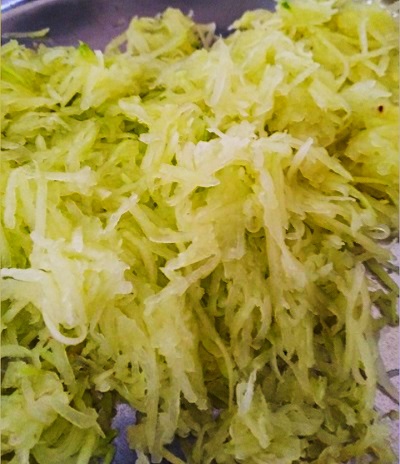 In a blender, add all the ingredients and blend them into a paste.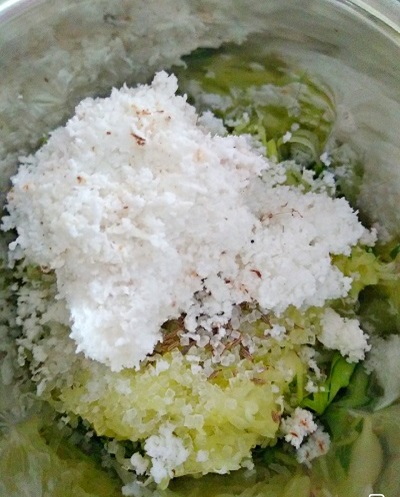 Do not add water while blending. If water is added, then consume the chutney within 3 days.
Blend the chutney to coarse or fine paste as per your preference. Personally, I like to keep it coarse.
Kairi chi chutney is ready.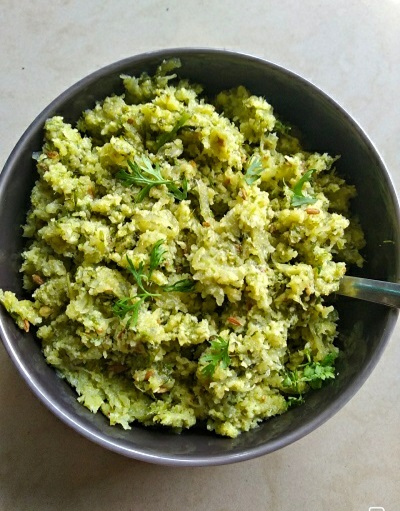 Serve as an accompaniment to meals or snacks.
Store this raw mango chutney in an airtight clean jar.
Refrigerate it and use it when needed.
In case you want to add tadka:
In a small kadai / pan heat a tablespoon of oil, add jeera (cumin seeds), and let them sizzle. Add 1/2 teaspoon hing (asafoetida), 4-5 curry leaves and pour this tadka on the chutney.
Instead of jeera you may also temper it with mustard seeds.
Important:
Store this chutney in the refrigerator and consume it within a week.
Thank you for stopping by…..
If you like recipes like these, let's connect on Instagram & Facebook.
Use the hashtag #thespicycafemumbai to feature on Instagram and Facebook.
If you like us to deliver the recipes straight to your inbox then do subscribe to our weekly newsletter.
For newbie bloggers: In case you are a beginner blogger, do check my other blog eralivine.com for tips on blogging especially for beginners.