This post may contain affiliate links. As an Amazon Associate, I earn from qualifying purchases.
Bhatache vade also know as Chawal ke pakode in Hindi and  Rice Fritters in English are crispy fried snack recipes made with leftover cooked rice that is mixed with besan (gram flour) along with flavourful spices and then deep-fried. This is a vegan & gluten-free recipe.
When it comes to leftover rice recipes, there are numerous recipes that are normally prepared in every household across India from Maharashtrian Phodnicha Bhat to the most popular South Indian Lemon Rice. Then there is masala rice, and rice cutlets to name a few.
Rice being the staple food of India, it's an important part of our diet, and we Indians as you all know love rice in any form. No wonder there is always some leftover rice sitting quietly in our refrigerator that needs to be experimented with.
Bhatache vade / Rice pakora made from leftover cooked rice also known as chawal ke pakora, chawal bhajiya or bhatachi bhajji (bhajji in marathi means pakore) is a quick and easy recipe for perfect tea time snack.
Deep-fried snacks are one of the favourite tea-time snacks at my house. Pakoras are a much-loved snack and are generally served with spicy coriander mint chutney or tomato ketchup along with a hot cup of ginger tea or coffee.
These pakora's turn out very crispy due to their main ingredient i.e Rice. Besan gives this pakora a nice binding and a perfect texture.
This crunchy delicious snack can be made in just under 30 minutes once you have leftover rice on hand. These fritters when fried to golden brown turn crispy from the outside and soft from the inside.
These pakora make the best appetizer for Birthday parties, get-togethers, kitty parties, game nights, or to entertain your guest when they drop by unannounced.
The recipe is so easy and versatile that you can easily tweak it according to your taste buds and still can't go wrong with it.
In India, you will find varieties of fritters (pakora) that are made out of vegetables, lentils, legumes, dairy products and bakery products.
Some popular pakoras / fritters that you will find often made are onion fritters, cabbage fritters, spinach, cauliflower, sweet corn fritters, potatoes, paneer (Indian cottage cheese), bread fritters / bread pakora to name a few.
I have used basic spices, veggies, and herbs such as onion, garlic, ginger, and coriander to name a few. But if you want it more flavourful and chatpata you may add chaat masala or amchur powder and vegetables of your choice.
I have made this bhatache vade / rice fritters with besan (gram flour). In case you do not have besan (gram flour), you may use cornflour or rice flour.
No fancy ingredients are required here! These pakoras are prepared using minimal ingredients that are easily available at home.
These rice pakoras are best served with tomato sauce or coriander mint chutney. Actually, they taste wonderful without any condiments.
These are super addictive melt-in-mouth vegan appetizers. So whenever you are craving pakoras / fritters, do try these crispy & tasty rice fritters / bhatache vade / chawal ke pakore. Believe me, you are not going to stop at just one or two!
Rice: I have used leftover rice for this recipe. In case you want to use the fresh rice then let it cool down to room temperature before you start making the batter.
Besan (Gram Flour): Besan is used here to give binding to these pakoras. You may also make use of rice flour along with besan for extra crispness.
Herbs & Spices: I have used flavourful herbs like ginger, garlic, curry leaves, carrom seeds (ajwain), fresh cilantro along with earthy spices like garam masala, red chilli powder to name a few.
Seasoning: I have seasoned these pakoras with regular table salt.
Oil: I deep fried these rice pakora / chawal ke pakore in sunflower oil.
Water: I used a very little amount of water here, just to bind the gram flour (besan) & rice.
Let's see how to make bhatache vade / chawal ke pakore / rice firtters in your home kitchen with basic ingredients that are easily available in every household.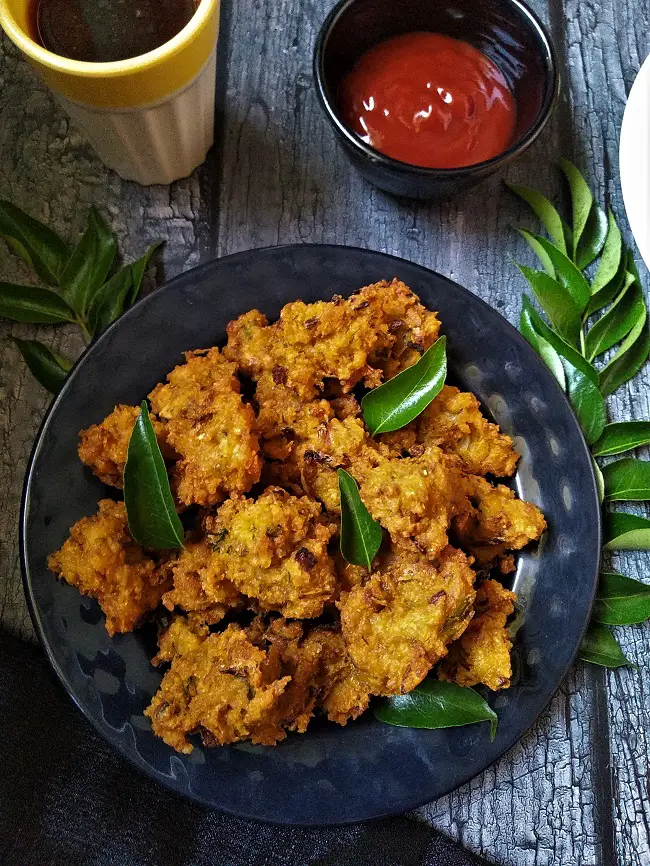 Serves: 4 Persons
Prep time: 6 minutes
Cook time: 3-4 minutes per batch
Cooking level: Easy
Taste: Spicy
1 cup cooked rice
1/2 cup Besan (Gram flour)
1 Onion roughly chopped
3 Garlic cloves
1-inch Ginger
2 green chillies
2 tablespoons Coriander leaves finely chopped
5-7 Curry leaves torn into halves
1/4 teaspoon Turmeric Powder
1 teaspoon Garam Masala Powder
2 teaspoon Coriander Powder
1 teaspoon Ajwain (Carom Seeds)
Salt to taste
In a mixing bowl, add cooked rice and mash it with your hands or a potato masher.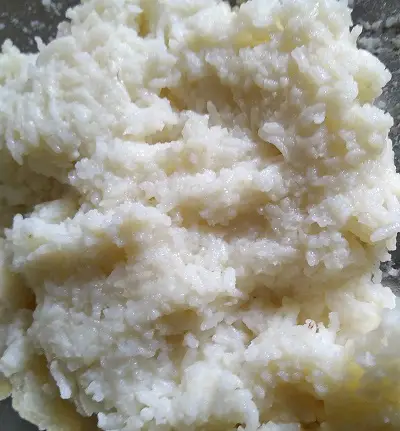 Using morter – pestle crush ginger, garlic and green chillies. You may blend them in a blender too.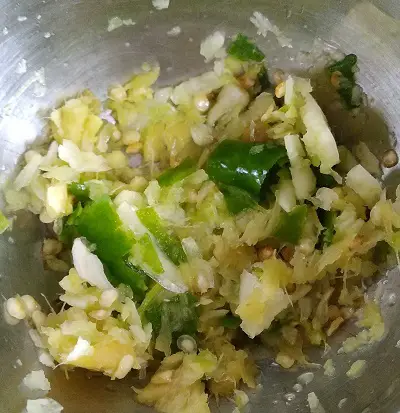 Once the rice is soft and mashed, add onion, crushed ginger, garlic & chilli paste, turmeric powder, coriander powder, garam masala powder, salt, ajwain (carom seeds), coriander leaves (cilantro), roughly torn curry leaves. Mix well.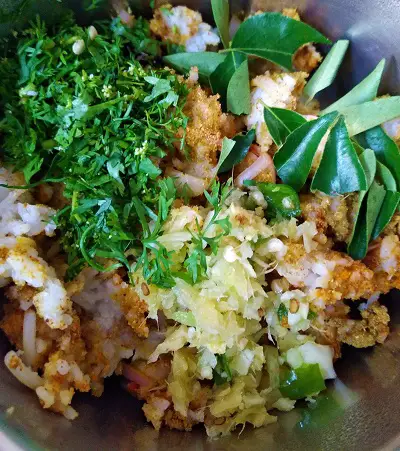 Add besan (gram flour) and sprinkle some water so that rice and besan combine properly together. Check for seasoning.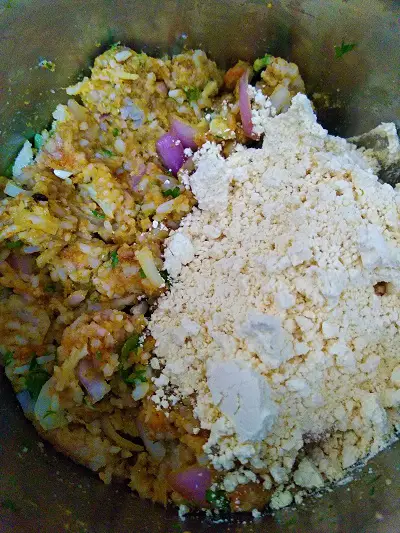 Heat oil in a pan / kadhai. Once the oil is hot, drop small portions of this batter and fry on medium flame until the pakoras / fritters are crisp and golden brown.
You may also check these pakora / pakoda recipes: Sweet Corn Pakora, Cabbage Pakora, Bread Pakora, Onion Pakora – Kanda Bhajiya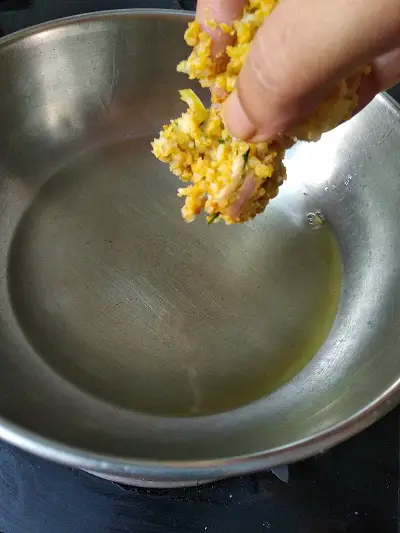 Fry the pakora on medium flame. If the flame is too low, they will absorb excess oil making the pakoras soggy after a while.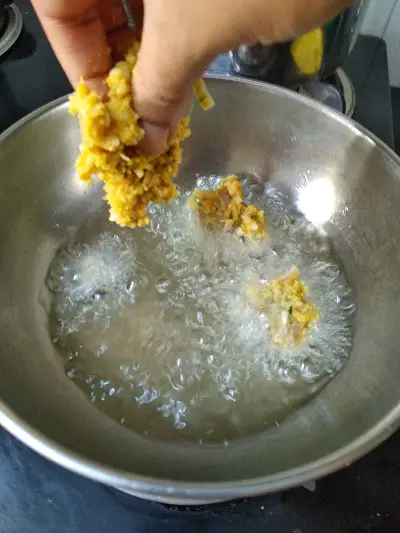 Once pakoras are golden brown, transfer them onto tissue paper to absorb the excess oil.
Bhatache vade / chawal ke pakore / rice pakora is ready.
Serve hot with tomato ketchup or coriander mint chutney along with tea or coffee.
Note:
Try to use leftover rice for this recipe instead of freshly cooked rice.
You may add ginger garlic paste as well in the pakora batter along with vegetables of your own choice.
Thank you for stopping by…..
If you like recipes like these, let's connect on Instagram & Facebook.
Use the hashtag #thespicycafemumbai / #thespicycafeofficial to feature on Instagram and Facebook.
If you like us to deliver the recipes straight to your inbox then do subscribe to our weekly newsletter.
For newbie bloggers: In case you are a beginner blogger, do check my other blog eralivine.com for tips on blogging especially for beginners.