This post contains affiliate links. As an Amazon Associate, I earn from qualifying purchases.
Cabbage Pakoda / Cabbage Fritter is a vegan Indian deep-fried snack made with shredded or sliced cut cabbage that is mixed with gluten-free flours and flavourful spices and herbs. Cabbage pakoda is known by several names such as Cabbage pakora, Patta gobi ke pakoda, gobi ke pakode, gobi pakora, cabbage fritters to name a few. This is a vegan and gluten-free recipe.
Cabbage Pakoda / Cabbage Fritters are fried crispy and spicy Indian snacks made using cabbage that is coated with besan (chickpea flour) & rice flour along with herbs and spices and deep-fried till golden brown. This is a vegan and gluten-free recipe.
Monsoon season is going on and this is a perfect excuse to indulge in a deep-fried snack! isn't it? In India, apart from onion fritters which are considered the king of pakodas, other variants are also prepared almost in every household.
Deep-fried snacks are one of the favourite tea times snacks at my house. Pakodas are a much-loved snack and are generally served with spicy coriander mint chutney or tomato ketchup along with a hot cup of ginger tea or coffee.
Cabbage Pokoda / Cabbage Fritters are easy to make and can be prepared in a jiffy with basic minimal staple ingredients that are easily available in your home. No fancy ingredients are required!
These fritters make perfect evening snacks. Each household has its unique version of making these fritters, some add onion along with ginger garlic and some without it. Both these versions taste absolutely scrumptious.
These cabbage fritters are delicious in taste and very addictive. 
It takes only 20-30 minutes to make these cabbage fritters. These fritters when fried to golden brown turn crispy from the outside and soft from inside. These pakoda make the best appetizer for Birthday parties, get-togethers, kitty parties, game nights, or to entertain your guest when they drop by unannounced.
This recipe is so easy and versatile that you can easily tweak it according to your taste buds and still can't go wrong with it.
You may add finely chopped ginger, green chillies, curry leaves, curry powder, amchur powder to name a few. But the original recipe doesn't require so many spices and herbs. The main ingredient is cabbage here, hence the flavour of cabbage should dominate other herbs and spices.
In India, you will find varieties of fritters (pakoda) that are made out of vegetables, lentils, legumes, dairy products and bakery products such as onion fritters, rice fritters, spinach, cauliflower, sweet corn kernels, potatoes, paneer (Indian cottage cheese), bread to name a few.
While making these fritters, try to avoid water as possible. Cabbage contains lots of water, the addition of water will make the fritters soft & soggy which is not what we are looking for. To make crispy fritters you will have to use water that will be released by the cabbage.
To make these cabbage fritters use green cabbage or purple cabbage. However green cabbage goes very well with this recipe. Try to use cabbage that is fresh as it tends to be juicy and tender from the inside which helps it to release its own water.
The moisture within this cabbage is more than sufficient for binding the flours to the cabbage. But incase you feel the batter is getting too dry then add a tablespoon of water. Flours used here are gram flour (besan) and rice flour (chawal ka atta). Gram Flour gives a nice binding to these pakoda / fritters and rice flour helps make them crispy.
Gram flour (besan) is hard to digest hence we use carrom seeds or asafoetida (hing) which helps digest the flour easily and helps avoid bloating.
These cabbage pakodas / cabbage fritters are irresistible, addictive and full of flavours. Try these sometimes instead of onion pakoda / onion fritters.
One thing to remember is, always drop these pakodas in hot oil on high flame and when all the pakodas / fritters are in the oil turn the flame to medium-low. This ensures that the pakodas / fritters don't soak excess oil and are cooked perfectly from inside.
I have shared both versions of making these delicious cabbage pakoda / cabbage fritters in air fryer and on the stove.
To make this flavorful crispy cabbage pakoda / cabbage fritters I have used:
Cabbage: I have shredded cabbage here. But sometimes I do use finely cut cabbage too.
Onion: I have used sliced onions here but that is purely optional. Sometimes I even don't add it.
Flours: I have used gluten-free flours like besan (gram flour) and rice flour (chawal ka atta)
Spices & herbs: I have used basic staple spices like carrom seeds, green chillies,cumin & coriander powder to name a few.
Seasonings: Salt to taste and pinch of sugar.
Oil: For frying
Let's see how to make cabbage pakoda / cabbage fritters with simple basic staple ingredients in your home kitchen.
Serves: 3 Persons
Prep time: 10 minutes
Cook time: 5-7 minutes per batch
Cooking level: Easy
Taste: Spicy & Crispy
1 Big Sized Onion cut lengthwise
2 tsp Ginger Garlic Paste 
2 Green Chilles finely chopped
1 tbsp Cilantro (Coriander Leaves)
1 tsp Carrom Seeds (Ajwain)
5 tbsp Besan (Gram Flour)
1/4th tsp Sugar (Optional)
1 tbsp Water (only if needed) just to bind and coat the batter to the cabbage.
To make Cabbage fritters, let's make the batter.
In a mixing bowl add shredded or sliced cabbage, ginger garlic paste, cumin powder, coriander powder, green chilles, cilantro, turmeric, carom seeds (ajwain), salt and sugar.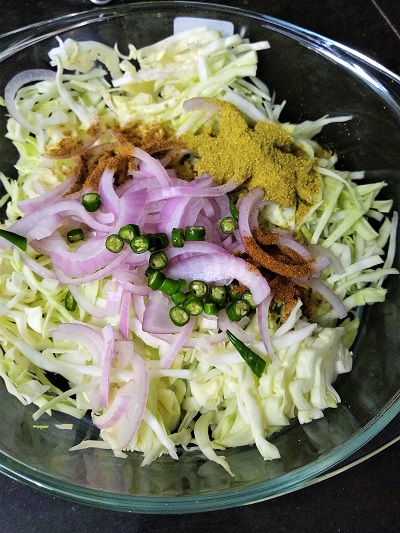 Keep this mixture aside for about 5 minutes. Adding salt and spices makes the cabbage release its water which we will use to make the batter. We will try not to add any excess water for making the batter.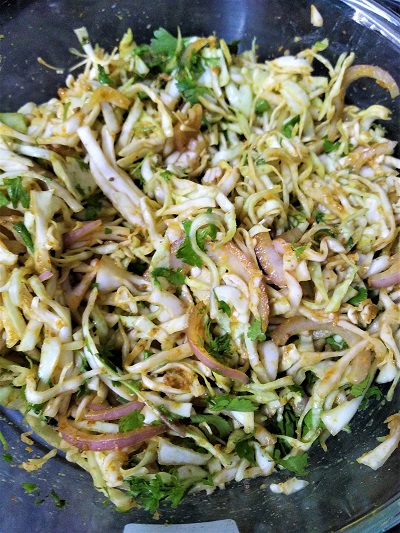 Now add besan and rice flour gradually.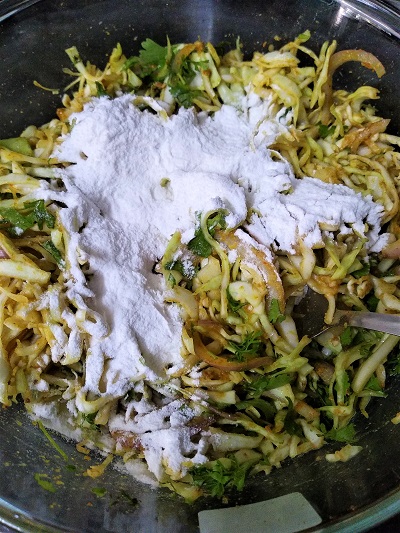 Here you need to eyeball the quantity of gram flour (besan) & rice flour as we are not going to use any water. The quantity mentioned in the ingredient list is how much I ended up adding.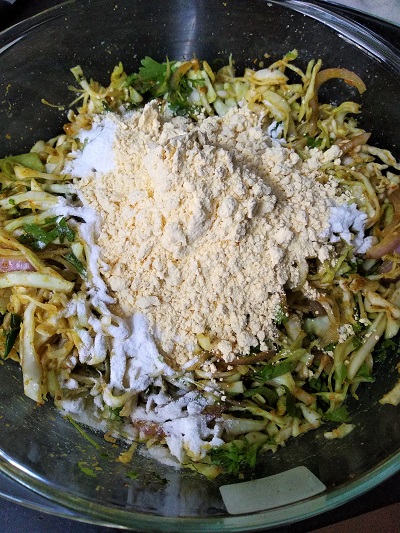 The pakoda batters should not be too thick and not to runny either. In case if you feel the batter has become very hard then sprinkle little water (1 tablespoon) but otherwise try to avoid it as much as possible.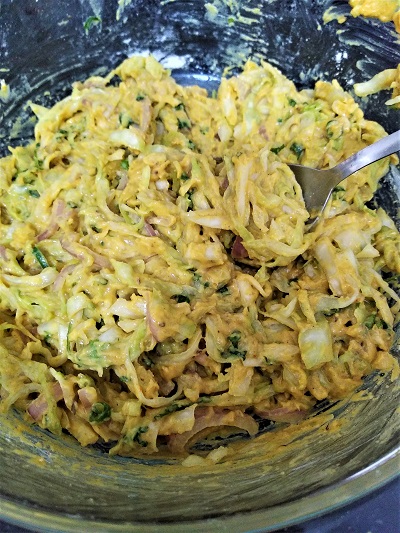 At this moment, check for seasoning. We added salt to the cabbage but not to the batter. Hence if required add salt as per taste.
Heat oil in a kadai or deep pan over a medium to high flame. To check if the oil is hot enough, drop a small piece of batter. If it instantly floats on top that means the oil is ready for frying.
Carefully drop the pakodas into the hot oil. Do not overcrowd, Always drop these pakodas in hot oil on high flame and when all the pakodas are in the oil turn the flame to medium-low. This ensures that the pakodas / fritters don't soak excess oil and are cooked perfectly from inside.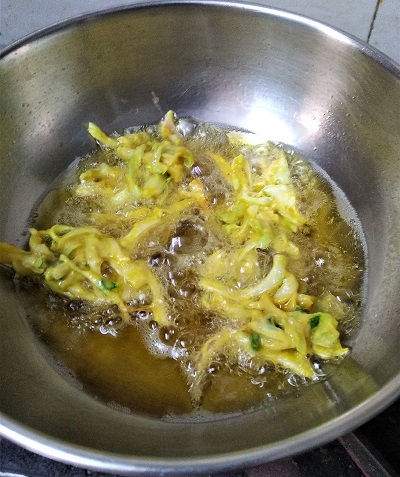 Fry these cabbage pakodas for about 5-7 minutes on medium flame till they are nicely fried to golden brown and crisp.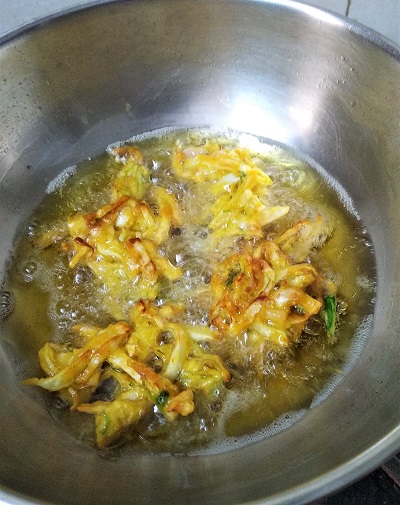 Transfer the fritters onto an absorbent paper towel to drain excess oil.
Serve hot with your favourite dip or with pipping hot tea or coffee.
Preheat the air fryer at 200°C for about 10 minutes.
In a mixing bowl add shredded or sliced cabbage, sliced onions along with spices and ginger garlic paste. Mix well and set aside for about 5 minutes.
After resting, add gram flour (besan) and rice flour (chawal ka atta) and mix everything well.
Make sure the mixture is not very dry, add a tablespoon of water if the batter seems dry.
The batter should not be runny and not too thick.
Place the small amount of loose clusters in preheated air fryer.
Now set the temperature at 180°C for 12 minutes. Half way through, grease ith oil on both sides and flip them occasionally.
Once the cabbage fritters/cabbage pakodas are golden brown and crispy remove them and serve hot.
Note:
Fry these pakodas on low to medium heat.
Tip:  1). If you want to avoid deep frying then adjust the consistency of the batter and make small tikkis and shallow fry. 
2). You can also add extra vegetables if desire.
If you like recipes like these, let's connect on Youtube, Instagram & Facebook.
Thank you for stopping by, I would really love to know your thoughts on this recipe.
If you like this recipe or make this recipe do leave a comment and share the picture. I would love to see your creation.
Use the hashtag #thespicycafemumbai or #thespicycafeofficial to feature on Instagram and Facebook.
You can subscribe to my weekly newsletter to get more recipes, tips, and special updates directly in your mailbox.
For newbie bloggers: In case you are a beginner blogger, do check my other blog eralivine.com for tips on blogging