This post may contain affiliate links. As an Amazon Associate, I earn from qualifying purchases.
Sev puri is an Indian chaat recipe made with papdi (crispy fried disc) topped with vegetables and finger-licking chutney. This is a vegan, plant-based recipe. This is one of the most popular street food in India.
Chaat means to lick. In India, chaat recipes such as sev puri, bhel puri, ragda pattice, pani puri, dahi batata puri, papdi chaat are some of the most famous and popular dishes that are savored by adults as well as kids.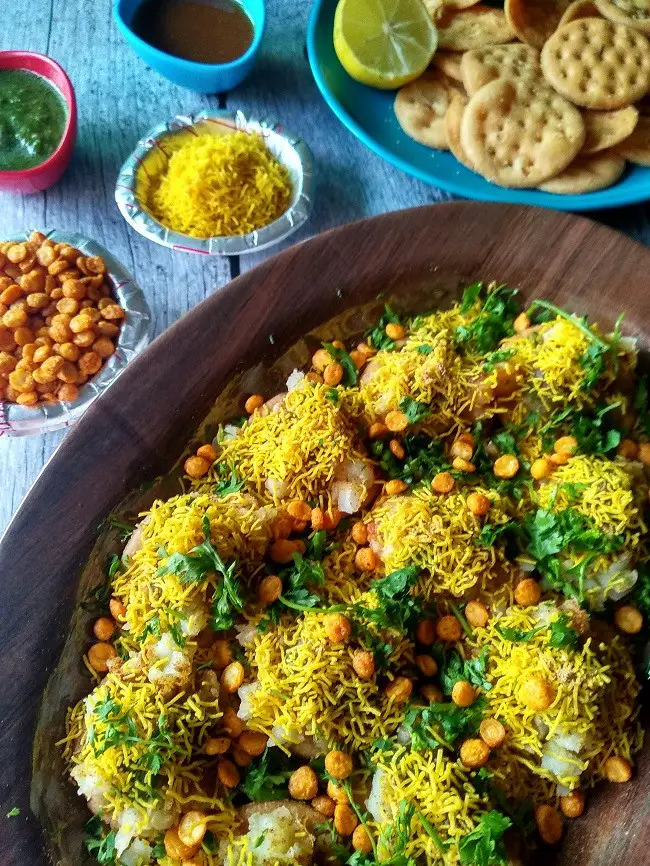 Here sev means fried vermicelli made with gram flour besan (easily available at any Indian grocery) and puri means flat round crispy fried disc made with wheat flour or all-purpose flour. These puris are also called papdi.
Sev puri also goes by the name of sev batata puri. Batata is a Marathi/ Gujarati word for potato. These crispy fried papdi's are topped with flavourful, tangy chutneys (dips), veggies, spices and herbs.
Sev puri is an amalgamation of sweet, spicy, tangy flavours with a perfect crunch from the puris. Every bite every morsel of this sev puri is a bursting explosion of flavours in your mouth.
Sev batata puri as I personally like to call is one of my favourite snacks. I used to be so crazy about this dish, that this was my go-to snack (mostly) after my office hours.
Sev puri makes the perfect evening snack and is also included as an appetizer at parties or wedding receptions.
This dish is simple and easy to make. All you need is green chutney and tamarind chutney along with some boiled potatoes and chopped onions.
Sev ( besan vermicelli) and puris are commonly storebought. Once you are ready with pre-preparation, it becomes so easy to assemble everything and enjoy the flavours bursting in your mouth.
You can always make green cilantro chutney and imli chutney (tamarind) ahead of time and store them in the refrigerator. You can also vary the vegetable as per your choice.
When mango season is around I like to top this sev puri with finely chopped raw mangoes, it adds that extra zing to this sev puri. If you like, you can add finely chopped tomatoes, and deseeded cucumbers too.
When it comes to fryums or farsan, typically in Mumbai you will not see farsan topped on sev puri only roasted peanuts, roasted chana dal and sev is what are used here in Mumbai. But if you like, you can also top this sev puri with farsan.
The best thing about this recipe is, that even if you do not have access to puris, you can make use of nacho chips or canapes. The process remains the same. You can also make use of toasted bread slices cut into bite-size pieces or crackers for the base instead of puri / papdi.
In western India, this sev puri is made without curd but as you go up to the northern regions they have a similar kind of snack called as papdi chaat in which the use of curd is prominent.
At home, we always have a spare pack of sev and puri and always have chutney's in the fridge. So whenever we are in a mood to have sev puri for our evening hunger all I need to do is to boil some potatoes in the morning and that's it. It's that simple. Normally at home, I prepare these chutneys 2-3 days before I have planned out making sev puri (or any chaat) recipes.
Once you are ready with the pre-preparation the only thing that remains is to assemble sevpuri and enjoy!
As mentioned I always keep sev ( besan vermicelli) and papdi (puri) in my pantry. So this prepping ahead makes it so easy and quick to assemble the sev puri in no time.
This recipe shared here is an authentic Mumbai-style recipe. Do try it out, you are going to love it.
Nowadays, green coriander chutney and tamarind chutney are easily available in the Indian grocery store. You can make use of them too. But homemade chutneys are the best!
If you are in Mumbai, you cannot think of missing out on this fantastic bite-sized dish. Do try them and you are going to fall in love with fantastic chaat recipes.
Let's see how to make Sev Puri / Sev Batata Puri in your home kitchen.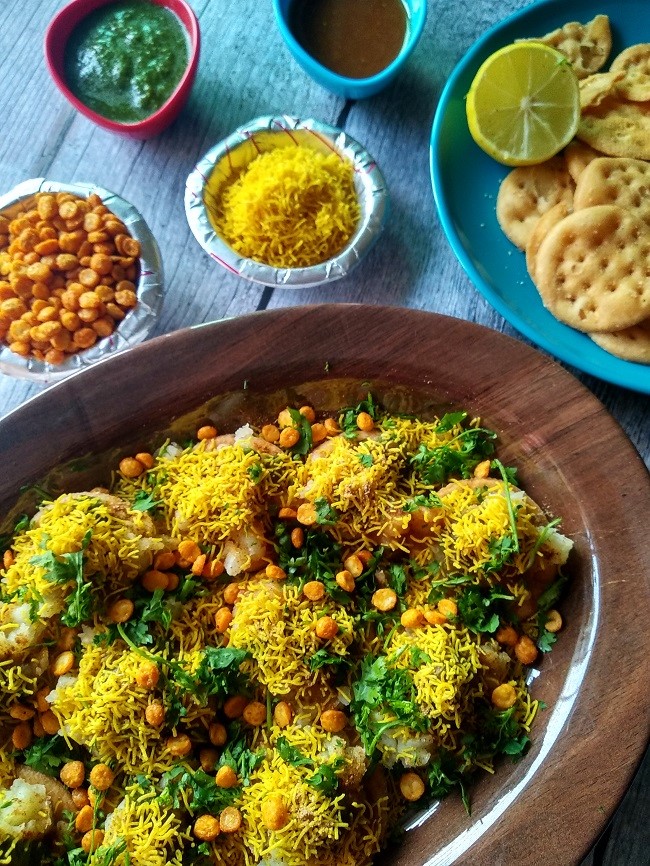 Measurement For Servings 4 Persons
24-28 Puri / Papdi
2 large potatoes, boiled peeled and roughly mashed
1 Large onion finely chopped
1 medium-sized tomato finely chopped (optional) I personally never use tomatoes in this dish.
1/2 cup tamarind chutney (imli chutney)
3 teaspoon Cumin Powder
3 teaspoon Garam Masala Powder
2 teaspoon red chilli powder
3 teaspoon chaat masala or Amchur powder (raw mango powder) or lemon juice
Salt to taste
1/2 cup fine sev (besan vermicilli)
1/2 cup Roasted masala chana dal (optional)
1/4th cup Coriander leaves for garnish
Start by assembling all the ingredients on the table.
On the serving plate, arrange the puris / papdi in a single layer.
Top the puri / papdi with 1/2 teaspoon of potatoes, tomatoes & onions respectively.
Now drizzle green chutney ( coriander chutney ) and tamarind chutney. Adjust the quantity of the chutney accordingly. Some like it spicy some like it tangy.
Now sprinkle spices, (1/4th teaspoon) each – garam masala, cumin powder and red chilli powder.
Sprinkle 1/2 teaspoon of chaat masala over the pooris and garnish with fine sev (besan vermicelli), fried chana dal and finely chopped coriander leaves and sprinkle some lemon juice at the end. Add finely chopped raw mangoes (seasonal option).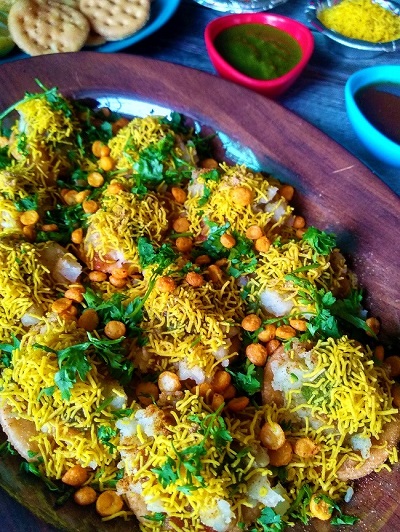 Sev Puri is ready to eat! Serve immediately.
Important:
The measurement of spices, chutney and veggies here depends on personal preferences.
For kids use very little of green chutney and spices.
Once assembled, serve this sev puri immediately otherwise they become soggy.
Use tortilla chips or canapes if you do not have access to papdi / puris.
You can also make use of toasted bread slices cut into bite-size pieces or crackers for the base instead of puri / papdi.
Suggestions:
You may also use pomegranate kernels and salted peanuts for the garnish.
Thank you for stopping by, I would really love to know your thoughts on this recipe.
If you like this recipe or make this recipe do leave a comment and share the picture. I would love to see your creation.
If you like recipes like these, let's connect on Instagram & Facebook.
Use the hashtag #thespicycafemumbai to feature on Instagram and Facebook.
You can subscribe to my weekly newsletter to get more recipes, tips, and special updates directly in your mailbox.
For newbie bloggers: In case you are a beginner blogger, do check my other blog eralivine.com for tips on blogging especially for beginners.