This post may contain affiliate links. As an Amazon Associate, I earn from qualifying purchases.
Chatpata Masala sweet corn is an Indian street style snack dish made using boiled / steam sweet corn kernels that are tossed in butter along with Indian spices. This is a sweet, tangy, spicy vegetarian and gluten-free snack recipe.
I am always excited to make delicious, flavourful snacks at home. Like everyone we also love to indulge in garma garam pakodas like yellow moong dal pakoda, onion pakoda, bread pakoda, rice pakoda, cabbage pakoda, sweet corn pakoda along with a cup of hot pipping ginger tea.
Apart from indulging in those deep-fried snacks the other most loved and famous snack that rules the monsoon here is the garma garam bhutta! (corn cob).
I love the traditional roasted corn that we get on the streets that are perfectly roasted on charcoal and smeared with lemon and spices! yummy! I am already drooling here 😋 But at home, though we try to roast them on the stove it's impossible to get the flavour that charcoal roasted bhutta imparts.
I love to make simple sweet corn recipes at home. Like sweet corn dosa, sweet corn pancake, sweet corn pakoda to name a few.
During monsoon, I love to make this hot, spicy, buttery chatpata masala sweet corn instead. This Indian sweet corn masala recipe is very easy to make and if you have frozen or loose corn kernels readily available you can whip this buttery masala corn within 15 minutes.
This masala corn is common street food in India. It is a quick, healthy and easy dish made using boiled sweet corn, butter, lemon juice and spices. This makes a quick evening snack and goes best with hot cup of tea. This can also make a light breakfast dish. No fancy ingredients and no complex steps involved!
This is such a versatile dish that you can have as many variations as you like. You can make this dish using Indian spices, Italian herbs, add cheese or some vegetables of your choice and transform it into a healthy salad. Kids love those sweet plump corn along with cheese!!yummm!
This Indian masala sweet corn recipe is a favourite among kids and elders. In India apart from street stalls, these buttered corns are served in cinema halls or big shopping malls.
I have used frozen corn kernels here, they are easy to use instead of plucking corn from the corn cob. Nowadays you can get loose corn kernels (a pack of corn kernels separated from the cob) easily available in the market.
If you don't have loose or frozen corn kernels then using a knife remove the kernels from the corn cob and then boil them for 15-20 minutes till they are cooked or you may boil the whole corn cob in water and when cooked, cool down a little bit and remove the corn kernels.
This is a tedious process and time-consuming hence I prefer loose corn kernels or frozen corn kernels. If using frozen corn, just boil them for 5 minutes in hot water and you are good to go.
Many times I like to have this masala corn for my meals. I add vegetables like capsicum (green bell peppers), onions, cucumber and add chaat masala, garam masala and finely chopped green chilles. This makes a perfect corn salad and my meals are sorted.
I reduce the spice level and add cheese to this buttery chatpata masala sweet corn when making for kids. To make it vegan, instead of butter you may add olive oil. I love using olive oil as it has its own taste that goes well with this sweet corn masala. One thing to keep in mind is that this masala corn should be served piping hot. Cold masala sweet corn will not taste as good as the pipping hot one for sure.
To make this Butter Masala Corn I have used:
Frozen Corn Kernel: These are easily available at any food malls or grocery stores.
Chaat Masala: The sweetness of corns blends perfectly with this zingy chaat masala. The sweet and tangy burst of flavours in the mouth is absolutely delicious.
Red Chilli Powder: I use normal red chilli powder (the spicy kind) for that hint of extra spice.
Salt: For taste. You may also add black salt.
Featured Video – Matkiche Vade – Matki Pakode
Let's see how to make Butter Sweet Corn Masala Recipe with just 4 ingredients in your home kitchen.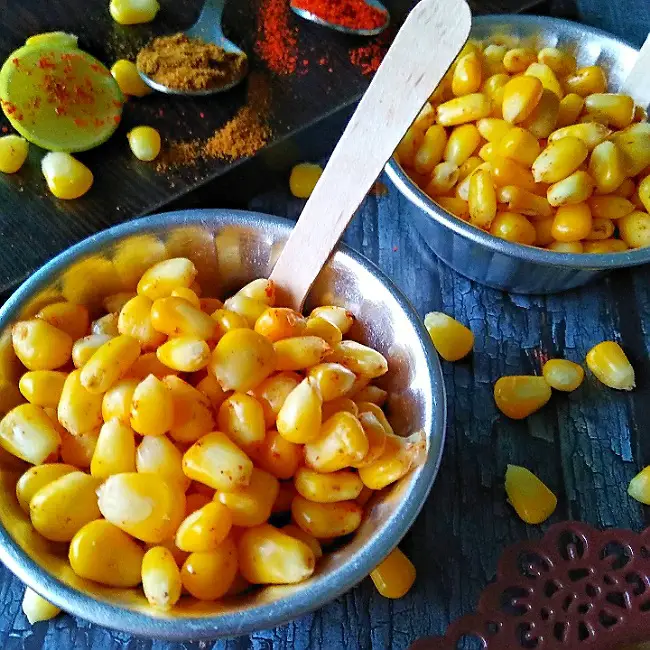 Serves: 2-3 Persons
Prep time: 5 minutes
Cook time: 15-20 minutes for raw corn kernels to boil. 5 minutes for frozen corn kernels
Cooking level: Easy
Taste: Sweet, Tangy & Spicy
2 Cups Boiled Sweet Corn Kernels
2 teaspoon Butter (For vegan preparation 1 teaspoon olive oil)
1 or 2 teaspoon Red Chilli Powder
1 1/2 teaspoon Chaat Masala Powder
Lemon Juice as per needed
Salt to taste
Let's start with cooking the corn.
Add sufficient water in a saucepan and pour the sweet corn kernel. Let the corn kernels boil for about 15-20 minutes till they are cooked. Do not overcook them. Once cooked, drain the water and keep them aside. (If using frozen corn just cook for 5 minutes, as they are already half-cooked).
In a pan / kadhai add butter followed by the boiled sweet corns.
Add red chilli powder, chaat masala and salt mix well. Cover the pan for 1 -2 minutes so that the corn will steam nicely and the spices will get perfectly incorporated with the corn.
That's it, after a minute or 2, spicy Chatpata Masala Sweet Corn is ready.
While serving, sprinkle lemon juice and Serve hot.
Note:
In case you do not have chaat masala, you can add raw mango powder (amchur) or completely skip the masala and use lemon juice only for the tanginess.
I have used only chaat masala here but you can add garam masala along with chaat masala or only garam masala. It still tastes delicious. Garam Masala makes this dish flavourful with its warm flavours.
You can add Italian herbs, freshly ground black pepper powder or any vegetables of your choice.
You may also totally skip the fat here, without butter and oil also this corn masala will taste fabulous.
Thank you for stopping by…..
If you like recipes like these, let's connect on Instagram & Facebook.
Use the hashtag #thespicycafemumbai to feature on Instagram and Facebook.
If you like us to deliver the recipes straight to your inbox then do subscribe to our weekly newsletter.
For newbie bloggers: In case you are a beginner blogger, do check my other blog eralivine.com for tips on blogging especially for beginners.