This post may contain affiliate links. As an Amazon Associate, I earn from qualifying purchases.
Sweet Corn Pakoda are crispy, delicious fried corn fritters made using boiled sweet corn kernels along with gluten-free flours, spices and herbs.
Sweet Corn Pakoda is a vegan Indian deep-fried snack. Corn Pakoda is known by several names such as Corn pakora, Corn Bhajiya, Makai Bhajiya, Makyachi Bhajji to name a few.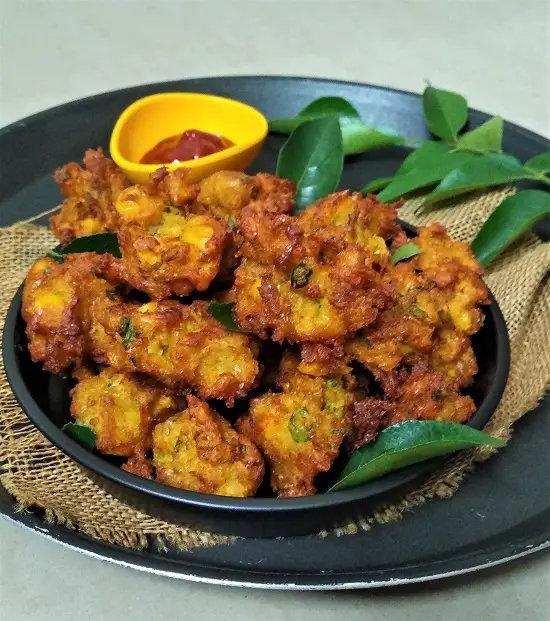 They are super easy, quick & simple to make. Sometimes instead of having it as a snack during tea time, we love to have them as a side dish with regular meals.
No fancy ingredients are required here! These pakodas are prepared using minimal ingredients that are easily available at home.
I normally use sweet corn while making these fritters but you can use desi corn too. Sweet corn gives a nice hint of sweetness that perfectly balances out the spiciness of the green chillies.
I have made this corn pakoda with rice flour and besan (gram flour). In case you do not have rice flour, you may use cornflour or skip both of them altogether and use only besan (gram flour).
You may add finely chopped ginger, bell peppers, curry leaves to enhance the flavour. The main ingredient is Corn here, hence the flavour of corn should dominate other herbs and spices.
This is one of the fuss-free recipes and you can never go wrong with it. This recipe is so easy and versatile that you can easily tweak it according to your taste buds and still can't go wrong with it.
To make this super simple recipe, you just need to mix everything together and you are ready to go. I normally add only onions to this recipe but if you want you can add finely chopped vegetables such as bell peppers, spring onions, carrots, spinach leaves, fenugreek leaves.
These are super addictive melt-in-mouth vegan appetizers. So whenever you are craving pakodas / fritters, do try these crispy & tasty sweet corn pakoda. Believe me, you are not going to stop at just one or two!
These corn pakoda / fritters are served with tomato sauce or green cilantro-mint chutney. Actually, these are so flavourful by themselves that you do not need any dip along with them.
These deep-fried fitters turn out crispy from the outside and soft from the inside. These pakodas / fritters make delicious starters or evening snacks with a cup of hot tea for coffee!
When I have friends coming over I often tend to make these instead of any other pakodas.
Corn pakodas are mostly prepared during monsoon seasons when corns are in season. But hey! you don't need any season to enjoy these sweet pearls!
These are hit with children along with tomato ketchup. You can pack some for their mid recess tiffin box too.
I haven't used garlic or ginger in this recipe, but if you want you made add those. It will enhance the taste.
1 As we are using some whole sweet corn kernels, they often tend to pop in the hot oil. So be careful regarding that. You may skip the whole corns altogether too.
2 Grind the corn kernels coarsely and not very fine. We need a coarse paste here.
3 I have used rice flour here to give this pakoda nice crispness, in case you do not have rice flour, you may use cornflour or skip them altogether and use only besan (gram flour).
4 Do not fry these pakodas / fritters on low or high flame. Try to keep the flame medium. If the flame is too low, the pakoda / fritters will absorb too much oil and if the flame is high they tend to remain raw from inside.
5 I have used only onion here but you can add vegetables of your choice. Green bell peppers & mashed potatoes go well with this corn batter.
6 You may also use frozen corn kernels here, they are easy to use instead of plucking corn from the corn cob.
Nowadays you can get loose corn kernels (a pack of corn kernels separated from the cob) easily available in the market.
If you don't have loose or frozen corn kernels then using a knife remove the kernels from the corn cob and then boil them for 15-20 minutes till they are cooked or you may boil the whole corn cob in water and when cooked, cool down a little bit and remove the corn kernels.
This is a tedious process and time-consuming hence I prefer loose corn kernels or frozen corn kernels. If using frozen corn, just boil them for 5 minutes in hot water and you are good to go.
Sweet Corn Kernels: I boiled the sweet corn for 20 minutes and coarsely grinded in the blender.
Onion: I have used 1 tablespoon of finely chopped onion here but that is purely optional. Sometimes I even don't add it.
Flours: I have used gluten-free flours like besan (gram flour) and rice flour (chawal ka atta)
Spices & herbs: I have used basic staple spices like cumin seeds, green chillies, and coriander leaves, along with garam masala & coriander powder to name a few.
Seasonings: Salt to taste.
Oil: For frying
Let's see how to make sweet corn pakoda / fritters with simple basic staple ingredients in your home kitchen.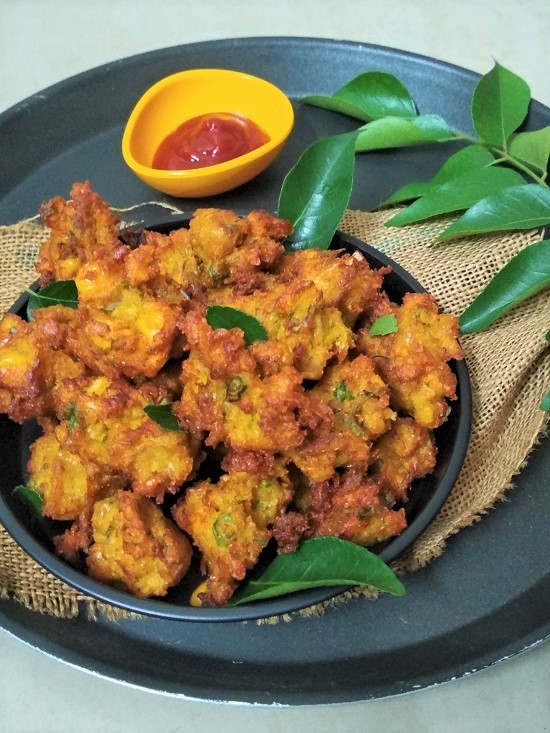 Serves: 3 Persons
Prep time: 10 minutes
Cook time: 5-7 minutes per batch
Cooking level: Easy
Taste: Spicy & Crispy
200 grams boiled corn kernels or frozen corn kernels coarsely grineded.
2 tablespoon Whole Boiled Sweet Corn Kernels
4 tablespoon Rice Flour
3 tablespoon Gram Flour (Besan)
4 Green Chillies finely chopped
1 tablespoon Onion finely chopped (optional)
2 tablespoon Coriander leaves (Cilantro)
1 teaspoon Cumin Seeds
2 tablespoons Coriander Powder
1 tablespoon Garam Masala Powder
Salt to taste
Oil for frying
To make sweet corn pakoda / fritters, let's make the batter.
In a blender, coarsely grind the boiled or frozen corn kernels.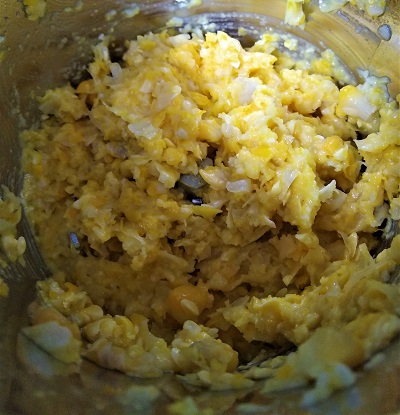 Take the mixing bowl, add the corn paste, green chillies, finely chopped onions, boiled corn kernels, cumin seeds, coriander powder, garam masala powder, cilantro, salt and sugar. Mix everything well.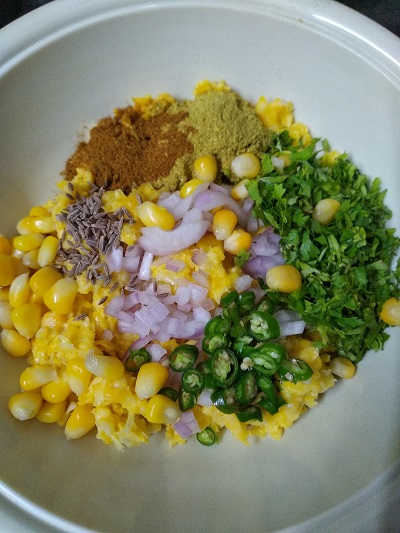 Now add rice flour & gram flour (besan).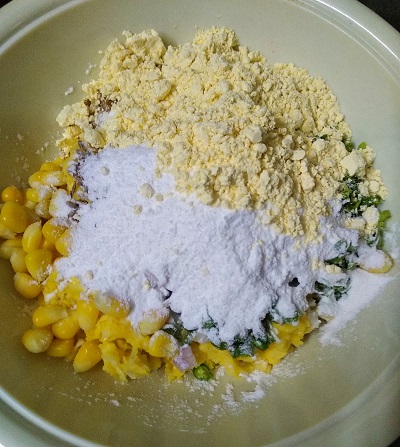 Here you need to eyeball the quantity of gram flour (besan) & rice flour as we are not going to use any water. The quantity mentioned in the ingredient list is how much I ended up adding.
You may also check out: Kanda Bhajee / Onion Pakoda (Fritters), Cabbage Pakoda / Cabbage Fritters, Rice Pakoda – Chawal Ke Pakode, Snack Recipes, Vegan & Plant-Based Recipe, Beginner & Bachelor Friendly Recipe, Breakfast Recipes
The pakoda batters should not be too thick and not to runny either. In case if you feel the batter has become very hard then sprinkle little water (1 tablespoon) but otherwise try to avoid it as much as possible.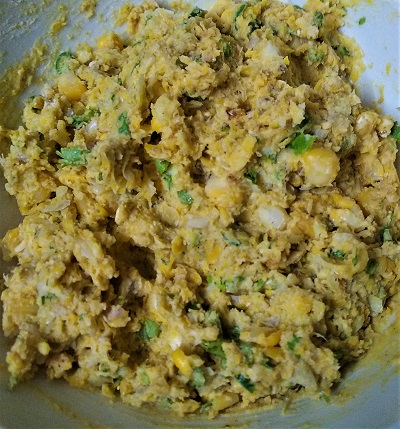 At this moment, check for seasoning.
Heat oil in a kadai or deep pan over a medium to high flame. To check if the oil is hot enough, drop a small piece of batter. If it instantly floats on top that means the oil is ready for frying.
Carefully drop the pakodas into the hot oil. Do not overcrowd, Always drop these pakodas in hot oil on high flame and when all the pakodas are in the oil turn the flame to medium. This ensures that the pakodas / fritters don't soak excess oil and are cooked perfectly from inside.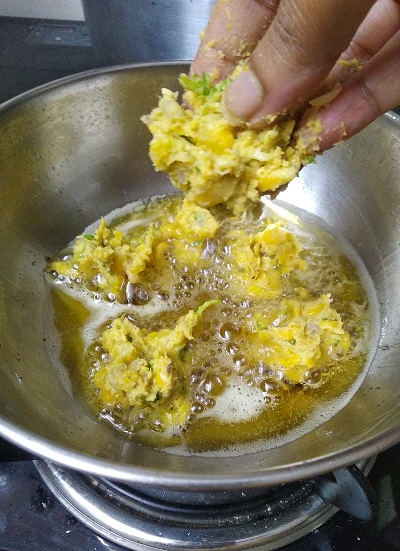 Fry these corn pakodas for about 3-4 minutes on medium flame till they are nicely fried to golden brown and crisp.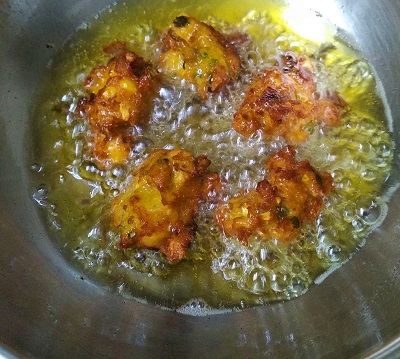 Transfer the fritters onto an absorbent paper towel to drain excess oil.
Serve hot with your favourite dip or with pipping hot tea or coffee.
Preheat the air fryer to 200°C for about 10 minutes.
Take the mixing bowl, and add the corn paste, green chilies, finely chopped onions, boiled corn kernels, cumin seeds, coriander powder, garam masala powder, cilantro, salt, and sugar. Mix everything well.
Now add rice flour & gram flour (besan).
Make sure the mixture is not very dry, add a tablespoon of water if the batter seems dry.
The batter should not be runny and not too thick.
Place the small amount of loose clusters of the batter in the preheated air fryer.
Now set the temperature at 180°C for 12 minutes. Halfway through, grease with oil on both sides and flip them occasionally.
Once the sweet corn pakodas / fritters are golden brown and crispy remove them and serve hot.
If you like recipes like these, let's connect on Youtube, Instagram & Facebook.
Thank you for stopping by, I would really love to know your thoughts on this recipe.
If you like this recipe or make this recipe do leave a comment and share the picture. I would love to see your creation.
Use the hashtag #thespicycafemumbai or #thespicycafeofficial to feature on Instagram and Facebook.
You can subscribe to my weekly newsletter to get more recipes, tips, and special updates directly in your mailbox.
For newbie bloggers: In case you are a beginner blogger, do check my other blog eralivine.com for tips on blogging especially for beginners.