This post may contain affiliate links. As an Amazon Associate, I earn from qualifying purchases.
Besan burfi is an Indian sweet fudge made up of besan (chickpea flour) that is roasted in ghee and then mixed with sugar syrup. This is a vegetarian preparation.
Indian sweets/desserts are a must for every occasion and festivities like Diwali, Gudi Padwa, Holi, Birthday celebrations, Anniversaries, and Graduations. Normally they are brought from the sweet shop instead of making at home.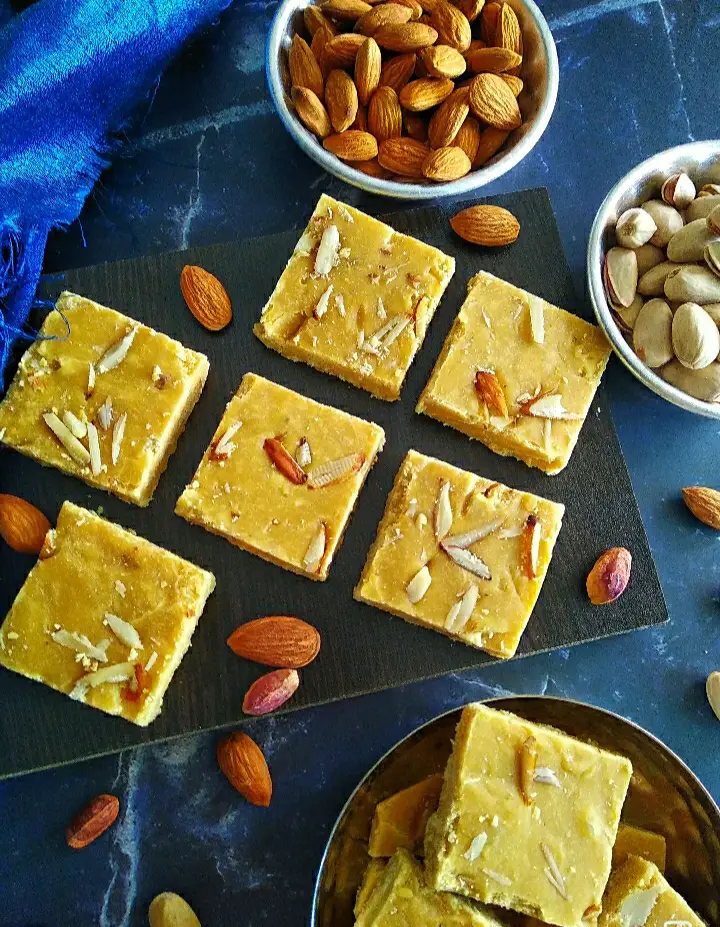 Besan burfi is a traditional festive delight. This recipe is very easy to make especially for beginners. Just little details needs to be put in place and you are good to go.
I love sweets! – the aroma, the melt-in-mouth texture, it's all too scrumptious! But hey, a little secret here 🤫, I normally feel too daunting to make any sweets at home because of the time and energy it consumes, hence I avoid make them at home. I am not complaining here, but this is the main reason why I opt out for store-bought sweets instead of making them myself.
However, there are some exceptions when it comes to making sweets that consume less time and energy and you are ready to savor them right away within 30 minutes. One such type of sweet is the most popular one, Besan Burfi.
My Mom makes these amazing Besan Burfi which always turn out sooo flavourful and literally melt in the mouth. 
Flavourful, fudgy and delicious besan burfi is a must during special occasions and festivities at my home. You need just 3 main ingredients, besan (chickpea flour), ghee, sugar and you are done. It's that simple!
Let's see what we require to make this Besan Burfi
Ghee – Ghee is a quintessential ingredient here. I use homemade ghee but you can use store-bought as well. For vegan besan burfi, instead of clarified ghee you may use Vanaspati ghee which is made from palm oil.
Besan – Besan (chickpea flour) is the main ingredient here. It is roasted till it releases nice aroma and changes a little bit of colour.
Rava (Semolina) – Rava helps add nice texture to this besan burfi.
Sugar – Use white sugar for sugar syrup.
Cardemom – Cardemom gives a nice aroma to this burfi. You may either add cardamom powder that is easily available at any grocery store or use fresh cardamom seeds, just crush them slightly using a mortar – pestle before adding to besan.
Nuts – Add any nuts that you like, I have added almonds here. Nuts like almonds and pista add a nice crunch and enhance the taste of this besan burfi.
For vegan preparation, you may use any vegan ghee or edible coconut oil. Use 1/2 (half) cup of coconut oil.
Let's see how to make this flavourful Besan Burfri using basic staple ingredients in your home kitchen.
Serves: Makes 25 Burfis
Cook time: 30 minutes
Cooking level: Moderate
Taste: Sweet
¾ Cup Ghee
2 Cups Besan (Gram Flour)
3 tsp Rava (Semolina)
1 Cup Sugar
Half cup water
1 tsp Cardamom Powder
Almonds to Garnish
To start with this delicious besan burfi, let's first prep the plate or tray. For that, grease the plate or tray with ghee / vanaspati ghee and keep aside.
Now in a thick bottom pan heat ghee, add besan (chickpea flour) and Rava (semolina) to it and on a low flame roast continuously till it changes colour to light brown and release a nice aroma. It approximately takes about 20-25 minutes to roast besan properly.
As this besan gets nicely roasted, you will see that the mixture will turn runny and the ghee will float at the side of the pan. At this stage, add cardamom powder to it and mix well. Remove the mixture from the flame and keep it aside.
So we are done with roasting besan for besan burfi. Before we add the sugar syrup, cool down this besan mixture a little bit. It should be warm not completely cooled.
Now let's make Sugar Syrup:
In a vessel add 1 cup sugar and half cup water. Place this water on the stove on a medium flame and let the syrup come to boil until you see the syrup reaches 1 string consistency.
How to check One String consistency of the sugar syrup:
Take a few drops of sugar syrup in a small bowl. Carefully stick the syrup in between your thumb and forefinger and gently pull it apart. If the syrup does not break and a single thread is formed this is when your one-string consistency sugar syrup is ready to use.
Once the syrup comes to 1 string consistency add it to the roasted besan, mix quickly. Make sure that sugar syrup is nicely incorporated into the besan mixture. You will have to be quick at this stage as the besan mixture will begin to thicken.  Immediately pour this mixture onto the greased plate / tray and using a spatula or back of a bowl level it evenly. Sprinkly the slit almonds and gently press them down so they stick properly to the besan mixture.
Let this besan burfi cool down a bit. When the burfi gets slightly cooled down, cut it into a square or diamond shape as you like.
Besan Burfi is ready to serve.
Once cooled down completely, transfer this besan burfi into an air-tight container. Store at room temperature. This burfi stays good or about 10 days at room temperature. Do not refrigerate.
Important:
Here the key for this Besan Burfi is to roast Besan well till it releases a nice aroma and changes colour. If besan is not roasted properly then the burfi will not set perfectly.
Note:
For Vegan preparation, you may use vegan ghee or edible coconut oil. Use half a cup of coconut oil to make this burfi.
If your besan burfi is does not set properly then again cook the mixture for a few more minutes till it leaves the side of the pan and then try to set it. If the besan mixture is undercooked then the burfi will not set.
Thank you for stopping by…..
If you like recipes like these, let's connect on Instagram & Facebook.
Use the hashtag #thespicycafemumbai to feature on Instagram and Facebook.
If you like us to deliver the recipes straight to your inbox then do subscribe to our weekly newsletter.
For newbie bloggers: In case you are a beginner blogger, do check my other blog eralivine.com for tips on blogging especially for beginners.