This post may contain affiliate links. As an Amazon Associate, I earn from qualifying purchases.
Ambadi chi patal bhaji is a traditional Maharashtrian recipe made with gongura leaves also known as sorrel leaves.
This is a typical Maharashtrian curry preparation in which cooked ambadi leaves (Gongura / Sorrel leaves) are combined with besan (gram flour) along with basic minimal spices which are then tempered with garlic and mustard seeds.
Ambadi in English means Gongura leaves or sorrel leaves.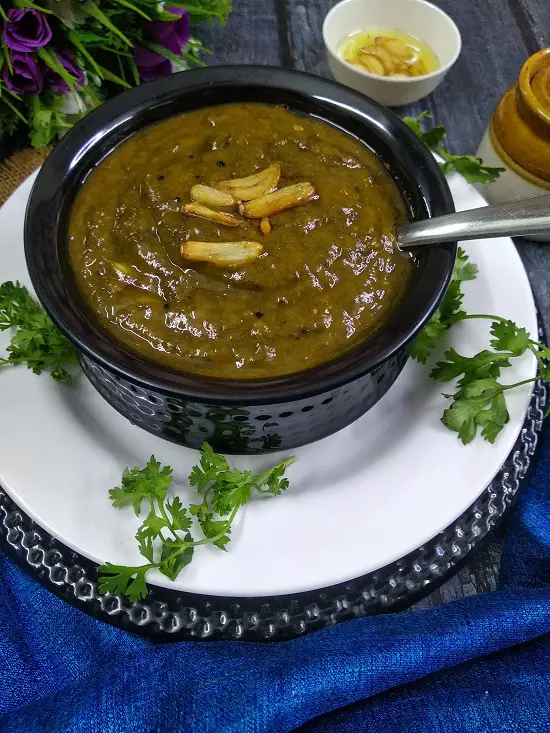 Ambadi chi patal bhaji  is a simple, healthy, vegan, diabetic-friendly & beginner-friendly curry that is served with chapati, bhakri, phulka or plain rice.
This healthy and nutritious patal bhaji is an everyday kind of vegetable which is enjoyed by people of all ages.
Ambadi is also known as gongura leaves or sorrel leaves in English, Pundi pallle or Pundi soppu in Kannada, Pulicha Keerai in Tamil and Pitwaa in Hindi.
Ambadi chi patal bhaji is one of the most loved green leafy at my house served with poli (chapati) and steamed basmati rice along with papad and pickles.
Ambadi / gongura leaves are naturally sour in taste which gives a nice flavour to the curry. We add jaggery to this curry to balance the tanginess from the ambadi leaves.
This traditional delicacy is delicious to taste and lots of garlic is added to enhance the flavour of this dish.
Apart from being delicious, this ambadi / gongura leaves are good source of protein, fats and carbohydrates. Also this green leafy is rich in iron, vitamins, antioxidants, folic acids and excellent source of vitamin A, vitamin C and vitamin B1, B2, and B9.
Green leafy vegetables are a staple at my home. Be it Methi (Fenugreek leaves), Palak (Spinach), Chavali, we love to make sure to include these nutritious greens in our diet each week without fail.
I have shared methi chi patal bhaji (Fenugreek Curry) on my blog. If interested click here to see the recipe.
You can have this ambadi chi patal bhaji (Gongura curry) with jowar bhakri, nachni bhakri or bajra bhakri or any flatbread of your choice. It tastes delicious!
Bhakri is a flat round bread often used in Maharashtrian, Goan and Gujrati Cuisine. Bhakri is made out of millets such as jowar, bajra, nachni, and is a staple food in rural areas of Maharashtra.
Bhakri is often accompanied by vegetables and thecha (dry spicy coarse paste of green chilles and garlic).
Ambadi is such a versatile leafy vegetable that we also use it in the preparation of dals where we add the chopped leaves to cooked dal along with herbs and spices.
Normally we make this curry with lots of garlic but on a special occasion, we do add boiled peanuts which add a nice nutty flavour and texture.
This healthy green is very aromatic in itself. I try to use a very minimal amount of spices so that the actual flavour of ambadi is not compromised.
You can store this ambadi chi patal bhaji (gongura curry) in the refrigerator for about 2 days. Reheat before using.
Ambadi / Gongura / Sorrel Leaves: I have used one bunch of ambadi which I washed and roughly cut and cooked in a pressure cooker using a half cup of water.
Besan (Gram Flour): Besan is used to give binding to this curry and enhance flavour.
Herbs & Spices: Garlic has been used a lot in this recipe as it enhances the taste of this dish. Spices such as red chilli powder, and turmeric powder are also used.
Seasoning: I have used salt to taste and jaggery (gul) to balance out the tanginess of this curry.
Oil: I have used 4 tablespoons of oil for tempering the bhaji and for garnishing with garlic oil.
Water: I have used water to adjust the consistency of the gravy.
Let's see how to make Ambadi chi patal bhaji / Gongura curry recipe with simple basic ingredients in your home kitchen.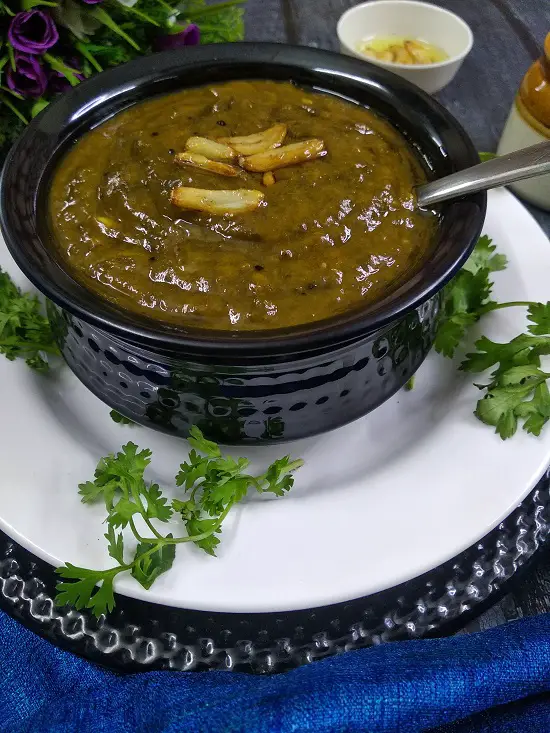 A bunch of Ambadi / Gongura Leaves roughly chopped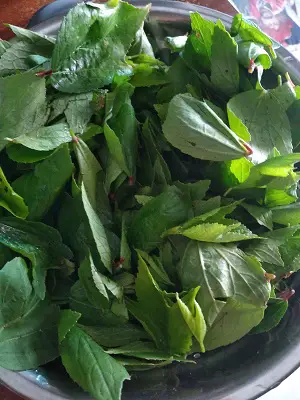 3 tablespoon Besan (Gram Flour)
10 Garlic Cloves ( Peeled and roughly cut)
10-12 Garlic Cloves ( Peeled, used for tempering)
2 teaspoons Red Chilli Powder
2 teaspoon Jaggery (Gul) Or use Brown Sugar / White Sugar
1 teaspoon Mustard Seeds (Rai)
1/4th teaspoon Hing (Asafoetida)
1/4th teaspoon Turmeric Powder (Halad, Haldi)
2 tablespoons Oil
Salt to taste
Water for cooking
For Garlic Phodni (Tempering):
2 tbsp oil
7-8 Garlic cloves
First, start with making garlic tempering(Fodni).
Take a small kadhai and add oil, when the oil is hot add 7-8 garlic cloves and let them sizzle in oil till light golden brown on low flame.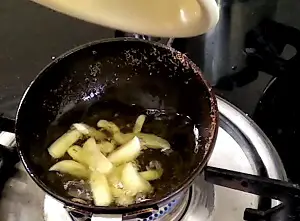 Do not overcook. Keep this tempering aside as it will be used for garnishing this patal bhaji.
Actual Patal Bhaji preparation:
Wash and chop the ambadi leaves / gongura leaves roughly and pressure cook until 4 whistles.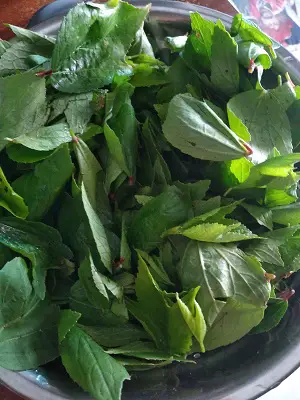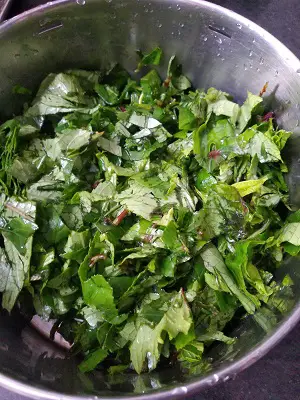 When the pressure cooker cools off take out ambadi leaves / gongura leaves and drain all the water from the leaves (Use this water for adjusting the consistency of the patal bhaji).
Mash the ambadi leaves / gongura leaves roughly with the help of a masher or a hand blender.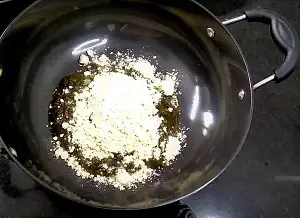 Add besan (gram flour) and mix well.
Add 2 cups of water to this mixture. Make sure no lumps are formed. 
Add red chilly powder, salt, garlic cloves and jaggery (gul).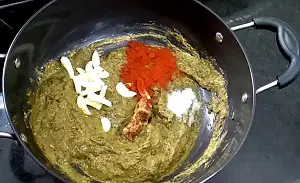 Now on medium flame cook this besan ambadi mixture. Add water and adjust the consistency of the patal bhaji(stew) as per your preference.
In a small kadhai, add 2 tbsp oil. When oil is hot add mustard seeds, hing (asafoetida) and turmeric powder.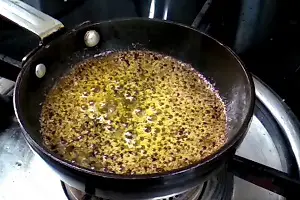 Pour this tempering over the patal bhaji / stew. Mix well and let the patal bhaji come to boil.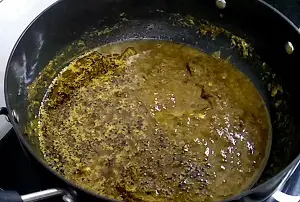 Cook on medium flame stirring occasionally till the raw flavour of besan fades away. It should take around 7-8 minutes. (If you want, you can dry roast the besan ahead of mixing it with the ambadi leaves).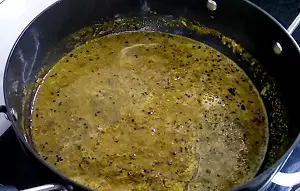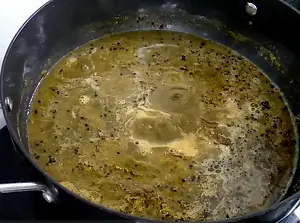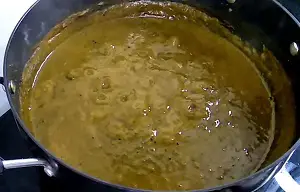 Ambadi chi patal bhaji is ready to serve.
When serving garnish this patal bhaji(stew) with the garlic tempering and enjoy with bhakri & rice.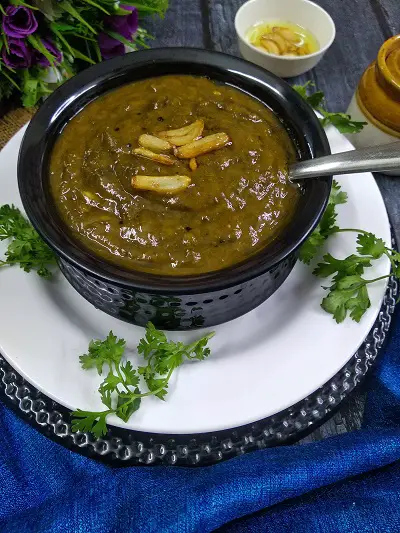 In case you want to add peanuts: Soak raw peanuts in water for 20 minutes. Add these raw peanuts to the ambadi leaves before putting them in the pressure cooker. Cook the peanuts along with the gongura / ambadi.
If you like recipes like these, let's connect on Youtube, Instagram & Facebook.
Thank you for stopping by, I would really love to know your thoughts on this recipe.
If you like this recipe or make this recipe do leave a comment and share the picture. I would love to see your creation.
Use the hashtag #thespicycafemumbai or #thespicycafeofficial to feature on Instagram and Facebook.
You can subscribe to my weekly newsletter to get more recipes, tips, and special updates directly in your mailbox.
For newbie bloggers: In case you are a beginner blogger, do check my other blog eralivine.com for tips on blogging