This post may contain affiliate links. As an Amazon Associate, I earn from qualifying purchases.
Aloo shimla mirch sabji in English translates to potato & bell pepper veggie. This is a quick, easy, vegan and beginner-friendly recipe.
Aloo shimla mirch sabji is an everyday kind of recipe best served with roti or dal rice. Every household has its own version of making this scrumptious dish.
This is a dry sabji preparation making it perfect for a lunch box along with chapati or phulka.
Made with fresh green bell peppers and potatoes this fabulous recipe is high on taste. It has a spicy and mildly tangy flavour.
This makes a perfect quick weekday dinner option.
To make this dish, crunchy bell peppers are tossed with potatoes, onions and tomatoes that are infused with earthy Indian spices and herbs.
There are two ways in which this aloo shimla sabji can be made.
One is by using boiled potatoes which is the quickest way to make this recipe and the other is to cook the peeled and cubed potatoes along with the masala. Today I have shared the later version.
Using pre-boiled potatoes comes in handy when in rush. At home, this is one of our go-to dinner options.
I have used green bell peppers here but you can use any. You can also use all three coloured bell peppers to make them more colourful and appetizing.
Here you can even skip the potatoes if you do not like them. I have shared capsicum recipe which is made using besan (gram flour) popularly known as peeth perun shimla mirchi chi bhaji (besan shimla mirch sabji) do check that out.
At home, when we end up with some leftover of this delicious sabji, we make sandwiches out of it by adding some raw onions along with coriander chutney lathered between the bread. This makes a perfect snack option.
Do try out this delicious flavourful tasty aloo shimla mirch sabji / aloo capsicum stir-fry made with minimal basic pantry staples. This makes a quick supper for busy weekday dinners.
Serve with roti, chapati, phulka or paratha.
Shimla Mirch / Bell pepper: I have used 3 green bell peppers (shimla mirch) here which I roughly chopped. You may use any coloured bell pepper. The only thing to remember is green bell peppers are savoury, unlike red, yellow, and orange which are a little sweet in taste.
Potatoes: For this recipe, I cooked the potatoes along with the masalas, it takes a little extra time for potatoes to cook this way. If you want a quick version then use boiled and peeled potatoes instead.
Onion: I have used one big onion finely chopped.
Tomatoes: I have used one large tomato that I roughly chopped. You may chop the tomatoes finely too.
Spices: I have used red chilli powder, turmeric powder, garam masala powder to name a few.
Herbs: I used roughly crushed ginger garlic paste along with finely chopped green chillies.
Seasoning: I have seasoned this sabji with salt and a pinch of sugar.
Oil: I used 2 tablespoons of oil to stir fry this vegetable.
Water: I sprinkled just a handful of water which helps to blend the masala with potato and capsicum and also helps potatoes to cook faster.
Let's see how to make aloo shimla mirch sabji / potato capsicum stir fry using staple ingredients in your home kitchen.
3 medium-sized green bell peppers (shimla mirchi) diced
3 small potatoes peeled and cubed
1 big onion finely chopped
1 tomato roughly chopped
1 teaspoon cumin seeds
1/4th teaspoon hing (asafoetida)
1/2 teaspoon turmeric powder
1 teaspoon coarsely crushed ginger-garlic (you can use paste also instead)
2 green chillies finely chopped
1 1/2 teaspoon coriander powder
1 teaspoon garam masala powder
1 teaspoon red chilli powder
Salt to taste
1/2 teaspoon sugar ( to balance the flavours)
1 teaspoon dry mango powder – amchur powder ( optional, I haven't used it but is normally added)
Water to blend and cook
Heat oil in a pan, add cumin seeds and let them sizzle.
Add hing (asafoetida), ginger-garlic paste and finely chopped green chillies. Saute till the raw smell fades away.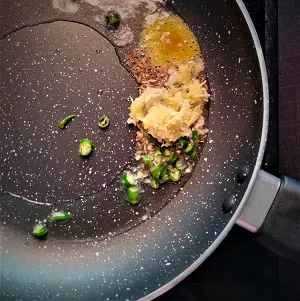 Add finely chopped onions and cook till translucent.
Add roughly chopped tomatoes. Cover and cook till tomatoes are tender.
Add peeled and cubed potatoes and mix well. Cover and cook potatoes till they are 90 per cent done.
Now use the backside for ladel smash tomatoes slightly. This gives a nice texture to this sabji.
It's time to add the spices – add turmeric powder, garam masala powder, coriander powder, red chilli powder and mix well.
Now cover and cook for another 5 minutes so that all the masalas are nicely incorporated with potatoes.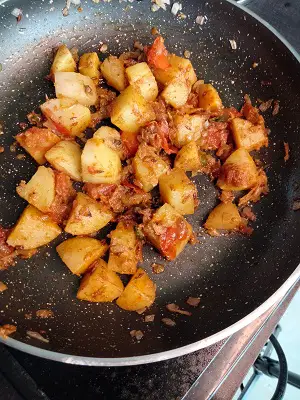 Add cubes shimla mirch / green bell peppers (capsicum) and mix.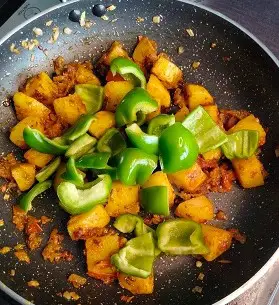 Cover the pan and let the shimla mirch / bell peppers cook on low to medium flame.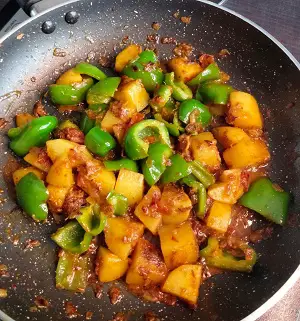 Now season the sabji with salt and sugar.
Sprinkle some water over the sabji which helps to bind the masala with veggies. Cover and cook further till shimla mirch / bell peppers are cooked.
Garnish sabji with finely chopped coriander leaves (cilantro).
Aloo Shimla Mirch Ki Sabji – Potato Bell Pepper Stir Fry is ready.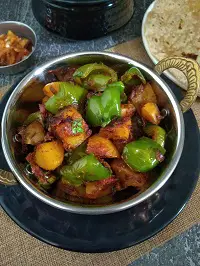 Serve with flatbreads or as a side dish with dal rice or pulao.
Suggestions:
You can use any coloured bell pepper / shimla here like red, yellow or orange. The only thing to note is, that all these coloured bell peppers are slightly sweet in taste, unlike the green one which is savoury. Hence do not add sugar if using capsicum other than green ones.
I have used raw potatoes that I cooked along with masala, you can make use of boiled potatoes which will lessen the cooking time.
If using boiled potatoes, first cook capsicum in an onion-tomato mixture and when capsicum is cooked completely add the boiled potatoes.
Cook capsicum/bell peppers according to the crunch you need. Some like it crunchy and some not, hence cook accordingly.
You can also add 1 teaspoon amchur powder (raw mango powder) in the end when the sabji is perfectly cooked. This gives a nice hint of tangy flavour. I have avoided it here.
If you like recipes like these, let's connect on Instagram & Facebook.
Thank you for stopping by, I would really love to know your thoughts on this recipe.
If you like this recipe or make this recipe do leave a comment and share the picture. I would love to see your creation.
Use the hashtag #thespicycafemumbai to feature on Instagram and Facebook.
You can subscribe to my weekly newsletter to get more recipes, tips, and special updates directly in your mailbox.
For newbie bloggers: In case you are a beginner blogger, do check my other blog eralivine.com for tips on blogging especially for beginners.