This post may contain affiliate links. As an Amazon Associate, I earn from qualifying purchases.
Aloo methi is a classic Indian winter special stir-fried vegetable preparation made with cubed boiled potatoes & fresh fenugreek leaves. This is also called Aloo methi ki sabji. This recipe is a vegan, diabetic-friendly, healthy & nutritious recipe.
This is a simple Indian stir-fry recipe packed with delicious flavours. Methi (Fenugreek leaves) is the most commonly used vegetable in Indian kitchen.
Aloo methi is made up of aloo which in English is known as potatoes that are tossed with finely chopped fenugreek leaves (methi) along with some flavourful spices. This makes a wonderful accompaniment to your everyday meals. It goes very well with dal rice, jeera rice and pulao.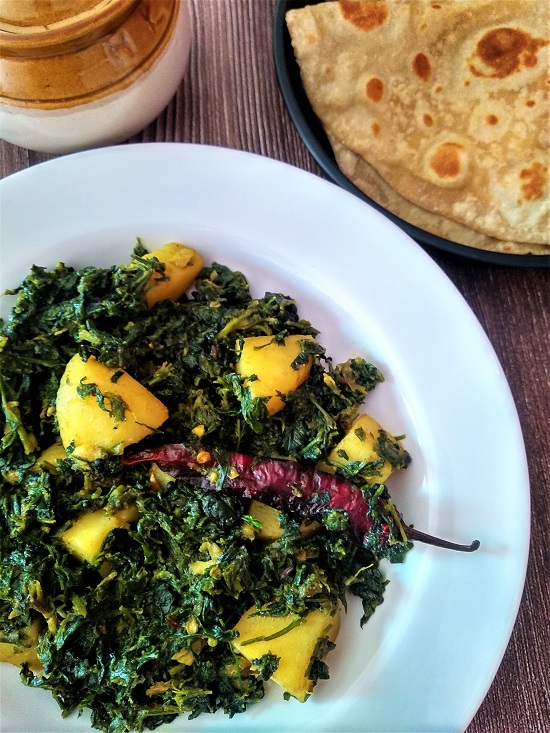 Aloo methi is often made at my place and served with roti, phulka or dal rice. This is a super healthy side dish and is easy to cook with basic pantry staples. The green nutritious methi (fenugreek) is tossed in basic spices along with boiled cubed potatoes.
This vegan aloo methi makes a perfect option for a lunch box for kids and adults along with roti, chapati or phulka. The simplicity of this makes it easy to prepare even if you are in a hurry as it gets ready in under 30 minutes.
Apart from being a delicious vegetable, fenugreek (methi) is considered one of the most nutritional vegetable.
Here are some nutritional facts about these healthy leafy greens due to which it should be ideal to include this vegetable in your diet.
Fenugreek leaves are low in calories & high in soluble fiber.
They help in reducing cholesterol. Which makes them ideal for weight watchers, heart patients and diabetic patients.
Fenugreek leaves are enriched with vitamin C, vitamin A and Beta Carotene which helps in making your immune system strong.
They have high iron content along with potassium and calcium.
Fenugreek leaves aids in digestion.
Including methi leaves or methi seeds improves your the texture of skin and hair.
Methi is a staple in our house. Be it be methi thepla, methi chi patal bhaji (curried fenugreek with gram flour (besan), methi chi partun bhaji (ie stir-fried methi with onion & garlic), methi muthiya, methi pakoda, we love to make use of this aromatic vegetable each week without fail.
Methi chi patal bhaji goes well with steamed rice or jeera rice. The stir fry version of this methi along with onions and garlic makes a perfect lunch box option.
Methi paratha or methi thepla is often made for breakfast that goes very well along with pickle, curd and hot cup of tea or coffee.
To make aloo methi or any methi (fenugreek leaves) preparation, you first need to pluck the tender leaves individually from the stems and wash them under running tap water.
Once you plucked the leaves, put them in a colander or strainer and wash them under running tap water. Drain the excess water and leave them to air dry or you can pat dry them using a kitchen towel.
Can we store the washed fenugreek leaves in the refrigerator?
Never wash the leaves and store them in the refrigerator. They tend to spoil quickly Wash the leaves only when you are ready to cook. You can store the plucked leaves in the refrigerator for about a week without washing them and use them when needed.
To make Aloo Methi (Sauteed Fenugreek & potato) , I have used:
Methi Leaves (Fenugreek Leaves): I have washed, pat dried and roughly chopped the methi leaves.
Potatoes: I have used 2 boiled potatoes. I have peeled the skin and cut them into cubes.
Onion: I have finely chopped onion and will add it in the tempering.
Garlic: I have added finely chopped garlic in the tempering to enhance the taste of this dish.
Dry Red Chilli: The addition of dry red chilli imparts a nice flavour to this dish.
Spices: I have used basic spices such as turmeric, red chilli powder, asafoetida.
Seasoning: I have used salt to season this recipe and a teaspoon of sugar. Fenugreek leaves are slightly bitter in taste hence to balance out sugar is added.
Tempering: I have tempered this with rice bran oil along with mustard seeds and cumin seeds.
Let's see how to make Aloo Methi with simple basic ingredients in your home kitchen.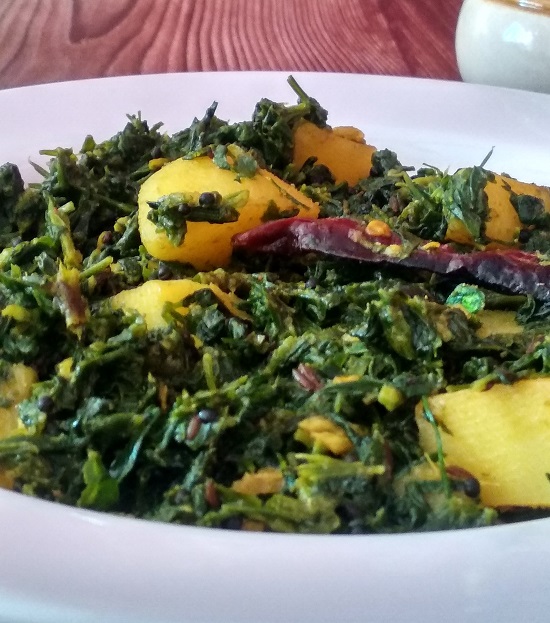 Serves: 2 Persons
Prep time: 15 minutes
Cook time: 15 minutes
Cooking level: Moderate
Taste: Spicy
3 cups Methi Leaves (Fenugreek Leaves)
2 Boiled & Cubed Potatoes
1 Medium sized Onion finely chopped
1 teaspoon Mustard Seeds
1 teaspoon Cumin Seeds
4 Garlic Cloves roughly crushed
1/2 teaspoon Turmeric Powder
1/4th teaspoon Hing (Asafoetida)
1 teaspoon Red Chilli Powder
1 teaspoon Sugar
Salt to taste
2 tablespoon oil
Before making this aloo methi you will need to pluck the methi leaves and wash them under running tap water. Drain the excess water and roughly chop the leaves.
Heat oil in a pan, add mustard seeds and let them crackle. Now add cumin seeds and saute for 30 seconds.
Add hing (asafoetida) and turmeric powder.
Now add crushed garlic and dry red chilli. Saute till raw smell of garlic fades away and it changes colour to golden brown.
Add finely chopped onion and cook the onions are translucent.
Now add chopped methi (fenugreek leaves) and saute for 2-3 minutes.
Add the boiled potatoes along with red chilli powder, salt & sugar.
Cook uncovered for about 6-7 minutes till the leaves are cooked. stir frequently in between.
Adding salt to the methi (fenugreek leaves) will help them release the water in which the vegetable will cook hence no need to add additional water.
Aloo methi sabji ( sauteed potato & fenugreek) is ready.
Serve with flatbread, jeera rice or dal rice.
If you like recipes like these, let's connect on Youtube, Instagram & Facebook.
Thank you for stopping by, I would really love to know your thoughts on this recipe.
If you like this recipe or make this recipe do leave a comment and share the picture. I would love to see your creation.
Use the hashtag #thespicycafemumbai or #thespicycafeofficial to feature on Instagram and Facebook.
You can subscribe to my weekly newsletter to get more recipes, tips, and special updates directly in your mailbox.
For newbie bloggers: In case you are a beginner blogger, do check my other blog eralivine.com for tips on blogging