This post may contain affiliate links. As an Amazon Associate, I earn from qualifying purchases.
Vangyache kaap in English means eggplant/aubergine slices that are coated with flavourful spices and dredged into rice flour & besan (gram flour) which are then pan-fried in oil.
This is a vegan, gluten-free, no onion no garlic side dish which is easy and simple to make.
Vangyache kaap is made from vangi which refers to eggplants/aubergine/brinjal. To make this vangyache kaap (eggplant fritters) thick-skinned, hard, fleshy and eggplant that have fewer seeds are used.
This vangyache kaap tastes delicious and are eaten as a snack, appetizer or as a side dish to varan bhat (dal chawal/ dal rice), sambar rice or khichdi.
This is such a simple recipe that you cannot go wrong with it. Using basic minimal basic ingredients you can make this dish within 30 minutes.
Eggplant/Aubergine/Brinjals are used widely in Indian cuisine. Many recipes such as stir fry vangyachi bhaji (eggplant sabzi), Vangyache Bharit (baingan bharta) are made using eggplant.
In India, Eggplant/Aubergine/Brinjals are available easily in the market all around the year. Also, eggplants are extensively used in Jain Cuisine making this dish a Jain-friendly recipe. At home, we like to make vangi batata rassa bhaji ie eggplant potato curry, bharli vangi (stuffed eggplants), vangyacha bharit (baingan bharta) and these crispy flavourful vangayche kaap using this nutritious vegetable.
Vangyache kaap is made by cutting thin slices of eggplant and coating them in the mixture of rice flour & gram flour (besan) along with basic spice mix and shallow fried. This Vangyache kaap are crispy from the outside and perfectly soft from the inside.
This vangyache kaap are so addictive that one cannot get enough of them. One thing to keep in mind is that, after cutting the eggplant, immediately soak the slices into salted water to avoid oxidation.
Though making this vangyache kaap is very easy, it requires a lot of patience to cook each slice to get it perfectly golden brown and to get that crispy texture.
Vangi / Eggplant / Aubergine / Brinjal: To make this vangyache kaap, I have used the big oblonged shaped purple eggplant. These go best for this recipe.
Rice Flour: This helps in making the slices crispy.
Besan (Gram Flour): This is used to give nice binding with the flavourful coating.
Spices: I have used, red chilli powder, turmeric powder, coriander powder to name a few.
Seasoning: I have used salt to season this vangyache kaap
Oil: I have used rice bran oil for shallow frying these eggplant slices
Water: I have used salted water to immerse the eggplant slices immediately after slicing them up to avoid oxidation.
Aloo Baingan Sabji – Eggplant Potato Curry
Let's see how to make this Beghun Bhaja / Vangyache kaap (crispy eggplant fritters) with simple basic ingredients in your home kitchen.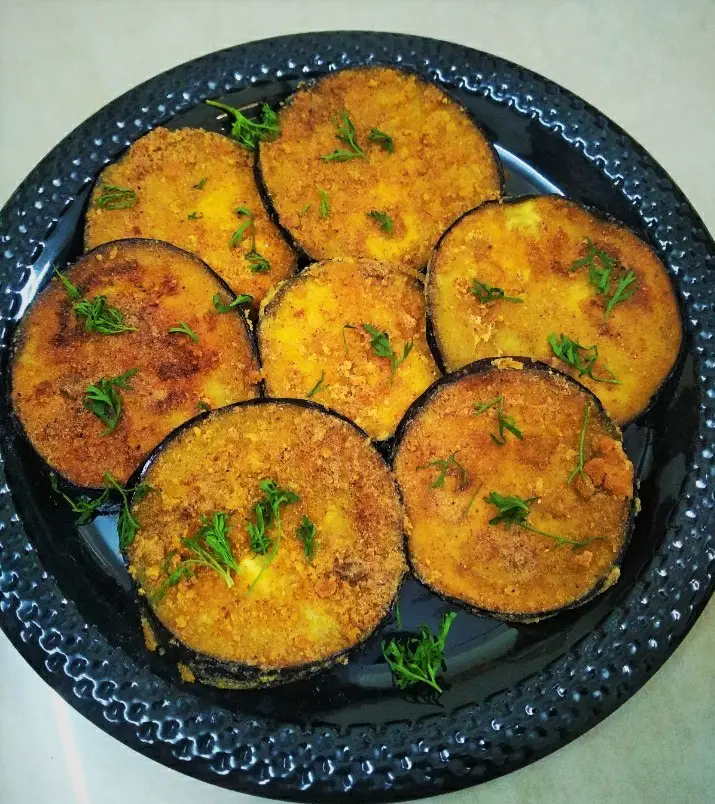 Serves: 4 Persons
Prep time: 15 minutes
Cook time: 30 minutes
Cooking level: Moderate
Taste: Spicy
1 Big Eggplant (Bhartacha Vanga) / Aurbegine
5 tablespoon Rice Flour
3 tablespoon Besan (Gram Flour)
4 teaspoon Red Chilli Powder (adjust as per taste)
1 teaspoon Turmeric Powder
2 teaspoon Coriander Powder
3 teaspoon Garam Masala Powder
Salt to taste
2 teaspoon oil – To mix the flour and spices together
Oil for frying
Salted Water to soak the eggplant slices
Let's start by thinly slicing the eggplant. Immediately soak the slices in salted water.
In a mixing plate/bowl, add rice flour, besan (gram flour), red chilli powder, turmeric powder, coriander powder, garam masala powder, salt and 2 teaspoons of oil. Mix everything properly so that the flour is infused with aromatic spices.
In the meantime, let's heat a tablespoon of oil in a nonstick pan for frying these eggplant slices (vangyache kaap).
Now, take a few slices of eggplants that have been soaking in water, pat dry with a kitchen towel to remove excess water.
Drench the eggplant slices in the spiced flour mixture, pat slightly so that the spice mix coats the slices nicely. Do this on both sides. Remove excess flour if any.
Lower them carefully into the oil and shallow fry from both sides. Keep the flame low so that they cook evenly and do not burn.
Use a fork or knife to see if eggplants are cooked. The fork/knife should go across the slice easily without resistance.
Repeat this process with the rest of the eggplant slices.
Serve along with dal rice or pulao or as a snack.
Note:
I have used very minimal spices here, but if you want to make it more tangy and spicy then add amchur powder (raw mango powder) or chaat masala in the flour. You may even add minced garlic to the batter.
If you do not like eggplants, you can use potatoes or even plantain (raw banana) using the same flour and spices.
Instead of rice flour you can add semolina / sooji in making the batter.
Thank you for stopping by…..
If you like recipes like these, let's connect on Instagram & Facebook.
Use the hashtag #thespicycafemumbai to feature on Instagram and Facebook.
If you like us to deliver the recipes straight to your inbox then do subscribe to our weekly newsletter.
For newbie bloggers: In case you are a beginner blogger, do check my other blog eralivine.com for tips on blogging especially for beginners.