This post may contain affiliate links. As an Amazon Associate, I earn from qualifying purchases.
Egg curry / Anda curry is a popular Indian curry made using boiled eggs that are immersed in delicious, spicy & flavourful coconut-based curry infused with aromatic spices.
This egg curry / Anda masala is delicious, protein-packed. Served with bread, roti, phulka or rice, this egg curry / anda curry is a sure shot for delicious comfort food. This is a protein-rich nutritious Indian curry recipe.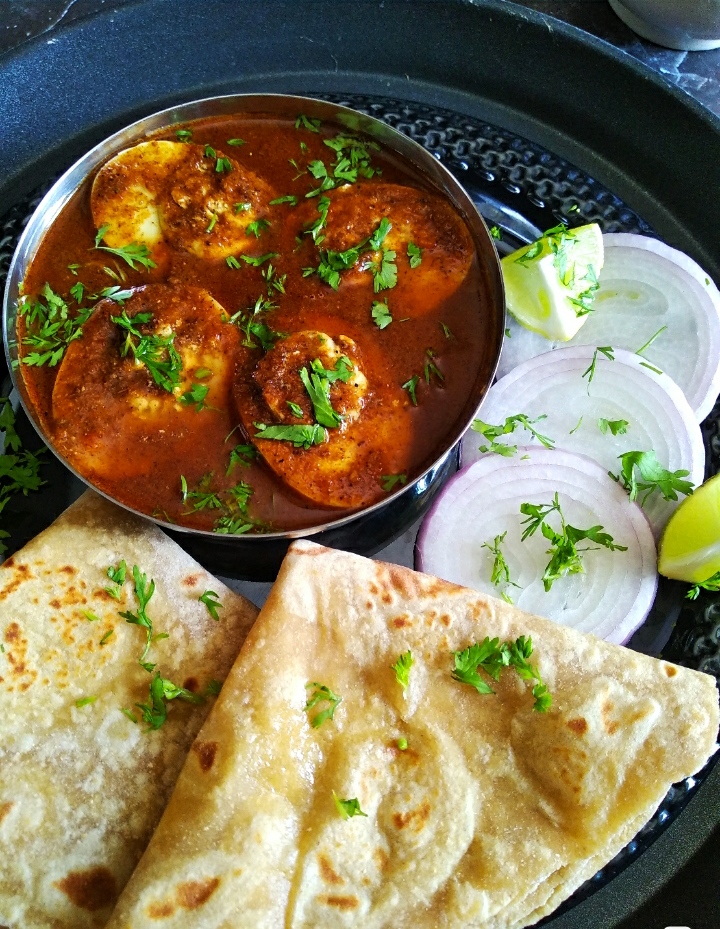 Egg curry / anda masala is easy to make the recipe. This is a popular curry made almost in every household as well as in restaurants across India. There are a variety of ways in which this egg curry / anda masala recipe is prepared depending on region to region.
There is scrambled egg curry, Dhaba style egg curry, and Chettinad egg curry to name a few.
In the northern and eastern regions, the curry is prepared using an onion-tomato base whereas in the western and southern regions of India the curry base is made using fresh or desiccated (dry)coconut which is infused with aromatic spices and herbs. Whatever may be the variation, it is one of the most loved curries all across India
This egg curry is loved by kids too. Just make it less spicy and they cherish it with bread or rice. We often make egg curry / anda curry at home for weekend lunch or dinner.
Egg curry is healthy, nutritious, and delicious! recipe. We serve this with pav (Indian bread buns), bhakri, chapati, phulka and with cooked steamed rice. You can adjust the consistency of the curry. Sometimes we prepare a semi-dry version sometimes we like it quite liquidy.
Eggs: To make this curry I have boiled 4 eggs and cut them lengthwise.
Coconut: I have used dry coconut here but you can use desiccated coconut or freshly scraped coconut too.
Coriander leaves / Cilantro: This is a coconut & coriander (cilantro) based gravy hence I have used half a cup of coriander leaves that I have blended in with coconut. The addition of cilantro/coriander leaves enhances the taste of this dish.
Spices: I have used some basic Indian spices. All the spices used in this recipe are store-bought.
Vegetables: I have used onion & tomatoes to give flavour and texture to this curry.
Oil: I have used rice bran oil for making this recipe
Seasoning: I have used table salt here. You can use rock salt too.
Water: To adjust the consistency of the curry
Let's see how to make egg curry / anda curry recipe using coconut with basic staple ingredients in your home kitchen.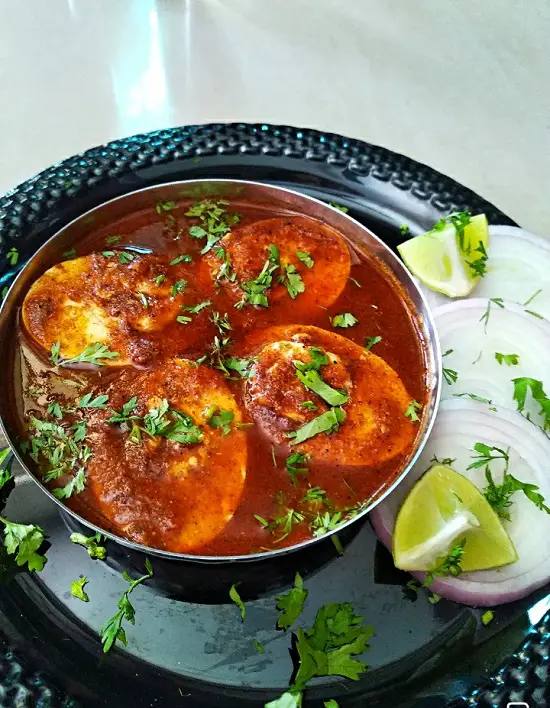 Serves: 2 Persons
Prep time: 20 minutes
Cook time: 20 minutes
Cooking level: Moderate
Taste: Spicy
4 Hard Boiled Eggs
1 Cup Dry grated Coconut
1/2 Cup Coriander Leaves
1 tbsp Cumin Seeds
2 Inch Long Cinamon Stick (Dalchini)
1 tbsp Ginger Garlic Paste
1 Green Chilli
2 Medium Sized Onion finely chopped
1 Medium Sized Tomato finely chopped
1 tbsp Red Chilly Powder
2 tbsp Coriander Powder
4 tsp Chicken or Mutton Masala of your choice
1/2 Lemon Wedge
Salt to taste
2 tbsp Oil
Let's start by boiling eggs.
For Curry:
Dry roast grated coconut and cumin seeds together till the coconut changes colour to light brown. Keep this mixture aside to cool down. 
Once cooled, grind the coconut mixture along with 1/2 cup of coriander leaves to a fine paste. Do not add water while grinding. Keep this paste aside.
Meanwhile in a pan heat oil. Add cinnamon stick (Dalchini), 1 slit green chilly and finely chopped onions, and saute till onions are translucent. Do not brown the onions.
Now add ginger garlic paste and saute the mixture till the raw smell of ginger garlic fades away. Add finely chopped tomatoes and cook till tomatoes are tender.
Once the onion & tomato mixture is cooked, add the coconut coriander paste that we blended and 1/4th cup of water. Mix well. 
Cook till oil starts separating from the coconut paste mixture. Now add red chilly powder, coriander powder, chicken or mutton masala, and salt. Mix well
Check for seasoning at this stage. 
Add 3 cups of water or as per your preference depending on how much thick curry you require.
Boil this curry for 5-7 minutes on medium flame. Once the oil starts to appear on the surface of the curry add hard-boiled eggs. ( If you want, slit eggs into 2 halves or just make a criss-cross slit on top till center, do not cut all the way through and immerse the eggs into the curry.
Atlast let the eggs simmer in the gravy for 5-7 minutes. Keep on stirring occasionally.
Garnish with finely chopped coriander leaves and serve hot with Roti, Rice or Bread.
While serving squeeze little lemon juice in this anda curry / egg curry.
Thank you for stopping by…..
If you like recipes like these, let's connect on Instagram & Facebook.
Use the hashtag #thespicycafemumbai to feature on Instagram and Facebook.
If you like us to deliver the recipes straight to your inbox then do subscribe to our weekly newsletter.
For newbie bloggers: In case you are a beginner blogger, do check my other blog eralivine.com for tips on blogging especially for beginners.