This post may contain affiliate links. As an Amazon Associate, I earn from qualifying purchases.
Oats upma is a healthy, easy to make and delicious breakfast recipe. Made with rolled oats or instant oats this dish is filling, healthy and perfect for weight watchers. This is a vegan, diabetic-friendly and gluten-free nutritious recipe.
Upma is a traditional Indian breakfast & snack dish made using semolina / rava. Upma is one of the favourite and common breakfast recipes that is mostly made in south India and in Maharashtra. Oats upma is one such variation in which instead of semolina/rava oats are used.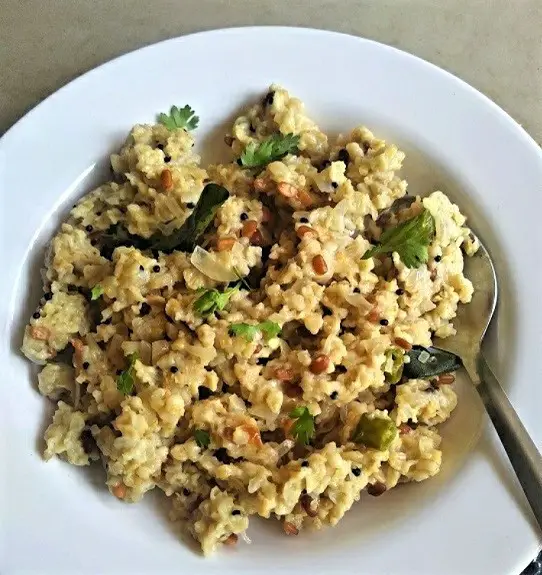 Having oats porridge for breakfast has always been a quick and favourite dish of mine. But when my Mom makes upma out of it! My goodness!! it's damn hard to resist.
Making oats upma is very easy and tastes delicious. This makes a perfect healthy breakfast that is loved by adults and kids too.
This quick oats upma gets ready in under 30 minutes. I have not added any vegetables here but the addition of veggies adds a nice depth of flavours, texture and boosts the nutritional value of this dish.
Oats are high in fiber, high in protein, low in calories which makes them an ideal breakfast option. People with diabetes, chronic liver diseases, heart-related issues can easily implement oats in their diet.
Oats being high in fiber helps you keep full for a longer period of time and decrease bloating. Oats are good for heart patients as they reduce cholesterol levels and are low in fats.
Serve this oat upma immediately when warm. Do not store it for the next day.
Apart from making oats upma, we normally indulge in oats chilla (pancakes), oats dosa, oats idli, oats dhokla, oats khichdi too.
Instant Oats: I have used quacker instant oats here. Rolled oats also go well in making this upma.
Onion: I have used one medium-sized finely chopped onion.
Oil: I have used rice bran oil for this recipe.
Black Gram (Urad Dal): I have used skinned and split black gram (urad dal) which imparts a nice crunch and flavour to this dish. I would highly advise you not to skip them.
Seasonings: I have added half a teaspoon of sugar here to balance the flavours. If you want you may skip it altogether. I have added normal table salt for taste.
Herbs & Spices: To flavour this oats upma, I used finely chopped green chillies along with fresh curry leaves. We are not going to use any masala here.
Let's see how to make these healthy, nutritious oats upma with staple basic ingredients in your home kitchen.
Serves: 3 Persons
Prep time: 5 minutes
Cook time: 10 minutes
Cooking level: Easy
Taste: Savory
1 Cup Oats
1 Big onion finely chopped
1 teaspoon urdal dal (skinned & split black gram)
1 teaspoon mustard seeds
6-8 curry leaves
2-3 green chillies finely chopped
1/2 teaspoon sugar
Salt to taste
2 tablespoon oil
1 1/2 cup hot boiling water (this depends on how mushy you require your oats to be, hence add accordingly)
Coriander leaves (Cialntro) for garnish
Incase you want to add vegetables then finely chopped carrots, french bean and green peas goes well with this oats upma. You may add any vegetable of your choice.
Let's keep 2 bowls of water to boil so that we can have it ready when adding to the upma.
In a kadhai or thick bottom pan, dry roast the oats for about 5 minutes on medium flame.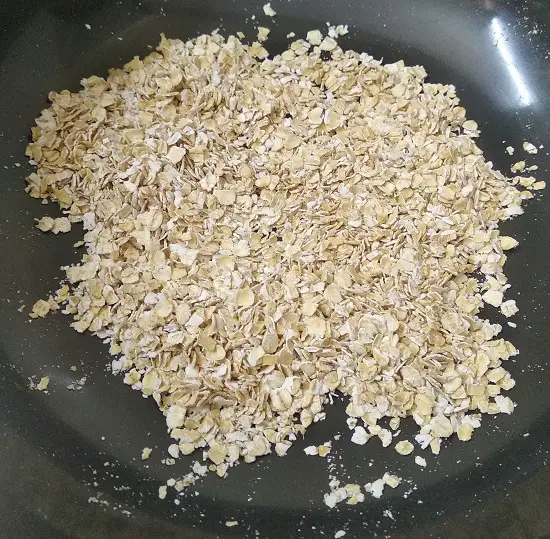 Switch off the gas and transfer the roasted oats onto a plate.
In the same kadhai or pan, heat oil. Add urad dal (black gram) and stir till it changes colour to light golden brown. Keep the flame low here as we do not want to burn the dal.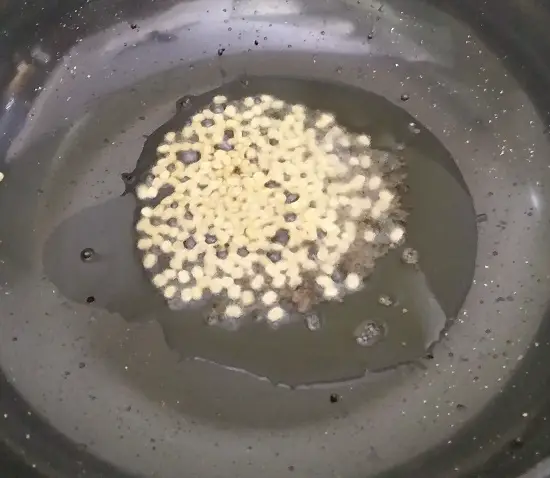 Now add mustard seeds, curry leaves, finely chopped green chilled, hing (asafoetida) and finely chopped onions.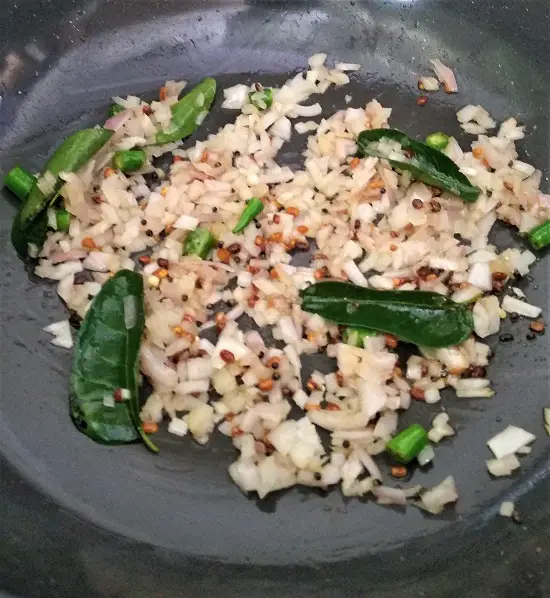 Saute onions till translucent. Add the roasted oats along with salt and sugar and mix well for a minute.
Now its time to add the boiling water, add it carefully as does splutter a lot. Mix well and check for seasoning.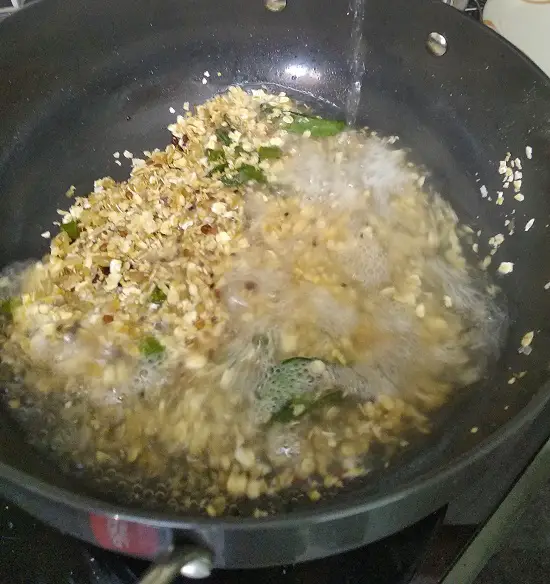 You will need to adjust the water as per the consistency of upma you need. I do not like mushy upma, hence I have used one and a half cup of water.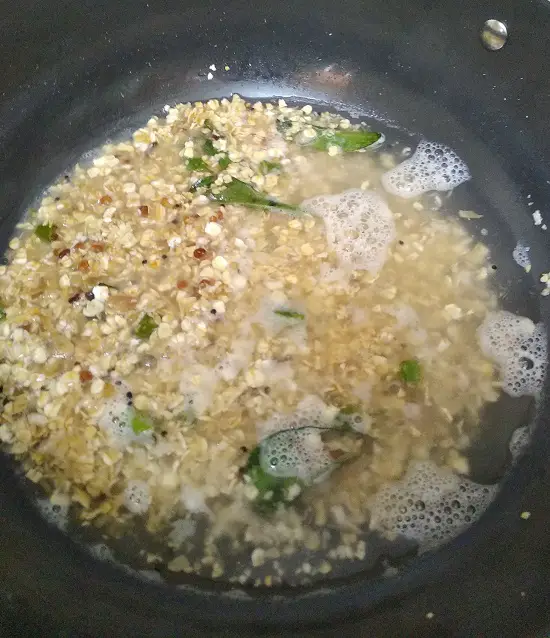 Cover and cook oats upma for about 5-7 minutes. Stir occasionally a couple of times.
Healthy and nutritious oats upma is ready.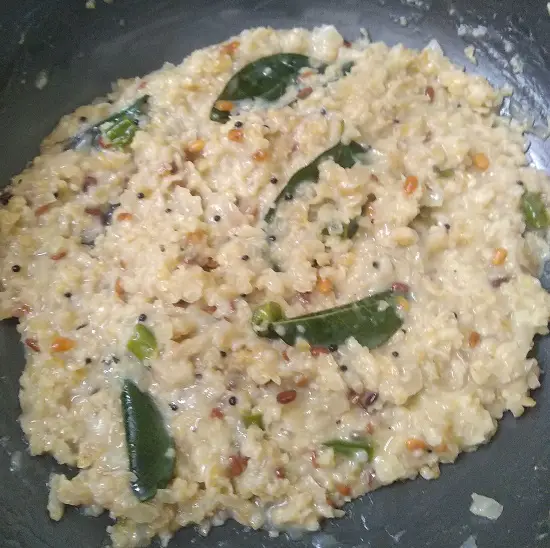 Garnish with cilantro and serve hot with a cup of tea or coffee.
Note:
You can add freshly chopped vegetables like carrots, french beans, and green peas in tempering and cook them before adding oats. This addition of vegetables will enhance the taste and texture of this dish and boost its nutritional quotient.
You may also add half a cup of roasted semolina / rava for taste and texture.
Thank you for stopping by, I would really love to know your thoughts on this recipe.
If you like this recipe or make this recipe do leave a comment and share the picture. I would love to see your creation.
If you like recipes like these, let's connect on Instagram & Facebook.
Use the hashtag #thespicycafemumbai to feature on Instagram and Facebook.
You can subscribe to my weekly newsletter to get more recipes, tips and special updates directly in your mailbox.
For newbie bloggers: In case you are a beginner blogger, do check my other blog eralivine.com for tips on blogging especially for beginners.