This post may contain affiliate links. As an Amazon Associate, I earn from qualifying purchases.
Phodnicha bhaat is an easy Maharashtrian-style fried rice recipe made with leftover rice that is tempered with aromatic spices. This is a quick, easy and simplest recipe perfect for beginners & bachelors. This is a vegan, plant-based rice dish.
Phodni refers to "the tempering" and Bhat means "Rice".
Phodnicha Bhat means tempered rice which is made using leftover plain rice that is tossed in spices along with onions. This rice is usually had for breakfast or as a quick evening snack.
Phodnicha bhat is known by several names such as vagharelo bhat, tadka rice, masala rice, fried rice or just as a leftover rice preparation.
This is a simple and easy Maharashtrian dish that can be had in breakfast, as a snack or as a one-pot meal for lunch & dinner.
This recipe is perfect to make for beginners & bachelors. It hardly requires any fancy ingredients, the main one being plain leftover rice.
You can make this with freshly steamed rice as well but in that case, make sure that the rice is fully cooled down to room temperature.
In case you have kept the rice in the fridge, then thaw it for about 20 minutes before preparing the dish.
I Love the simplicity of this dish. There are so many dishes that can be made using leftover rice but this is forever the easiest option.
With absolutely minimum ingredients you will be amazed how this plain leftover rice is taken to a different level with its taste, color and flavour.
This rice also makes a perfect lunch Box option for adults as well as kids. It's that versatile!
Phodnicha bhat is typically prepared in every Maharashtrian household. Served with curds or raita or pickle. Also, this recipe can be made using many different herbs or just as plain without onions and still taste good.
A bowl full of hot pipping phodnicha bhat along with curd is a perfect combo for comfort food.
Every household has its unique version of preparing this rice. Some add curry leaves, and green chilies as well. In my home, we make it in five different ways depending on our mood.
The recipe that I want to share today is the most basic one which is made often in our home. I personally love to have this rice with a dollop of curd.
Apart from this Maharashtrian style phodnicha bhat, we often make another kind of tempered rice from south Indian cuisine that is lemon rice. This is again a tempered form of rice recipe made from leftover rice. Lemon rice is mild tangy with lots of nuts and fresh curry leaves.
I have shared lemon rice recipe on My blog. If you are interested click here to get the recipe.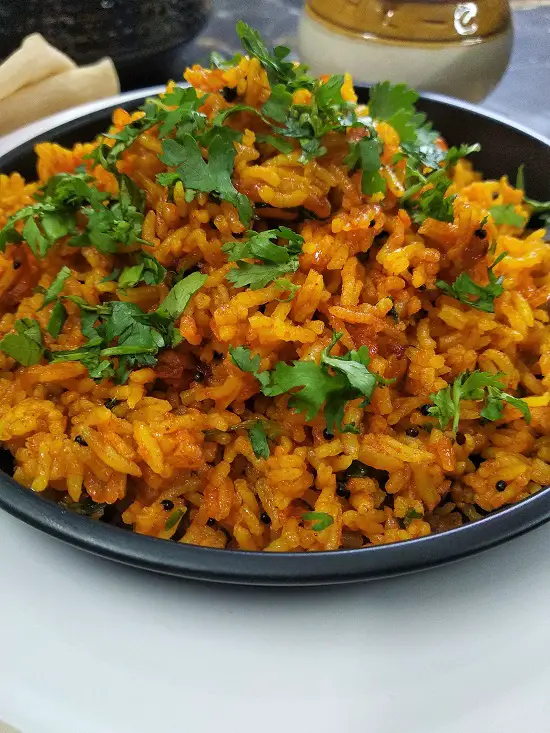 Like phodnicha bhat this lemon rice is also served for breakfast or as a light meal.
This phodnicha bhat is quite filling and is a sure shot to satisfy your tastebuds.
On days when I crave something delicious, comforting food but in no mood to cook an elaborate meal, this is the dish than comes to My rescue.
This traditional warm, spicy,garlicky recipe can be made without much effort. Just with minimal prep work, you can toss up this delicious phodnicha bhat which is filled with a robust depth of flavours.
To make this phodnicha bhat, you may use any variety of rice. I often use basmati rice but short-grain rice works best.
Rice: I have used leftover rice (basmati). I used 2 cups of rice for this recipe
Herbs & Spices: I added crushed garlic pods along with Kashmiri red chilli powder and turmeric powder.
Seasoning: I seasoned this phodnicha bhat with a teaspoon of sugar to balance out the flavour and salt.
Oil: I used 2 tablespoons of oil here.
Let's see how to make Phodnicha Bhat Maharashtrian Style with simple basic ingredients in your home kitchen.
2 cups leftover cooked rice
1 Onion – finely chopped
1 teaspoon Mustard Seeds
4-5 Crushed garlic pods
1/4th teaspoon Hing (Asafoetida)
1 teaspoon Turmeric Powder
1 tablespoon Red Chilli Powder – as per the spiciness required
1 teaspoon Sugar
Salt to taste
Coriander leaves – finely chopped for garnish.
2 tablespoon Oil
Heat oil in a pan. Add mustard seeds and let them crackle. Now add cumin seeds and let them sizzle for one minute.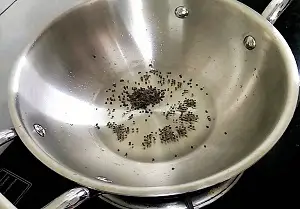 Add hing (asafoetida) and crushed garlic. Roast garlic till they change colour to a golden brown.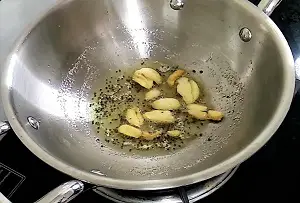 Add finely chopped onion and cook till the onions are translucent. Keep the flame low to medium.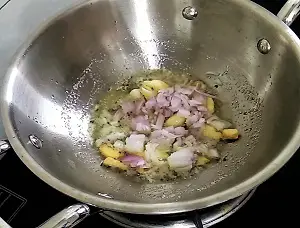 You may also check out these recipes: Lemon Rice, Tondlicha Bhat ( Ivy gourd rice), Snack Recipes, Breakfast Recipes, Maharashtrian Recipes, Beginner-Friendly Recipes, Vegan & Plant-Based Recipes
Once the onions are cooked add red chilli powder and turmeric powder. Saute for a bit.
Add the leftover rice. At this point keep the flame low. Mix the rice well with the onion mixture.
Add salt and sugar, and mix well till masala is nicely incorporated into the rice. Check seasoning at this time.
Cover the pan with a lid and let the rice get nice steam for about 5-7 minutes on low flame.
Stir occasionally to avoid the rice sticking to the bottom of the pan.
Maharashtrian Style Phodnicha Bhat is ready.
Garnish with finely chopped coriander leaves and serve with a dip of your choice.
Suggestions:
You may use finely chopped green chillies here which give a nice taste to this rice.
You may also add curry leaves to this phodnicha bhat.
If you like, instead of just adding chilli powder, you can add kanda lasun masala or malvani masala in this phodnicha bhat.
If you like recipes like these, let's connect on Youtube, Instagram & Facebook.
Thank you for stopping by, I would really love to know your thoughts on this recipe.
If you like this recipe or make this recipe do leave a comment and share the picture. I would love to see your creation.
Use the hashtag #thespicycafemumbai to feature on Instagram and Facebook.
You can subscribe to my weekly newsletter to get more recipes, tips, and special updates directly in your mailbox.
For newbie bloggers: In case you are a beginner blogger, do check my other blog eralivine.com for tips on blogging especially for beginners.