This post contains affiliate links. As an Amazon Associate, I earn from qualifying purchases.
Aloo paratha is a popular Indian flatbread made using whole wheat flour along with spicy stuffed potato filling and relished with curds or pickles. This is one of the popular Indian breakfast dishes loved by all from kids to adults. This is a vegan, beginner-friendly and easy-to-make recipe.
Normally when you hear aloo paratha it's always associated with one which is stuffed with potato filling. But when you are a beginner and want to try to make this stuffed version, it could be very intimidating and also would be really messy.
Then why not have the same delicious paratha made by just tweaking the preparation method?
Today's recipe is like that, tweaking the process of making the traditional aloo ka paratha. Made without stuffing but has the same flavour as the stuffed one. I have shared the recipe for stuffed aloo paratha too. If interested click here to see the detailed recipe.
This non-stuffed aloo paratha is a very easy, quick and tasty recipe. It is quicker when you have boiled potatoes at hand.
This non-stuffed paratha is made by mixing potatoes/aloo directly into the flour along with spices and herbs. This aloo paratha is best served with curds, raita or with Indian pickles.
At home, we tend to make these parathas for light dinner or sometimes for weekend brunch.
This type of making paratha (without stuffing) is one of the hassle-free methods when you do not want to spend too much time in your kitchen.
Many times we also make use of leftover aloo sabji (batatyachi bhaji) to make this simple aloo paratha. A little makeover for those leftovers!
Apart from aloo paratha, you will find numerous paratha recipes that are popular in Indian cuisine. Parathas like gobi ka paratha (cauliflower paratha), paneer paratha (cottage cheese paratha), cheese paratha, mooli paratha, and palak panner paratha to name a few.
These crispy flavourful parathas are much-loved food in India.
Aloo paratha is one such paratha that is popular among paratha lovers. From kids to elders all enjoy this aloo paratha immensely.
Making this non-stuffed aloo paratha is a fail-proof recipe. No need to make the stuffing separately and the dough separately. All the ingredients go into one bowl. It hardly takes much time to make them, it takes just minutes to put everything together.
You can pack this non-stuffed aloo paratha for road trips, picnics, kid's lunch boxes along with tomato ketchup or green chutney. This also makes a perfect evening snack for kids when they return from school.
If you are a potato lover, you are going to love this simple version of aloo paratha. These hassle-free parathas are bursting with flavours that are totally addictive.
To make this unleavened paratha, I mixed potatoes/aloo along with whole wheat flour, spices, and chopped onion and then pan-fry using oil.
Normally parathas of any kind are prepared using ghee and topped with butter. If you like you may use them.
Also instead of wheat flour, you may use all-purpose flour or a combination of both flours. The addition of all-purpose flour makes paratha very crisp.
Potatoes: I have used 5 medium-sized boiled potatoes.
Onion: I added 1 finely chopped onion (if you do not eat onion, you can avoid adding it. It still tastes delicious)
Flour: I added 2 cups of whole wheat flour. (Flour quantity depends on the moisture of potatoes as we are not going to use water for making this dough)
Herbs: I have used coarsely crushed ginger and green chilli paste here. I crushed them in mortar and pestle. I have used finely chopped coriander leaves (cilantro) too.
Spices: I added turmeric powder, coriander powder, cumin powder, chaat masala.
Seasoning: I seasoned this paratha with table salt
Oil: I used oil to pan-fry these parathas.
Let's see how to make aloo ka paratha without stuffing with simple basic ingredients in your home kitchen.
5 potatoes boiled and peeled or 200gms of mashed potatoes
2 cups wheat flour ( depends on the moisture of the potatoes)
1 medium-sized onion finely chopped
1-2 tbsp ginger-green chilli paste (coarsely crushed)
2 teaspoon Coriander Powder
1 teaspoon Cumin Powder
1/2 teaspoon Turmeric powder
1 teaspoon Dry Mango Powder (amchur powder) or Chaat Masala (I personally add chaat masala)
Salt to taste
2 teaspoon Coriander Leaves (Cilantro)
1 teaspoon oil while kneading the dough
4-5 tablespoons Oil for shallow frying
Boil potatoes. Peel and mash them with hands or grate them.
In a mixing bowl, add mashed potatoes, whole wheat flour, chopped onions, ginger-green chilli paste (coarsely crushed using mortar-pestle), chaat masala or amchur powder (dry mango powder), salt, turmeric powder, finely chopped coriander leaves (cilantro) and a teaspoon of oil.
Mix well without adding water. Check for seasoning. The dough should not be too stiff not too soft.
You will have to adjust the wheat flour quantity depending on the moisture of the potatoes as we are not going to use any water for making the dough. Hence add wheat flour accordingly. I ended up adding 2 cups of whole wheat flour.
Once the dough is ready, apply little oil and cover it. Leave aside for 10 minutes so that spices and herbs are nicely incorporated.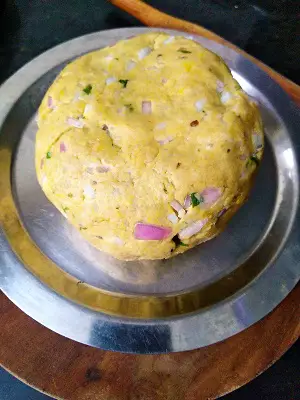 After 10 minutes, take the dough and knead it again to smooth it out a bit.
Take a ball of dough, dust it with dry wheat flour and roll it into an approximately 6-7 inch circle. You can make small parathas too, the size depends on personal preference.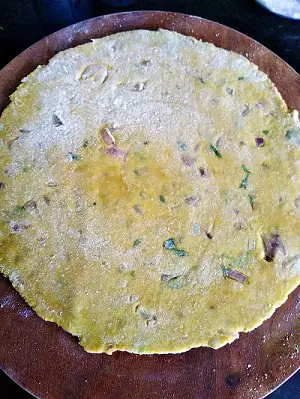 The thickness of paratha should not be too thin or too thick.
You may also check out these recipes: Stuffed Aloo Paratha, Breakfast Recipes, Snack Recipes, chutney recipes, Poori & Paratha Recipes.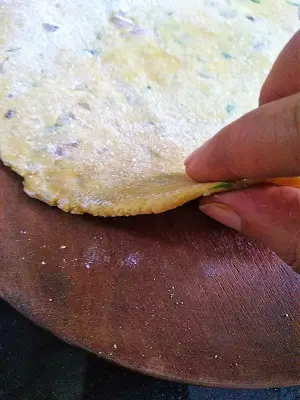 Heat Tava (skillet) and roast the paratha using a little oil until golden brown spots appear on both sides.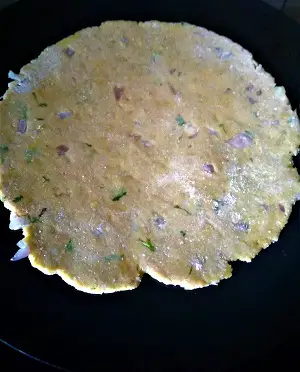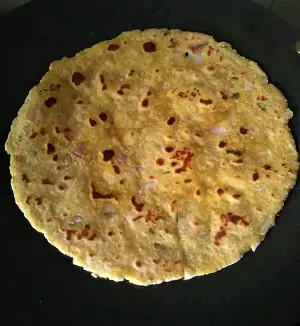 Do the same with the rest of the dough.
Aloo paratha without stuffing is ready.
Serve hot with pickle, chunda or chutney.
Note:
You can use all-purpose flour (maida) also for making this paratha or a combination of all-purpose flour (maida) and whole wheat flour. The addition of maida will make paratha crisp.
If you do not have amchur powder (dry mango powder) or chaat masala, add 1 teaspoon of lemon juice instead.
You can serve this aloo paratha with curries, vegetables, raita or with just plain curds.
If you like recipes like these, let's connect on Instagram & Facebook.
Thank you for stopping by, I would really love to know your thoughts on this recipe.
If you like this recipe or make this recipe do leave a comment and share the picture. I would love to see your creation.
Use the hashtag #thespicycafemumbai to feature on Youtube, Instagram and Facebook.
You can subscribe to my weekly newsletter to get more recipes, tips, and special updates directly in your mailbox.
For newbie bloggers: In case you are a beginner blogger, do check my other blog eralivine.com for tips on blogging especially for beginners.