This post may contain affiliate links. As an Amazon Associate, I earn from qualifying purchases.
Hiravya mugacha dosa also popularly known as pesarattu or green gram pancake is a healthy, nutritious Indian snack made with whole green gram ie whole green moong lentils. This is a vegan, fiber-rich and gluten-free recipe.
Green moong dosa is a savory Indian pancake that is made using whole green moong dal / green gram along with gram flour, herbs & spices. This is a vegan, wholesome, nutritious dosa/pancake that is best served for breakfast or for evening snacks along with a cup of tea or coffee.
This moong dal dosa / pancake is simple, easy, and quick to make. This protein-rich dosa is a diabetic–friendly recipe and helps in weight loss.
In India, we prepare varieties of savory pancakes that are made using different flours such as rice flour also known as "ghaavan", semolina (suji), jowar flour, wheat flour, nachni flour, raagi flour to name a few.
Earlier I have shared a delicious kid's favourite sweet corn chilla (sweet corn pancake) made using fresh sweet corn along with earthy spices.
This hiravya mugacha dosa / green moong pancake is a super simple recipe, you just need to mix everything together in a blender, whip it up and you are ready to go.
I have used whole green moong that I have just soaked and blended but you can also sprout the moong which makes them more nutritious.
The recipe that I have shared here is an instant moong dal dosa which does not need any fermentation. This dosa turns out crispy and is light on the stomach.
I normally do not add any vegetables except onions to this dosa / pancake but if you want you can top up the dosa / pancake with finely chopped vegetables such as bell peppers, spring onions, carrots, spinach, fenugreek leaves, or even grated paneer (Indian cottage cheese).
The addition of vegetables as a topping makes a perfect one-dish meal in itself.
As this dosa/pancake is made using whole green gram it gets a nice texture and the addition of coriander leaves makes them more flavorful.
As these dosa/pancakes are quick and easy to make they are the perfect snacks for kids when they return hungry from play or school. Kids love these with tangy ketchup. These dosa make a perfect snack for that 6 pm hunger pangs.
You can also pack these dosa/pancakes for the kid's lunch box along with ketchup.
This is one of the fuss-free recipes and you can never go wrong with it. The dosa is wholesome and delicious for that great start to a busy day. As no fermentation is required they are quick to make and can be made in just under 20 minutes.
How to store dosa batter?
You can refrigerate the dosa batter for almost a week. I normally make a huge quantity of this moong dosa batter and use it when needed.
At home, we often make this dosa for a quick light dinner or even lunch as a one-dish meal and serve them with green coconut chutney or Garlic Chutney or even ketchup.
To make this Pancake I have used:
Whole green gram / Whole green moong dal : I used whole green moong dal that I soaked in water overnight and then blended to a fine paste with cilantro and herbs.
Flours: I have used gluten-free gram flour (besan). This is optional, but adding a dash of gram flour helps the dosa to spread evenly and adds a perfect texture to the dish.
Spices & Herbs: This is a mildly spiced recipe hence I have just used a handful of spices and herbs here that includes coriander leaves and green chillies.
Vegetables: I have used onion here for that extra taste.
Oil: I have used sunflower oil to make this moong dal dosa/pancake.
Water: I ended up using 1 cup of water to adjust the consistency of the batter.
Let's see how to make moong dosa / hiravya mugacha dosa/pancake with minimal staple ingredients in your home kitchen.
2 cups Whole Moong Dal / Green Gram lentils
2-3 Green Chillies
1 cup Coriander Leaves (Cilantro)
1 Medium sized Onion
1 teaspoon Cumin Seeds
2 teaspoon Besan (Gram Flour)
Salt to taste
To make this nutritious dosa / pancake the first thing to do is to soak the green gram lentils/moong dal for about 6-7 hours or overnight.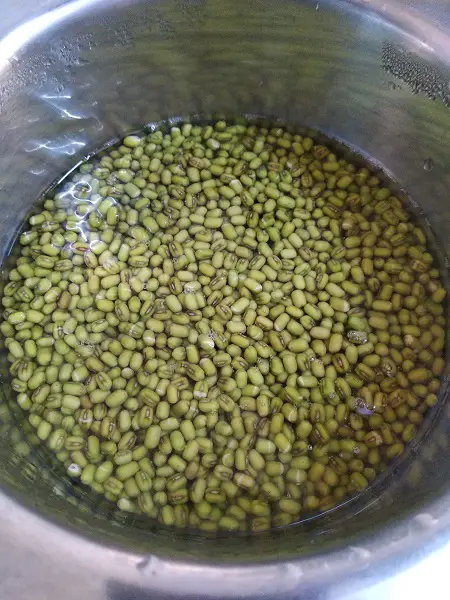 So, in a deep bowl or saucepan, add green moong lentils and 4 cups of water. Cover the pan/bowl and let the moong lentils soak for 8 hours or overnight.
These moong lentils double in size when soaked hence use a big pan or bowl to soak the lentils.
Once soaked, drain the water and rinse the lentil under running tap water.
Let's start the blending process
In a blender, add onion roughly cut into 4 pieces, add green chillies, coriander leaves (cilantro), jeera (cumin seeds).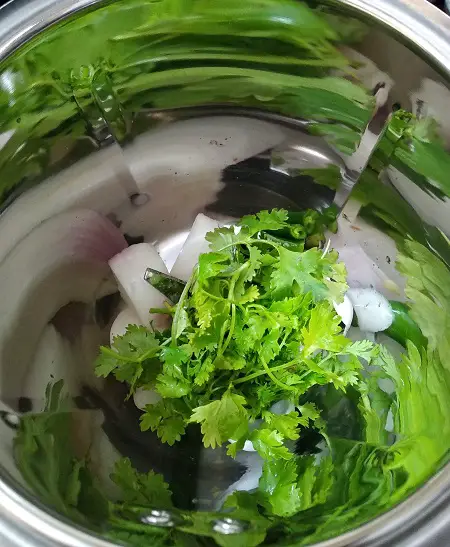 Add 2 teaspoon gram flour (besan), soaked moong dal along with half a cup of water. Blend to a fine paste.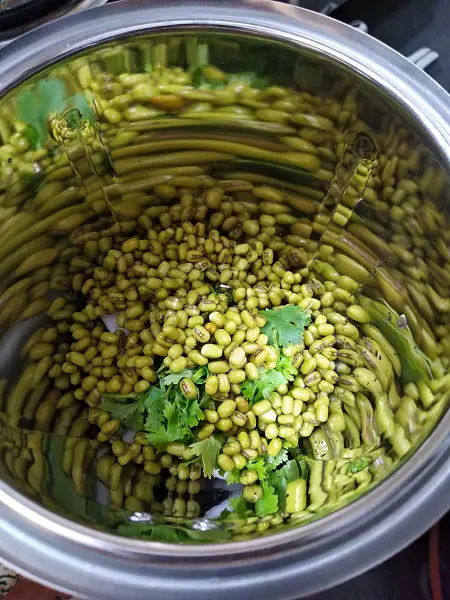 Transfer the blended moong dal mixture into a bowl. Add salt to tast and add 1/2 cup of water. Add water little by little, you do not want the mixture to be too runny. (Incase your mixture gets too liquidy, add some besan flour)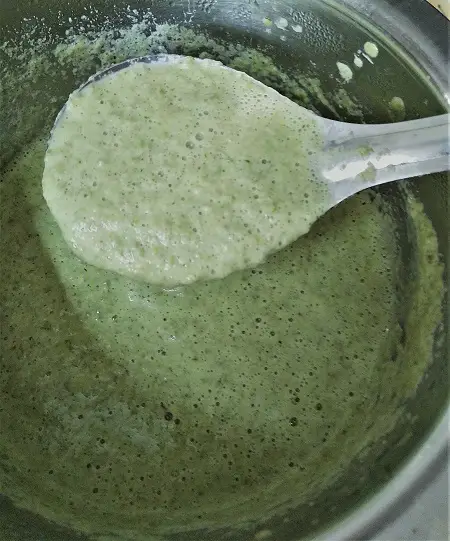 The consistency of the batter should be runny but not too thick or too thin.
Heat a non-stick skillet, grease with oil. Pour a ladleful of batter and spread it lightly using back of the spoon.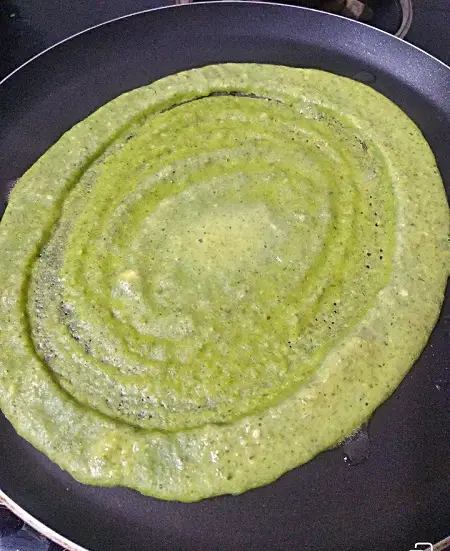 Cook the dosa / pancake on a medium flame.
Drizzle oil on the edges and cook till they are golden brown from both sides.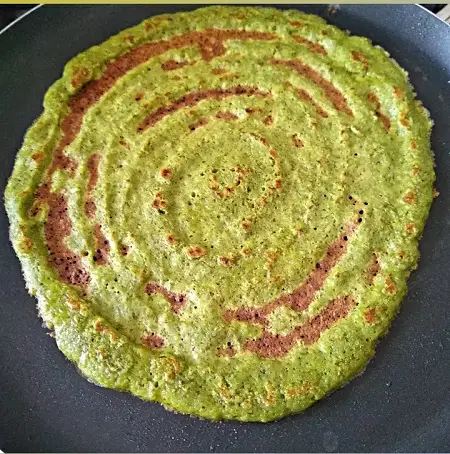 This batter will make approximately 10 medium size green moong dal dosa.
Suggestion:
You may add a teaspoon of black peppercorn, an inch of ginger while making the paste. This enhances the taste of the dosa.
If you like recipes like these, let's connect on Youtube, Instagram & Facebook. Thank you for stopping by, I would really love to know your thoughts on this recipe.
If you like this recipe or make this recipe do leave a comment and share the picture. I would love to see your creation.
Use the hashtag #thespicycafemumbai or #thespicycafeofficial to feature on Instagram and Facebook.
For newbie bloggers: In case you are a beginner blogger, do check my other blog eralivine.com for tips on blogging.