This post may contain affiliate links. As an Amazon Associate, I earn from qualifying purchases.
Kachya kelyachi bhaji in English means Raw banana stir fry vegetable. Raw banana also known as Plantain is one of the most popular vegetables all around the globe. This is a vegan, nutritious dry sabji made with minimal spices.
Kachya kelyachi bhaji / plantain sabji makes a perfect side dish for dal rice or sambar rice. This simple dry sabji goes very well with flatbreads like phulka, roti or chapati.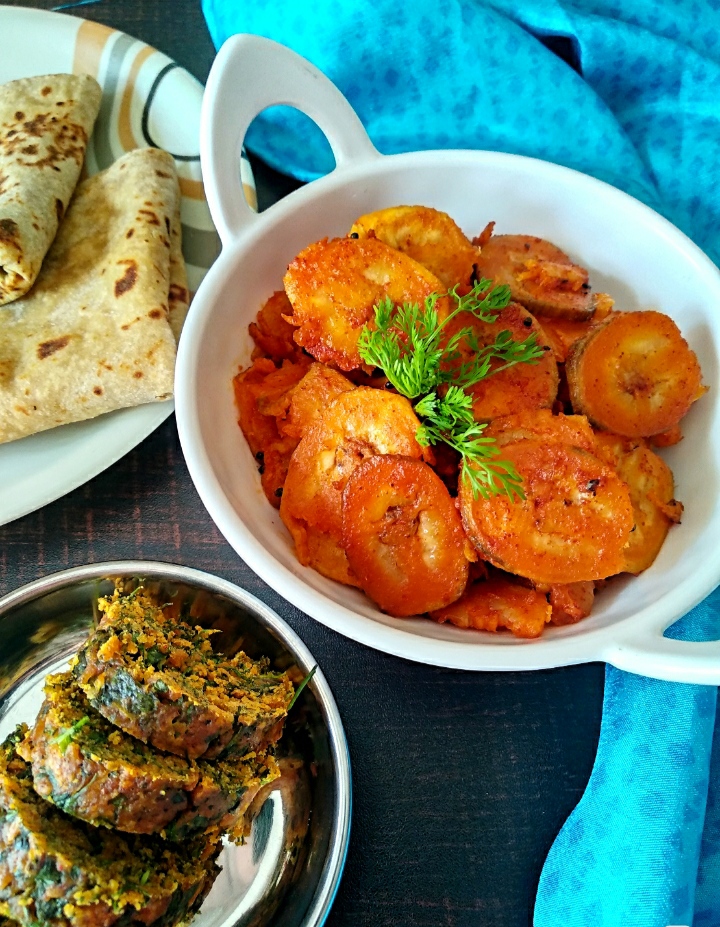 This is a no onion no garlic recipe. Kacchi keli is a Marathi word for raw banana. These are also called plantain.
This is a very quick, easy, and simple everyday kind of recipe. Kachya kelyachi bhaji / plantain sabji is made by peeling and cutting raw bananas in roundels which are then tempered with mustard seeds, hing (asafoetida) and turmeric. This tastes amazing as a side dish with sambar rice or with dal rice.
This sabji makes a perfect lunch box option for work as well as for kids' tiffin box along with roti or chapati.
Raw bananas are used widely in Indian cuisine. The most famous Indian snack made from them are the crispy salted banana chips.
Many recipes such as keli che kaap (pan fried plantain) , raw banana cutlet, raw banana masala curry are made using unripe raw banana. I have already shared keliche kaap / plantain fritters on my blog.
In India, raw bananas are available easily in the market all around the year. They are also mostly consumed during fasting / vrat / upvas .
Also, raw bananas are extensively used in Jain Cuisine making this dish a Jain-friendly recipe.
At home, we like to make banana chips, kachya keli che kaap, and this kachya keli chi bhaji (sabji) using this nutritious fruit.
Raw banana / Kacha Kela / Plantain are rich source of fiber, vitamins and minerals. Rich in vitamin A, vitamin C, Vitamin B6 and rich in potassium and magnesium these are also said to be superfoods.
These are vegan and excellent options for gluten-free, paleo-friendly recipes.
To make any dish out of raw banana, you first need to peel off the hard skin.
Then cut them and immediately immerse them in salted water to avoid oxidation.
Do not expose these raw bananas to air for a long period of time as they turn black immediately.
Raw Bananas are easily digestible and contain a good amount of daily recommended fiber & vitamins. 
Raw bananas are best substitute for normal potatoes. Unlike sweet bananas these raw bananas / plantain / kacha keli requires cooking. You cannot eat them raw.
Raw bananas are nutritious whole food and can be easily included as a part of a healthy diet. They contain 90-130 calories per 100 grams.
The recipe that I am sharing today is often made at my home. We serve this with chapati and sometimes as a side dish for amti bhat (dal rice) or sambar rice.
This plantian sabji makes are great accompaniment to any Indian meal. When feeling bored of eating the same vegetables, try this, you are absolutely going to love it.
Kachi keli / Raw bananas secrete a sticky substance, hence when you try to peel off the skin and cut them, your hands get a lot sticky.
To avoid this, always apply little oil on your palms before peeling or cutting the raw banana. 
To cut banana for this kelyachi bhaji / plantain sabji, cut the edges of the banana first. Using a potato peeler or knife remove the skin, and cut them in roundels. Once cut, immediately put them into salted water to avoid oxidation.
You may also like some of these related recipes:
Let's see how to make this kachya kelyachi bhaji / raw banana sabji / plantain stir fry with simple basic ingredients in your home kitchen.
Serves: 3 Persons
Prep time: 10 minutes
Cook time: 15 minutes
Cooking level: Very Easy
Taste: Spicy
Ingredients:
3 Medium sized Raw Banana / Kacchi Keli / Plantain
1 teaspoon Mustard Seeds (Rai)
1 teaspoon Cumin Seeds (Jeera)
1/2 teaspoon Turmeric Powder
1/4th teaspoon Hing (Asafoetida)
2 tablespoon Red Chilly Powder
1 tablespoon Sugar
Salt to taste
3 tablespoon Oil
Coriander Leaves for garnish
Method:
To peel and cut the banana, first apply little oil to your palms. This will make sure that your hands won't get too sticky when cutting and peeling the raw banana.
Cut the edges of banana. Using a potato peeler or knife remove the skin.
Cut banana in roundels, do not cut the slice very thin.
Keep the banana slices completely immersed into salted water immediately after cutting. This avoids oxidation.
In a deep kadhai, heat oil and add mustard seeds (rai). When mustard seeds start to crackle add cumin seeds (jeera), hing (asafoetida), turmeric powder and raw banana slices. Mix well.
Cover and cook raw banana / plantain for 5 minutes on a low flame. Stir occasionally.
When raw banana / keli /plantain are half cooked, add salt, sugar and red chilli powder.
Mix well, cover, and cook till raw bananas are perfectly tender.
Once cooked, add finely chopped coriander leaves.
Kachya Kelyachi Bhaji / Raw Banana Sabji / Plantain Stir Fry is ready.
Serve with dal rice or chapati.
Suggestions:
Try to use a non-stick pan while making this vegetable.
If you want, you can garnish this vegetable with fresh scraped / grated coconut.
Also if you like curry leaves, you made add them as they impart a very nice aroma and taste to this sabji.
Important Note:
Soak the raw banana / keli slices in water to prevent them from turning black due to oxidation.
If you want very crispy vegetable then do not cover the bananas while cooking and add a little more oil.
Try not to add any water while cooking this vegetable. Traditionally this kachya kelyachi bhaji / kele ki sabji is cooked only in oil.
For newbie bloggers: In case you are a beginner blogger, do check my other blog eralivine.com for tips on blogging espeically for beginners.
Thank you for stopping by…..
Did you like this recipe? Do try & share the picture by tagging us on any of our social handles or use hashtag #thespicycafemumbai on Instagram and Facebook
If you like us to deliver the recipes straight to your inbox then do subscribe to my weekly newsletter.
Happy Cooking!