This post may contain affiliate links. As an Amazon Associate, I earn from qualifying purchases.
Tendli in English means Ivy gourd and bhaat means rice. Tendli bhaat also called tondli cha bhaat is a mildly spiced rice recipe mostly made during festive or special occasions. This is a vegan, no onion & no garlic satvik recipe.
Tendli bhaat / tondli cha bhaat is a traditional Maharashtrian recipe served at weddings, thread ceremonies, gatherings, or any special occasions.
Today I am sharing the recipe tondli cha bhaat Maharashtrian style. Tondli is also known as tendli / ivy gourd / kovakkai is a vegetable that is mostly found in Asian countries.
This tendli rice is also referred to as tondli cha bhaat, tondli cha masale bhat, tendli pulao, tindora rice.
This recipe uses a special blend of Maharashtrian spice – goda masala which has a nice nutty sweet taste. This goda masala is easily available at any Indian grocery store.
We normally use store-bought goda masala but this masala can be made at home too.
This recipe is quite similar to Masale bhat which is also an authentic Maharashtrian recipe. You will find more vegetables in Masale Bhaat, unlike tondli / tendli bhaat.
This rice is best served with phodnicha taak ( tadka chaas / buttermilk) or with solkadi ( a tasty delicious beverage made out of kokam and coconut milk).
At home, we make this, especially during festive/special occasions. Tondli cha bhaat is delicious one-pot comfort food.
Apart from making it during special occasions, you may also pack this for lunch along with curds and achar/pickle. It's quite filling.
To make this rice, small grain rice is often used such as ambe mohar instead of basmati. I personally like to use basmati tukda for this recipe. There is no hard and fast rule here but small grain rice goes well with this type of preparation.
You will find this recipe made in many Maharashtrian households with each of them having its own unique recipe for making it.
To make this Maharashtrian Style tondli cha bhaat / tendli rice, I have used:
Tondli / tendli: I have used half a cup of tondli / tendli here which I cut lengthwise.
Rice: I have used small grain rice basmati tukda.
Green peas: I have added one-fourth cup of green peas as I like them in this rice preparation.
Spices: I have used some whole spices here along with powdered spices. The main spice to be added to this recipe is Maharashtrian goda masala.
Water: I have used 4 cups of water for 2 cups of rice.
Oil: I have used rice bran oil for this recipe.
You may also like some of these related recipes:

Let's see how to make Maharashtrian Style Tondli cha bhaat / Tendli Rice with simple basic ingredients in your home kitchen.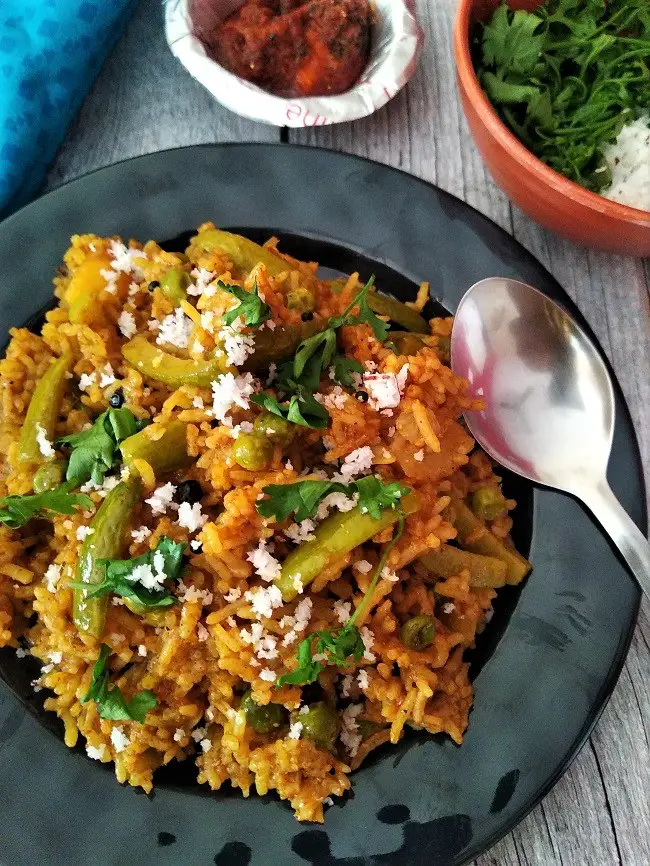 Ingredients:
2 cups Rice
Half cup Tondli / Tendli / Tindora / Ivy Gourd cut in lengthwise or roundels.
1/4th cup Green peas (optional)
1 teaspoon Mustard seeds
1 teaspoon jeera seeds
4 Cloves
5-6 Black Peppercorns
1 inch Cinamon stick (Dalchini)
1/2 teaspoon Turmeric Powder
1/4th teaspoon Hing (Asafoetida)
2 Green chilled split in between
1 teaspoon crushed Ginger or use ginger paste
2 teaspoon Red Chilli Powder
2 teaspoon Goda Masala (If you don't have goda masala use garam masala (taste would differ)
Fresh scrapped Coconut to garnish
Fresh chopped Coriander leaves / Cilantro for garnishing
Water to cook the rice
2 tablespoon oil
Method:
Let's start with prepping first.
For Tondli / Tendli : Wash and pat dry tondli / tendli. Cut the tendli lengthwise (vertically) or in roundels (as per your choice). I have cut it lengthwise.
For Rice: Wash rice thoroughly under running tap water till water runs clear. Keep the washed rice aside for half an hour (do not soak in water).
Let's begin the actual process!
In a thick bottom pan/kadhai, heat 2 tablespoons of oil.
Once hot, add mustard seeds, jeera seeds, black peppercorns, cloves, dalchini ( cinnamon), and saute for 5 seconds. Add hing (asafoetida), turmeric powder, green chillies, and 1 teaspoon crushed ginger.
Saute this masala for 15 -20 seconds. Add tondli / tendli along with green peas and saute for about 10-15 minutes.
Now add washed rice along with red chili powder, goda masala and salt. Mix everything well.
Add 4 cups of water and mix well. Check the seasoning at this time.
Now cover the rice with the lid and let it cook on low flame till rice & vegetables are cooked perfectly.
Tondli cha bhaat – Maharashtrian style is ready.
Garnish with freshly scraped coconut and finely chopped coriander leaves.
Suggestions:
You may add tej patta ( bay leaf) in the tempering. I haven't added it as we do not like it in this rice.
We sometimes add potatoes along with tondli and peas which gives a nice texture to this dish. If you like you may add 1 medium potato or 2 small potatoes cut into cubes.
Goda masala is easily available at any Indian grocery store, in case you cannot get it, use garam masala instead. The taste would definitely differ.
Thank you for stopping by…..
If you like my recipes then do join me on Instagram & Facebook.
Do try & share the picture by tagging #thespicycafemumbai on social handles.
If you like to get recipes directly in your inbox then do subscribe to our weekly newsletter.
For newbie bloggers: Incase you are a beginner blogger, do check my other blog eralivine.com for tips on blogging espeically for beginners.

Happy Cooking!