This post may contain affiliate links. As an Amazon Associate, I earn from qualifying purchases.
Upvasache pattice / farali pattice is a popular Indian Fasting / Vrat / Upvas recipe made with coconut filling that is stuffed in potato covering. This is a vegetarian, vegan, gluten-free, no onion no garlic recipe.
The recipe that I have shared here is made using freshly grated coconut along with basic spices & herbs.
These pattice are also called farali pattice, farali aloo pattice or upvasach pattice (upvasache padharth) and farali kachori.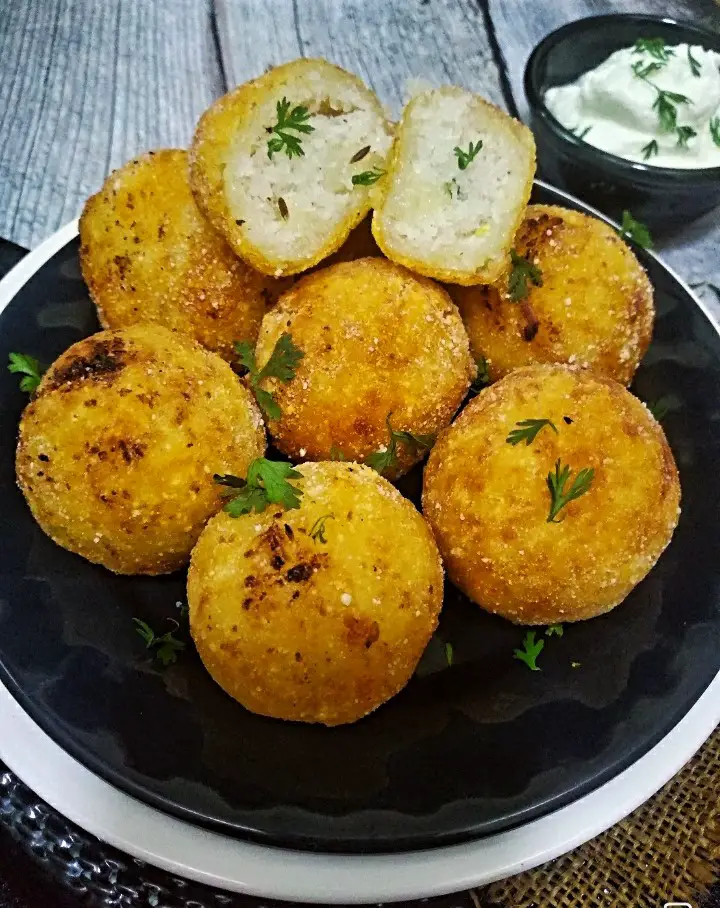 Farali pattice is an easy deep-fried mildly spiced stuffed pattice made using boiled potatoes and flavourful sweet-tangy subtle coconut filling.

This recipe is mildly sweet and spicy. The sweetness naturally comes with the coconut and spiciness from the green chilles that are added to it. Apart from green chillies, no other spices are used in making this recipe
You will find upvasache pattice / farali pattice served in mithai (sweets) shops and even in restaurants across Mumbai and Gujarat. These are served along with curds or with peanut chutney.

Apart from being eaten during fast, this delicious pattice can be made for evening snacks and can be served along with spicy coriander chutney or tomato ketchup. These are immensely loved by kids.
To make this upvasache pattice / farali pattice, the recipe is divided into two parts.
First is the filling that is made using freshly grated coconut along with cashew nuts, raisins, and green chilies.
The second part consists of making the covering of the pattice by using boiled potatoes along with binding flour such as sabudana or sago flour, arrowroot flour.
Sabudna flour or arrowroot helps potatoes to bind well and does not break or separate in oil while frying.
When you are not making these pattice for fast / vrat / upvas, you can make use of cornstarch or rice flour and relish it with a cup of hot tea or coffee!! It tastes absolutely delicious!
At home, we make this upvasache pattice / farali pattice as a traditional feast during Ekadashi and sometimes during Anagriki.
While making for upvas / vrat /fast, you may add sendha namak (pink salt) instead of regular table salt.
Many times we also make use of coarsely grounded peanut powder instead of using coconut. The addition of peanut powder gives a nice depth of texture to this pattice.
Apart from making these pattice, farali bhel made with potato chivda & sabudana chivda is also mostly prepared in many households during upvas / vrat /fast.
To make this Upvasache pattice / farali pattice, I have used:
Potatoes: I have used boiled potatoes to make the covering of this upvasache pattice /farali pattice.
Coconut: I used freshly scrapped coconut here.
Herbs & Spices: I have used cumin seeds which give a nice nutty bite to this pattice along with green chilles for that hint of spice.
Seasoning: I have used regular salt along with sugar. I have used lemon juice here for that zing of tang.
Flour: I used homemade sabudana powder in making this recipe.
Oil: I have used sunflower oil to deep fry this upvasache pattice / farali pattice.
You may also like some of these related recipes:
Let's see how to make Upvasache pattice / farali pattice with simple basic ingredients in your home kitchen.
Ingredients

:
4-5 Potatoes boiled
1/2 Cup Freshly scraped coconut
3-4 tbsp Sabudana flour (adjust as per the moisture in potatoes) OR Cornstarch (If not making for fast/ vrat / upvas)
2 teaspoon Jeera (Cumin Seeds)
1 tablespoon Raisins
1-2 teaspoon Green Chili finely chopped
1 tbsp Cashew nuts chopped
Salt or Rock Salt to taste
2 tablespoons Coriander Leaves chopped (Optional)
1/2 tsp Lemon Juice
1/2 tsp Sugar 
Oil for frying
Method:
Let's start with the prepping of the recipe.
First, let's see how to make homemade sabudana flour for this recipe.
In a thick bottom pan, add the sabuana pearls and roast them on a medium flame for about 10-15 minutes.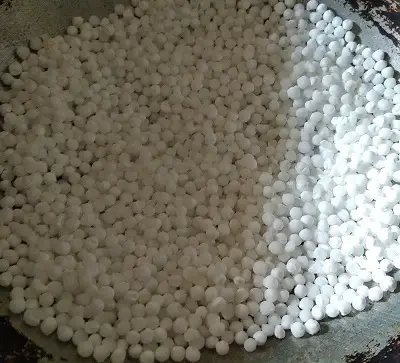 Cool them and grind to a powder.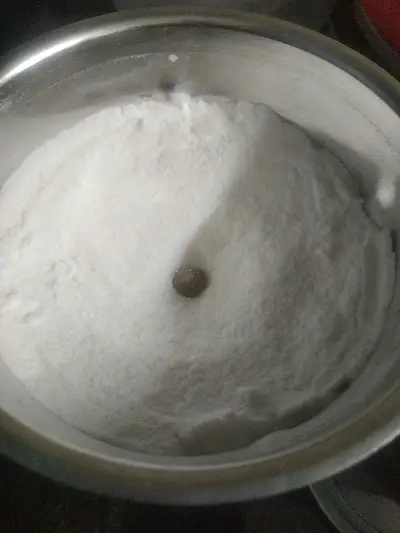 Our homemade sabudana flour is ready to use.
For Stuffing: 
In  a mixing bowl, add scrapped fresh coconut, golden raisins, cashew nuts, salt, sugar,green chilli and mix well.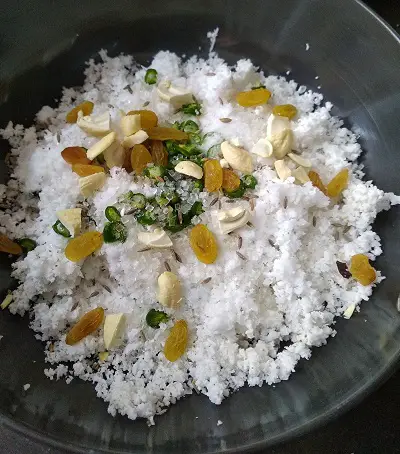 Now it's time to cook this mixture so that all the ingredients get well incorporated together and the sugar melts.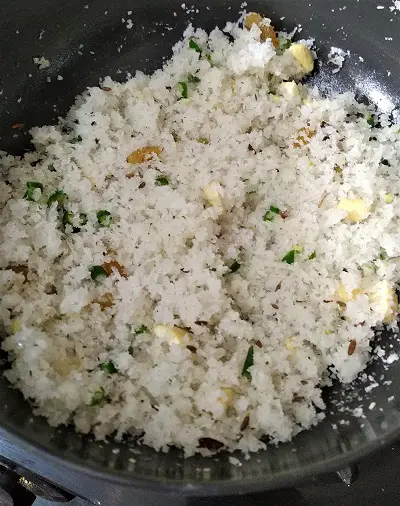 Transfer the filling onto a plate and let it cool.
Once cooled to lukewarm or room temperature, add lemon juice and finely chopped coriander leaves. Coriander leaves are optional here as some do not eat it during fast.
For Outer Covering: 
In a bowl, add boiled, peeled and grated potatoes, sabudana flour and salt. Mix well.
Here we need to made a stiff dough of potato and sabudana flour. Do not add any water in it.
Important: Here you need to eyeball the flour that you are using as it totally depends on the moisture of potatoes. The measurement mentioned above is what I ended up adding.
You may use arrowroot flour, varai flour, rajgira flour if you do not have sabudana flour.
Now we have the stuffing ready and the covering. So let's begin 🙂
Grease your palm with little oil. Take a golf ball size portion of potato mixture and make a cavity (dent) in center.
Place a spoonful of stuffing in it. Seal the stuffing with potato mixture. Make sure to seal all the sides.
Our pattice are ready for deep frying.
In a plate spread some sabudana flour and roll the pattice in it. This method adds that extra crunch to these farali pattice.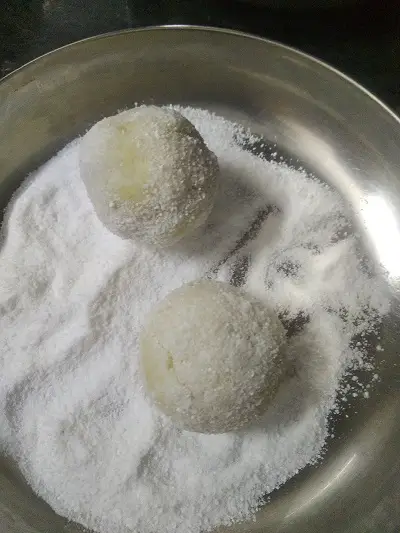 Deep fry the pattice in hot oil till golden brown. Fry them on a medium flame.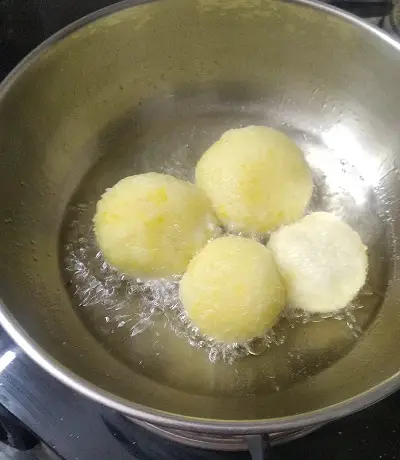 Transfer the pattice onto an absorbent paper to drain excess oil.
Serve hot with curd, coconut chutney or peanut chutney.
Note:
1. If you can't get or do not have fresh coconut, you may use dedicated coconut as well. The taste will change a bit.
2. If you are not making these pattice for fast then you can use cornstarch or rice flour to add in the potato mixture instead of sabudana flour (sago flour)
3. You may also use peanut powder instead of coconut.
Thank you for stopping by…..
If you like my recipes then do join me on Instagram & Facebook.
Do try & share the picture by tagging us on social handles.
Use the hashtag #thespicycafemumbai to feature on Instagram and Facebook.
If you like us to deliver the recipes straight to your inbox then do subscribe to our weekly newsletter.
For newbie bloggers: Incase you are a beginner blogger, do check my other blog eralivine.com for tips on blogging espeically for beginners.