This post may contain affiliate links. As an Amazon Associate, I earn from qualifying purchases.
Corn Palak also known as Corn Spinach Curry is a creamy, flavourful, rich curry dish made with spinach leaves and boiled corn kernels. This is a vegan, plant-based, beginner-friendly recipe.
We love spinach and at home make several dishes out of it on regular basis. Spinach/Palak is one such nutritious green that I always try to include in our everyday meals as much as possible.
Corn palak / spinach corn curry is one of our family favourites served with homemade laccha paratha.
This curry requires a basic panty staple and if a little prep work is done ahead, this veggie comes together in just around 30 minutes making it perfect for weekly dinners.
This corn palak is often called as Makai palak. Makai here means corn and palak mean spinach. You will find corn palak often included in restaurant menus all over India.
Corn and palak (spinach) make a wonderful combination. Apart from making this curry we also like to make corn and spinach sandwich which goes best for breakfast or evening snack.
At home, we make a variety of spinach (palak) and corn recipes such as palak dhokla (savoury spinach cake), palak poori (puffed spinach poori), palak panner, corn pakoda, corn bhel, buttered sweet corn masala, sweet corn pancake to name a few. I have already shared the recipes for this dish. Do check them out if interested.
Palak (Spinach) provides a host of health benefits from being a nutrient powerhouse loaded with vitamins A, C & K, minerals like magnesium and manganese and extremely rich in iron. Hence do try to include it in your diet, especially for kids.
This curry is lightly spiced and is served along with flatbreads, jeera rice or pulao. This dish is quite similar to palak paneer. Instead of paneer, boiled corn kernels are added to the spinach gravy.
This delicious, nutritious, creamy and spicy spinach curry with bits of sweet corn kernels makes a finger-licking curry. The sweetness of corns beautifully compliments the spicy spinach gravy.
This is a homestyle kind of preparation where I haven't used any cream or cashew nut paste. Instead, I have used just a tablespoon of coconut milk that adds a light taste and texture to this curry. You may even avoid adding the same.
Making corn palak / spinach corn curry is quick and easy.
Normally I make the spinach (palak) puree ahead of time and store it in the refrigerator a day or two before. Also, I boil the corn kernels ahead of time and store them in the refrigerator. This kind of meal prep saves time and energy when running late for lunch or dinner.
I have used fresh corn kernels that are easily available in the market. You can use the frozen corn kernel as well. When using frozen corn kernels make sure to thaw them before adding them to the curry.
You can use readymade spinach puree or frozen spinach leaves for this recipe. For frozen leaves, do follow the packet instructions to thaw them first.
One thing to note here is that, if you are using storebought spinach puree or frozen spinach leaves the taste and texture will differ a lot as when made using fresh spinach leaves.
To make this super healthy and nutritious curry, blanched spinach is pureed and cooked along with onion and tomatoes. Herbs and spices are added such as garlic and garam masala.
The main ingredient which enhances the taste of this corn palak is garlic. During special occasions, we add extra tempering of garlic to this corn palak curry and instantly this dish is transformed into lasuni corn palak. It tastes heavenly and goes very well with paratha, roti, naan or even jeera rice.
If you love spinach and corn, this is the dish you can't miss making! The silky spinach gravy with added boiled corns gives a nice mouthfeel and crunch with every morsel.
This curry can be prepared for special occasions, festive occasions or family get-togethers. You can even pack this for the office lunch box along with roti or rice.
So next time you have spinach sitting in your refrigerator, do try out this recipe and let me know on my social handles.
Spinach:  To make this curry, you need to make spinach puree first. I blanched spinach leaves in hot water and pureed them in a blender.
Corn:  I have used 2 cups of sweet corn kernels that I boiled in water. Do not overcook them.
Herbs & Spices: I have tempered this curry with garlic and spiced it up with homemade garam masala, red chilli powder.
Seasoning: I have added half a teaspoon of sugar here to balance the taste. I have used table salt for seasoning.
Oil: I used 2 tablespoons of oil to make this curry.
Water: I used 1/4th cup of water to make gravy for this corn palak.
Let's see how to make Corn Palak / Spinach Corn Curry with basic staple ingredients in your home kitchen.
1 cup Spinach (blanched)
2 cups Sweet Corn Kernels (Boiled)
1 tablespoon Garlic (Roughly Crushed)
1 Onion finely chopped
1 Tomato finely chopped
1 teaspoon Red Chilli Powder
2 teaspoon Garam Masala Powder
1/2 teaspoon Sugar
Salt to taste
1 tablespoon Coconut Milk for garnish
2 tablespoons Oil
Water to cook
To make boiled corns:
Add sufficient water to a saucepan and add the sweet corn kernel.
Let the corn kernels boil for about 15-20 minutes till they are cooked.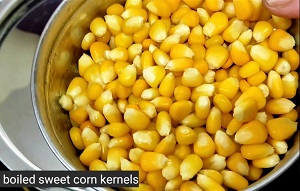 Do not overcook them. Once cooked, drain the water and keep them aside. (If using frozen corn just cook for 5 minutes, as they are already half-cooked).
To make Spinach Puree:
Wash spinach leaves under running water to get rid of dirt.
Heat water in a large saucepan. Once the water comes to a boil, add the spinach leaves and blanch for 4-5 minutes.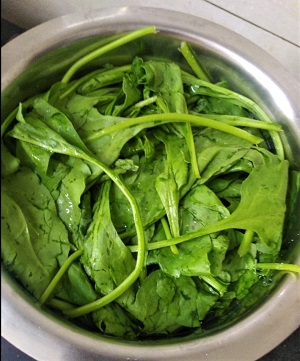 Once blanched, discard the water and immerse the leaves in cold water.
Blend blanched spinach to a smooth puree.
Let's make Corn Palak Curry
In a saucepan / kadai, heat oil. Once the oil is hot, add crushed garlic and saute till the raw smell fades away.
Add finely chopped onion and saute till translucent.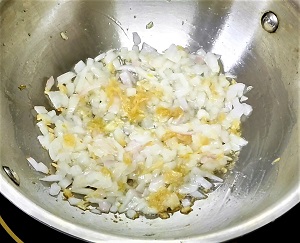 Add finely chopped tomato and saute for 3-4 minutes.
Cover and cook the onion tomato mixture till it gets tender.
Now add spinach puree along with red chilli powder, salt, sugar, and garam masala. Mix well.
Cover the pan for 2-3 minutes so that the spices get nicely infused with the spinach puree.
After 3 minutes, add the boiled sweet corns and mix well.
Cover and simmer the corn palak curry for another 3 minutes.
Corn Palak ( Spinach Corn Curry) is ready.
Garnish with coconut milk and serve hot with flatbreads or jeera rice.
Note:
We are not adding any colour here, so as the spinach cooks, it tends to change colour. But the taste remains the same.
Instead of coconut milk, you can use cream or cashew nut paste or serve as it is.
Instead of corn, you may also add panner cubes or tofu to change this dish into a palak paneer or tofu paneer.
If you like recipes like these, let's connect on Youtube, Instagram & Facebook.
Thank you for stopping by, I would really love to know your thoughts on this recipe.
If you like this recipe or make this recipe do leave a comment and share the picture. I would love to see your creation.
Use the hashtag #thespicycafemumbai or #thespicycafeofficial to feature on Instagram and Facebook.
You can subscribe to my weekly newsletter to get more recipes, tips, and special updates directly in your mailbox.
For newbie bloggers: In case you are a beginner blogger, do check my other blog eralivine.com for tips on blogging