This post may contain affiliate links. As an Amazon Associate, I earn from qualifying purchases.
Jowar in English means sorghum. This is a nutritious millet with innumerable health benefits.
Millets are good for health as they are rich in proteins, and vitamins and are high in fiber which helps you keep full for a longer time. Including millets in your daily diet aids lots of health benefits.
Jowar Idli is one such variation of the regular idli recipe. It is the healthiest breakfast recipe made with millet, lentil, and rice. This is a vegan, gluten-free, nutritious, diabetic-friendly & no onion no garlic recipe.
Idli is one of the most nutritious, healthy and popular Indian breakfast dish served with delicious spicy, sweet and tangy sambar or rasam along with flavourful coconut chutney. Idli is a staple food from South India. Idli's are prepared almost in every household across South India. 
Idli is not only popular amongst Indians but it's loved outside of India too. Idli is made using short-grain rice along with urad dal (split black gram) and fenugreek seeds.
These are so versatile that you can have them for breakfast, snacks, lunch, or dinner.
I personally prefer jowar idil for lunch instead of breakfast, it's like a one-dish meal for me.
The recipe which I am sharing today is a healthy version of the regular idli, made with whole jowar (sorghum) millet.
In this recipe, we are going to go the traditional way of making this idli recipe by soaking and fermenting the batter . This is not an instant idli recipe.
These steamed jowar idlis turn out soft, fluffy, and light. Due to the addition of the whole jowar millet, you feel full for a long time. The texture is slightly different from the regular idlis.
Jowar is a gluten-free millet that is high in fiber and protein-rich. It contains essential minerals and vitamins which make it a great alternative for regular idlis.
Jowar is best for those who are dealing with diabetes and thyroid. These idlis are best when you are on a weight-loss journey too. These idlis can be packed for lunch boxes for kids as well as adults.
As mentioned above, this is not an instant variant of jowar idli. For making this jowar idli, I have used a combination of jowar millet along with short–grain rice, urad dal (split black gram) and a few fenugreek seeds.
All these ingredients are soaked, ground to a fine paste and then set aside for fermentation. Fermentation increases the nutritional value of this jowar idli.
Many a time, at home we purposely make this batter in huge quantities as this can be stored in the refrigerator for about a week.
Once you have your idli batter ready, you can easily make idlis in no time, especially for those hectic morning breakfasts.
At home, we also like to make jowar dosa, uttapam, onion jowar uttapam and appe (paniyaram) using the same batter.
For dosa, I add a little water to adjust the consistency of the dosa batter and for appe / paniyaram I add crushed ginger – chilli paste along with some semolina / sooji / rava.
All these variations taste delicious and you can enjoy these guilt-free snack ready at your fingertips.
We make it a point to include this recipe at least once in a month due to the nutritional value and deliciousness of this dish.
Jowar is best for people with gluten sensitivity.
1. High in fiber
2. Boost immunity
3. Diabetic friendly
4. Good for the heart
5. Rich in protein
6. Gluten-free
In Maharashtra, you will find jowar bhakri made with jowar flour which is one of the best substitutes for chapati or roti made with wheat or flour.
You can find whole jowar millet in any Indian grocery store.
Whole Jowar : I have used whole jowar millet which I soaked for 8 hours.
Rice: To make any idli batter, I use short-grain rice. The rice I have used here is kolam. I soaked rice and jowar together.
Urad dal ( Split black gram): I soaked urad dal separately for about 8 hours.
Fenugreek seeds: These help in the fermentation of the batter making idlis soft and fluffy hence I always adds these seeds to my idli or dosa batter.
Seasoning: I have used just salt for taste.
Let's see how to make jowar idli in your home kitchen.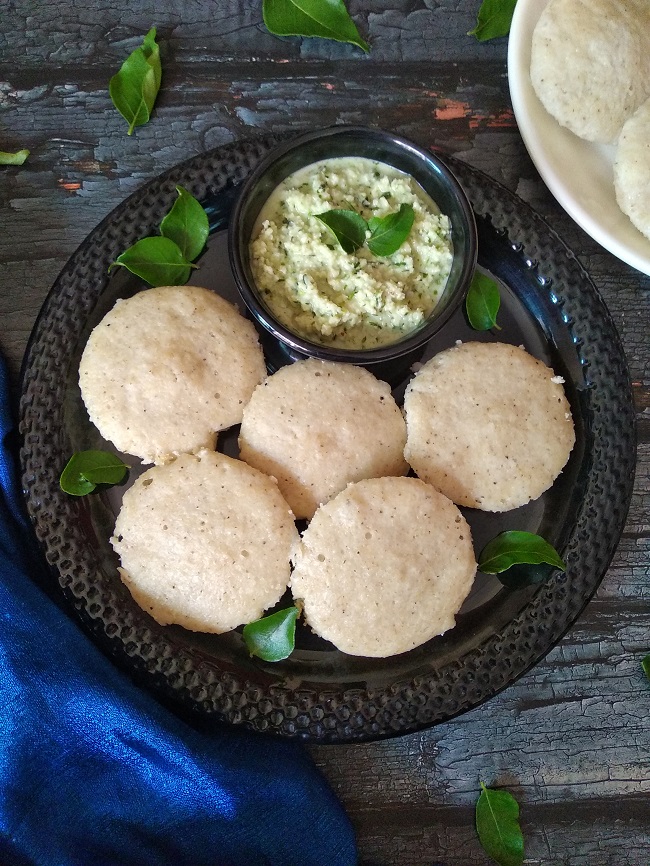 2 cups Whole Jowar Millet
1 cup Rice (short-grain) – I have used kolam rice here.
1 cup Urad Dal (Split Black Gram)
2 teaspoon Fenugreek Seeds
Salt
Oil to grease the idli mould
Water
Soak jowar and rice in enough water for 8-10 hours.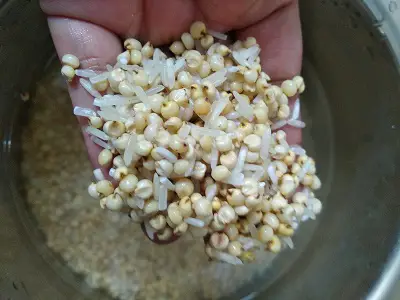 Soak urad dal (split black gram) along with methi seeds for the same time. Make sure to soak urad dal separately.
Once the grains are soaked for about 8-10 hours, drain the water from both.
Using a blender, first, start with grinding urad dal & methi. Try not to add water. Use very little water only if needed.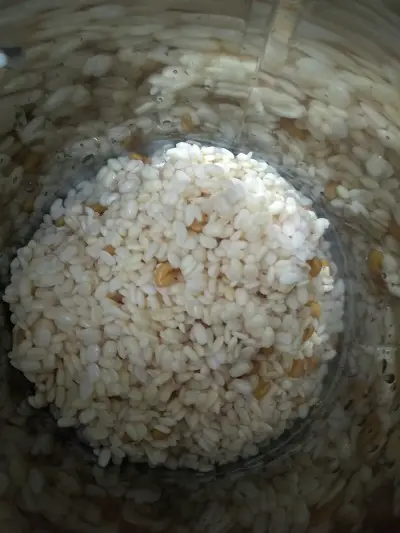 Transfer this urad dal mixture to a large deep vessel.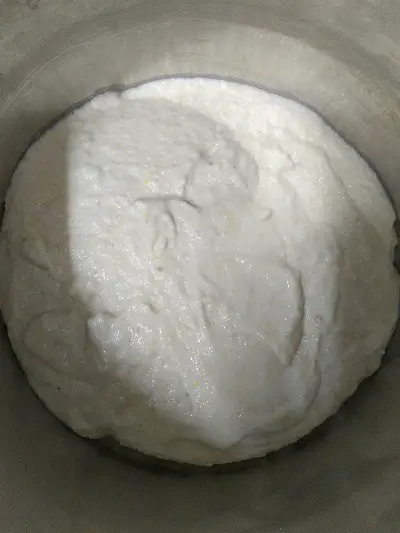 Now, grind jowar and rice to a smooth paste. Mix this jowar batter along with urad dal batter and mix well.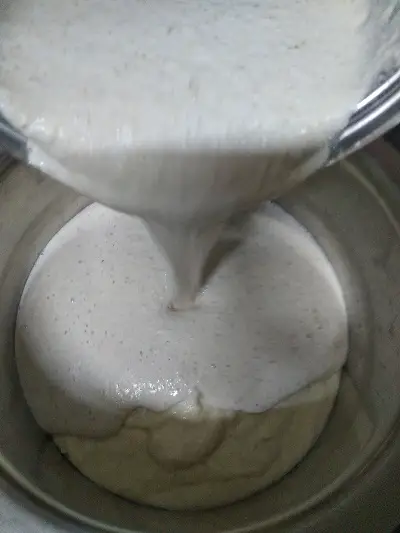 Cover the vessel and keep the batter aside for fermentation.
Also, keep a wide dish underneath the vessel which helps to catch the batter if it overflows.
Keep this batter vessel in a warm place without disturbing it.
Once fermented properly, the batter will double in size and get a frothy texture.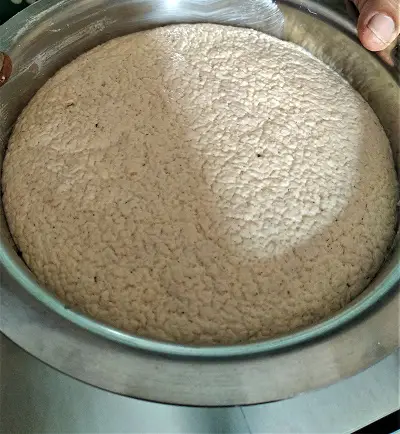 Add salt to the batter and mix gently.
In a steamer or pressure cooker heat some water.
Take the idli plates and lightly grease them with oil.
Pour the idli batter into the mould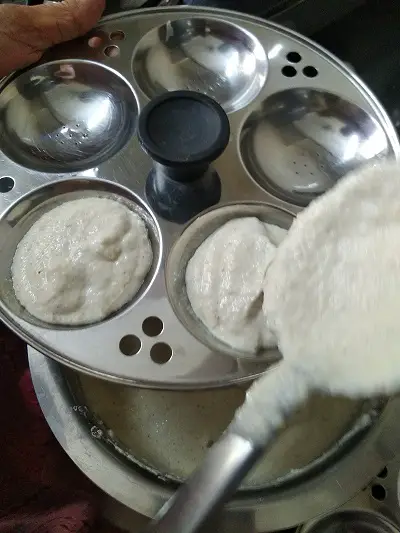 Place the idli moulds in a steamer and cover the lid. Let them steam for about 20 minutes.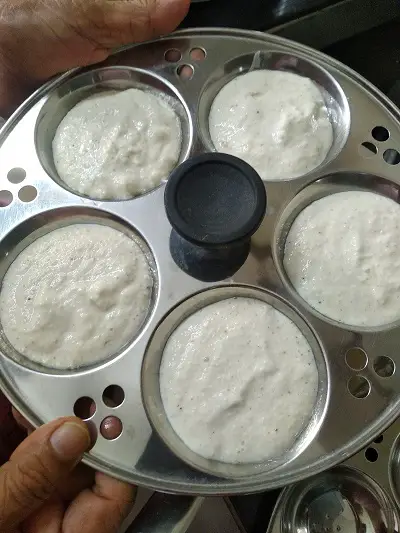 Once Idlis are done, open the steamer and remove the idli plates.
Using a spoon or backside of a knife demould the idlis.
Do not add too much water to the batter while grinding jowar and urad dal.
Keep the batter in a warm place to help fermentation. You can place the batter in a slightly warm pressure cooker or if you have an oven you may keep the batter in the oven with the light on.
Thank you for stopping by…..
If you like recipes like these, let's connect on Instagram & Facebook.
Use the hashtag #thespicycafemumbai to feature on Instagram and Facebook.
If you like us to deliver the recipes straight to your inbox then do subscribe to our weekly newsletter.
For newbie bloggers: In case you are a beginner blogger, do check my other blog eralivine.com for tips on blogging especially for beginners.