This post may contain affiliate links. As an Amazon Associate, I earn from qualifying purchases.
Corn & raw mango salad is a refreshing summer salad recipe made with fresh sweet corn, tangy raw mango along with vegetables, herbs, and spices. This is a vegan, gluten-free, healthy and nutritious salad recipe.
Summers are here and so are the summery salads with their vibrant colours. For me, summer is the best time of the year to indulge in refreshing salads. Corn & raw mango salad is one such recipe that we often made during summers.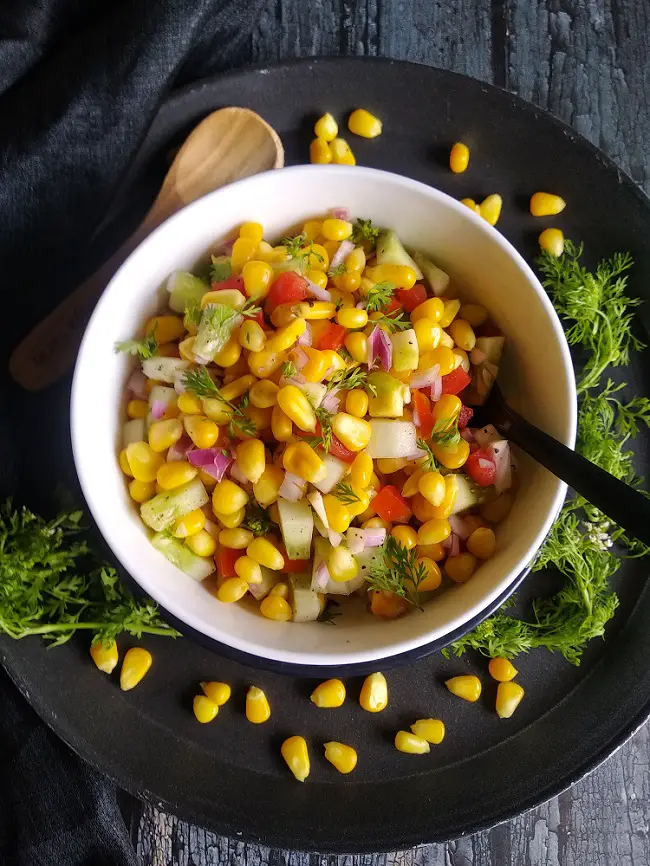 In this month of April, we get these fresh, hard, tangy raw mangoes in abundance. The addition of raw mangoes in this salad enhances the flavours in this recipe. This is what I call a culinary explosion in the mouth 😅 Burst of flavours, truly irresistible!
The sweetness of corns and tanginess of raw mangoes along with flavorful earthy Indian spices balances flavour of this salad beautifully.
This Corn & raw mango salad is an easy, tasty and healthy summer salad. Vegetables such as red onion, tomatoes and cucumbers are added to this recipe.
You can add vegetables of your choice too. This is such a versatile recipe that you can easily tweak it to your taste buds.
Many times I just add the two main ingredients corn and raw mango along with the spices for a quick snack.
At home, we make this salad with different versions of dressing like vinegarette dressing, mayo, or with some flavourful Indian spices.
Salads like these are best for brunch or as a light meal/snack or as a side dish to heavy meals. It goes very well with grilled dishes and soups.
This salad makes a great option for kitty parties, cocktail parties and are best to carry for picnics and road trips too. This super fresh sweet corn & raw mango salad bursting with refreshing flavours make a great appetizer too.
This juicy corn & raw mango salad is super easy to make and tastes incredibly delicious. This instant salad is light on the stomach and filling too.
This salad is a great way to get your kids to eat veggies.
I have used fresh sweet corn kernels in making this salad recipe, you can use canned corn too. But I would highly recommend using fresh ones. They taste best and are juicy.
For vegetables, you can use carrots, capsicum, cucumber, onions, spring onions, and lettuce which gives a nice crunch to this salad.
Pin for later
Sweet corn: I have used 2 cups of boiled sweet corn kernels.
Raw Mango: Also known as kairi is added for that tangy kick.
Vegetables: I have used cucumbers, red onions, and tomatoes.
Herbs & Spices: I have used spices such as garam masala and cumin powder and red chilli powder along with cilantro. I have used a 2 teaspoon of lemon juice for that extra zing.
Seasoning: I have used salt and freshly crushed black pepper.
Let's see how to make corn & raw mango salad with minimal basic ingredients in your home kitchen.
Serves: 3 Persons
Prep time: 5 minutes
Cook time: 15-20 minutes for raw corn kernels to boil. 5 minutes for frozen corn kernels
Cooking level: Easy
Taste: Mildly spicy & refreshing
2 cups boiled sweet corns
1 cup raw mango (kairi) peeled and finely chopped
2 tablespoon cucumbers finely chopped
2 tablespoon onions finely chopped
1 tablespoon tomatoes deseeded and finely chopped ( you can use cherry tomatoes as well)
2 teaspoon lemon juice
1 teaspoon garam masala
1 teaspoon cumin seeds powder (jeera powder)
1 teaspoon red chilli powder
1 / 2 teaspoon freshly crushed black pepper
A fist full of cilantro (coriander leaves) finely chopped
Salt to taste
Let's start with cooking the corn.
1. Add sufficient water in a large pan and bring it to a boil. Add the sweet corn kernel. Let the corn kernels boil for about 15-20 minutes till they are cooked. Do not overcook them. Once cooked, drain the water and keep them aside. (If using frozen corn just cook for 5 minutes, as they are already half-cooked).
2. In a big mixing bowl add the cooked corn kernels along with raw mango, cucumbers, red onions, and tomatoes (deseeded).
3. Add garam masala powder, cumin seed powder, red chilli powder. Mix well.
4. Add salt and freshly crushed black pepper.
5. Add fresh cilantro (coriander leaves) and lemon juice.
6. Toss the salad well so that all the spices and seasoning coat the corns and veggies evenly.
7. Delicious corn & raw mango salad is ready, Serve warm or chilled as per your preference.
Suggestion:
Salad Dressing Option 1: In a bowl, add a tablespoon of honey & lemon juice. Add minced garlic and add this dressing to the salad.
Salad Dressing Option 2: In a bowl add a tablespoon of extra virgin olive oil & lemon juice & minced garlic.
You may also add mint leaves for that refreshing taste.
Some find onions too strong in this salad, in that case, you can substitute red onions with spring onions too.
Thank you for stopping by…..
If you like recipes like these, let's connect on Instagram & Facebook.
Use the hashtag #thespicycafemumbai to feature on social media.
If you like us to deliver the recipes straight to your inbox do subscribe to our newsletter.
For newbie bloggers: In case you are a beginner blogger, do check my other blog eralivine.com for tips on blogging especially for beginners.