This post may contain affiliate links. As an Amazon Associate, I earn from qualifying purchases.
Dudhi Muthiya also known as dudhi na muthiya is one of the most popular Gujarati snack recipes made with dudhi / lauki / bottle gourd along with flours, herbs and spices. This is a vegan, plant-based, beginner-friendly, diabetic-friendly recipe.
Who doesn't love Gujarati snacks! from dhokla, patra (alu vadi) to khamani to khandvi the list goes on and on! One such delicacy amongst all these are the famous muthiyas made with variety of vegetables and flours.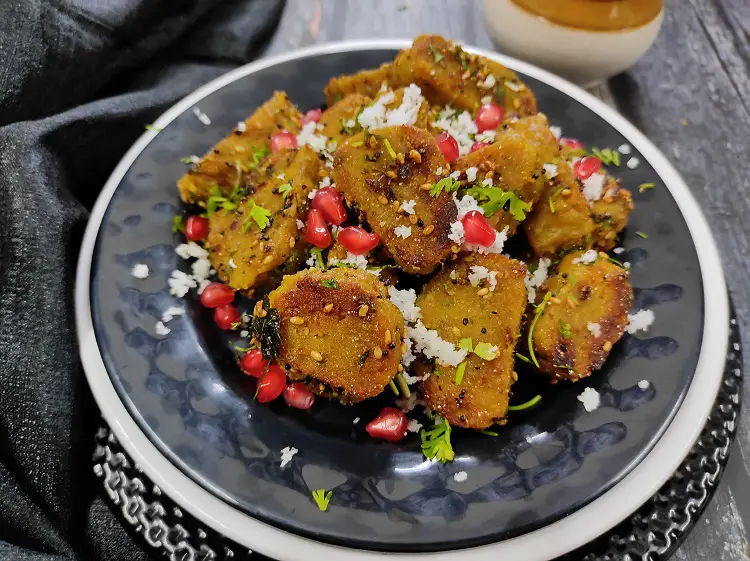 Muthiya are popular Gujarati delicacies that are made using a variety of vegetables that are mixed with flours and spices, deep fried or steamed, and relished as a snack, as a breakfast item or as a side dish with meals. Best served with coriander chutney or tamarind chutney.
Popular amongst them is methi muthiya, palak muthiya, dudhi muthiya to name a few. The word muthiya comes from the way these dumplings are made. It's the way of making this dumpling by moulding the dough in your fist that gives this dish its unique name.
Muthiya of any sort are easy to make and are very healthy, especially the steamed ones. These muthiya are relished as snacks with tea during evening tea and are loved by adults and kids too.
These dudhi muthiya make a great snack for kids when they return hungry after school or play. Dudhi / lauki is not liked by many and especially children, so this is the best way to include this healthy, nutritional and low caloric vegetable in your kid's diet.
Making muthiya is very easy as this snack is made with ingredients that are easily available at every home.
This traditional and healthy steamed snack recipe is made with lauki / dudhi which is grated and mixed with flours like wheat and besan (sometimes jowar (sorghum) ) along with spices and herbs like sesame seeds (til), garlic, green chillies etc.
These dudhi muthiya can be packed for kids lunch box along with ketchup or sweet & sour tamarind chutney. Many a time, we make a batch of it for our snacks during road trips instead of indulging in outside food or packed chips.
This yummy snack is filling and has a shelf-life of 4-5 days when kept in the refrigerator.
Once your dudhi muthiya are steamed, there are two ways in which you can relish them. Either you can deep fry them till golden brown or shallow fry them in a flavourful nutty takda (tempering) of sesame seeds, mustard seeds, and curry leaves.
When tossed with sesame seeds, these give a nice crunch to these muthiya. I normally shallow fry them till the muthiya gets slightly golden brown around the edges which adds a nice texture and depth to this dish.
At home, instead of making these muthiya individually, we opt to shape them in cylindrical croquettes which then are steamed and then cut into bite-size pieces and tossed into sesame seed tempering.
This irresistible dudhi muthiya / lauki muthiya are delicately flavoured and best for diabetics and heart patients. Also if you are on a weight loss journey these muthiya make a perfect snack when consumed without frying.
Dudhi / Lauki / Bottle Gourd: I have used 2 cups of grated dudhi / lauki.
Flours: I have used besan (gram flour) along with wheat flour (gehu ka atta). Many times I also like to add jowar flour to enhance the nutritional value of this dish.
Spices & Herbs: I have used garlic-chili paste along with red chilli powder, coriander powder, turmeric powder, sesame seeds, and ajwain.
For Tempering: I have used white sesame seeds which give a nice nutty flavour to this dish along with a few curry leaves and hing.
For Garnish: I have used freshly scrapped coconut along with coriander leaves and pomegranate seeds.
Let's see how to make dudhi muthiya / lauki muthiya Gujarati Style with simple basic ingredients in your home kitchen.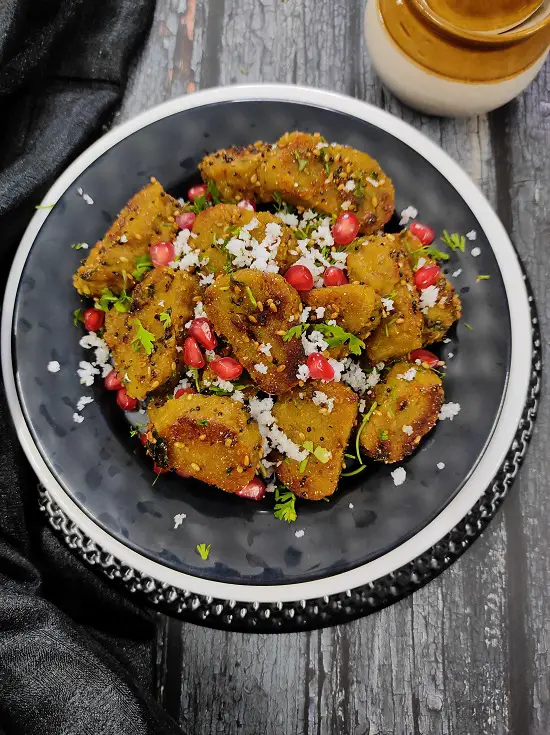 2 cups grated dudhi / lauki / bottle gourd
1.5 cups Wheat Flour
1/2 cup Besan (Gram Flour)
1/2 teaspoon Turmeric Powder
1 teaspoon Red Chilli Powder
1 tablespoon Coriander Powder
1/2 tablespoon Cumin Powder
1/4th teaspoon Ajwain (Carom Seeds)
1 teaspoon White Sesame Seeds ( white til)
1 tablespoon garlic-green chilli paste
Salt to taste
1 teaspoon Sugar
1 teaspoon Oil
For Tempering
2 tablespoon Oil
2 teaspoons White Sesame Seeds
1 teaspoon Mustard Seeds
5-6 Curry Leaves
1/4th teaspoon Hing (Asafoetida)
For Garnish
Coriander Leaves
Freshly scrapped Coconut
Pomegranate Seeds (optional)
In wide mixing bowl grate dudhi / lauki. We only need to use the tender white part and not the skin of the vegetable. If the seeds in your dudhi is tender then no need to take them out. If they are very big and hard then discard the seeds from dudhi.
Once the dudhi is grated, let's start adding the spices. Add garlic-green chilli paste, carom seeds (ajwain), red chilli powder, turmeric powder, coriander powder, cumin seed powder, salt and sugar and a tablespoon of oil.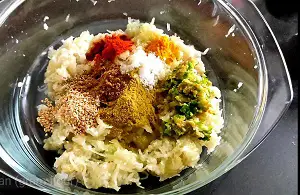 Add besan (gram flour) and wheat flour ( gehu ka atta).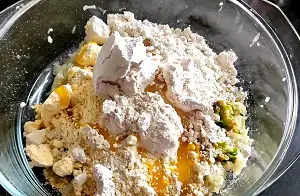 Now without using water knead a soft dough. The water released from the lauki / dudhi is enough to make a soft dough.
Note: The amount of flour depends on the moisture of dudhi / lauki. You may need to add more or less. The above measurement is what I ended up using.
Once the soft dough is ready, take a ball size of dough and roll it into a cylindrecal shape. Likewise make the cylindrical rolls of the remaining dough.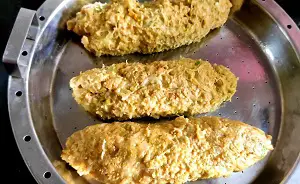 Prepare the steamer, grease the steamer plate with little oil. Place the dough into the steamer and steam for about 20 minutes.
Once the muthiya's are ready, keep them aside to cool a bit.
Once cooled, slice them into bite-size pieces.
For tempering:
In a pan, heat oil. Add mustard seeds and let them splutter. Add sesame seeds, hing (asfoetida), curry leaves. Add sliced muthiya and roast them till they turn crisp.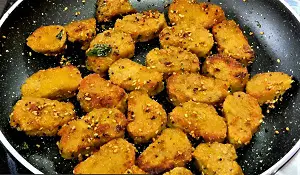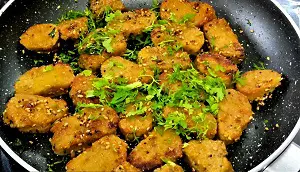 Dudhi Muthiya / Lauki Muthiya is ready.
Garnish with fresh coriander leaves, scrapped coconut and pomegranate seeds (optional) .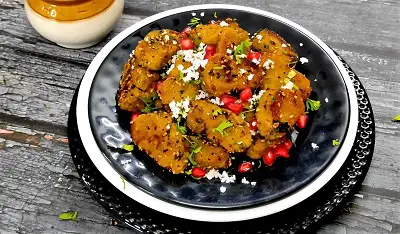 If you like recipes like these, let's connect on Youtube, Instagram & Facebook.
Thank you for stopping by, I would really love to know your thoughts on this recipe.
If you like this recipe or make this recipe do leave a comment and share the picture. I would love to see your creation.
Use the hashtag #thespicycafemumbai or #thespicycafeofficial to feature on Instagram and Facebook.
You can subscribe to my weekly newsletter to get more recipes, tips, and special updates directly in your mailbox.
For newbie bloggers: In case you are a beginner blogger, do check my other blog eralivine.com for tips on blogging