This post may contain affiliate links. As an Amazon Associate, I earn from qualifying purchases.
Dudhi bhoplyache vade / Lauki ki poori is a crispy puffed poori made using grated dudhi (Bottle Gourd) along with rice flour and aromatic spices & herbs. This is a vegan, gluten-free and no onion garlic recipe.
Dudhi bhopla, also known as Bottle gourd in English and Lauki in Hindi is a popular vegetable often prepared in Indian households and is served with roti / phulka or rice.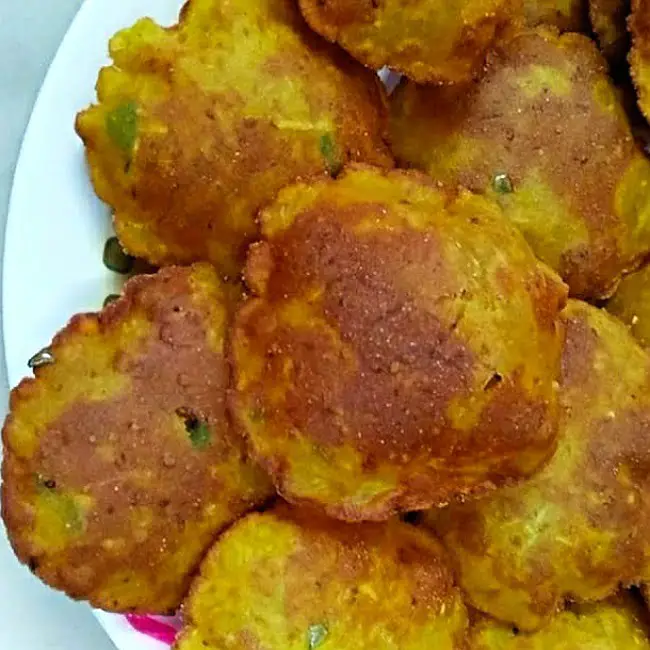 Dudhi bhoplyache vade is a simple & flavorful preparation made using gluten-free rice flour along with grated dudhi ( lauki / bottle gourd). Basic ingredients are used to make this tasty vades.
These are called vade as they are made using rice flour instead of wheat flour. Unlike poori these vades are dense in texture.
They are best served with curries & vegetables. These make a perfect tea-time snack with a hot cup of ginger tea!
Vegan & gluten-free dudhi bhoplyache vade are lightly spiced with ginger, garlic, green chillies, and deep-fried till golden brown.
They are super crispy from the outside and have a soft texture inside. This dudhi che vade (lauki poori) can also be packed for lunch box along with curd, pickle or dry vegetable.
These dudhi bhoplyache vade (bottle gourd poori) are best when consumed fresh. Still, they remain good for about a day at room temperature. They can also be packed for a day's trip. These are irresistible and can be had as it is without any side dish.
Dudhi (bottle gourd) is such a versatile vegetable used in making numerous tasty recipes such as dudhi thepla, dudhi thalipeeth, dudhi kofta curry, dudhi soup, dudhi halwa to name a few.
There are numerous dishes made out of this humble vegetable. The most popular is Lauki Chana Dal sabzi which is famous in North India and also in Maharashtra.
Sadly bottle gourd is of the most underrated vegetables although it has lots of health benefits.
Dudhi is one of the healthiest vegetables available all around the year. Dudhi is 90% water and hence very ideal for many who are on weight-loss diets. A rich source of vitamin C, vitamin K, Calcium & minerals.
Let's see how to make Lauki ki Poori – Dudhi Bhoplyache Vade with simple basic ingredients in your home kitchen.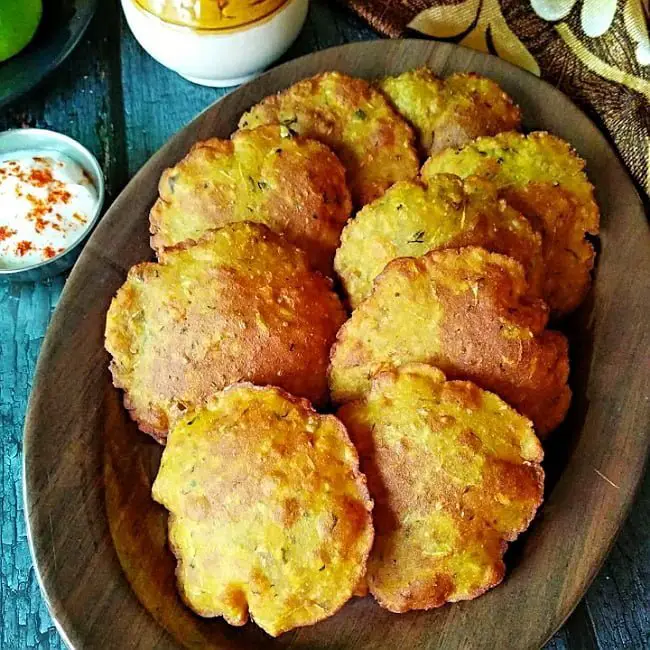 Serves: 3 Persons
Prep time: 15 minutes
Cook time: 20 minutes
Cooking level: Moderate
Taste: Spicy
1 Dudhi / Lauki / Bottle Gourd
2-3 Cups Rice Flour or as per need depending upon water content in dudhi (bottle gourd).
2-3 Green Chillies
4-5 Garlic Cloves
1 inch Ginger
1 teaspoon Cumin Powder
2 teaspoon Coriander Powder
1/2 teaspoon Turmeric Powder
Salt to taste
Oil for frying
Wash, peel and grate dudhi (lauki / bottle gourd)
Add salt to the grated bottle gourd and keep it aside for 15 minutes. Adding salt helps release water from it which can be used in kneading the dough.
Meanwhile, in a mixer grinder, add green chilies, ginger, peeled garlic cloves and blend to a fine paste. Do not add water while grinding this paste.
After keeping the grated bottle gourd aside for 15 minutes, now add turmeric powder, cumin powder, and coriander powder along with the above-blended spices and salt in it. Mix everything well.
Add rice flour little by little, first, try to use the water that the bottle gourd has released. If you feel you need more water add as per your preference and according to rice flour quality.
Check out these related recipes: Palak Poori, Vegan Recipes, Maharashtrian Recipes, Breakfast Recipes, Snacks Recipes, Dry Vegetable Recipes, Curries & Dals
Knead the dough. The dough should neither be too soft nor too stiff. You may rest the dough for 10 minutes if you want but normally not needed. But it helps the spices get nicely incorporated into the dough.
Now divide the dough into small balls. Take a zip lock bag, apply little oil on the bag, place the dough balls on it and pat it into a round disc.
Deep fry these vade / poori in hot oil until they turn golden brown from both sides.
Dudhi bhoplyache khamanga vade (bottle gourd poori) are ready.
Note:
If you don't eat garlic, you may skip it. It still tastes amazingly nice.
Thank you for stopping by…..
If you like recipes like these, let's connect on Instagram & Facebook.
Use the hashtag #thespicycafemumbai to feature on Instagram and Facebook.
If you like us to deliver the recipes straight to your inbox then do subscribe to our weekly newsletter.
For newbie bloggers: In case you are a beginner blogger, do check my other blog eralivine.com for tips on blogging especially for beginners.