This post may contain affiliate links. As an Amazon Associate, I earn from qualifying purchases.
Cabbage Chilla is a savory Indian pancake that is made using gram flour along with some added spices and finely chopped cabbage.
This cabbage besan chilla is simple to make and very nutritious. These chillas are protein-rich, vegan, and gluten-free and are prepared using minimal ingredients that are easily available at home.
Being low in glycemic index and rich in complex carbs these chillas are diabetic friendly and perfect for weight watchers.
A perfect snack option for diabetics and for people who are on a weight loss journey. Just use very little oil while preparing by using a non-stick pan.
These chillas are loaded with good fats and protein. Besan in English means "gram flour" and Chilla means "pancakes".
Besan chilla is one of the most popular Indian breakfast and also the best option for an evening snack that is prepared often in every Indian household.
Besan chilla is a versatile dish in which you can add as many vegetables as your choice which not only increases the health quotient but also enhances the taste.
We Indians use Besan (gram flour) in the preparation of many Indian sweet dishes as well as savory dishes.
In India, we prepare varieties of savory pancakes that are made using different flours such as rice flour also known as "ghaavan", semolina (suji), jowar flour, wheat flour, nachni flour, raagi flour to name a few.
Today I tried adding only cabbage vegetable along with some earthy spices and herbs. These types of chillas are also known as veg omlette.
To make this super simple recipe, you just need to mix everything together in one bowl and you are ready to go. You can add leftover vegetables and it makes a perfect filling meal in itself.
The best veggies that go around in this recipe include cabbage, onion, tomatoes, capsicum, spring onions, and carrots to name a few.
You may also add green leafy vegetables such as finely chopped fenugreek leaves (Methi), Spinach (Palak), Amaranth leaves etc.
Also many times I have used leftover sprouts which add a nice texture and make these chillas more flavorful.
Apart from these vegetables, you may also add grated paneer (Indian cottage cheese) or tofu for that extra protein. It not only enhances the taste but also gives the chilla a nice texture.
Just finely grate them over the chillas during cooking.
I personally like to add loads of very finely chopped tomatoes and spicy green chilies and serve with a hot cup of ginger tea!! It's a perfect snack for that 5 pm hunger pang.
As these chillas are quick and easy to make they make a perfect snack for kids when they return hungry from school. Kids love to eat these with tangy ketchup.
Also, these cabbage besan chilla can be a perfect lunch box option for kids as well as for the breakfast on the go.
This is one of the fuss-free recipes and you can never go wrong with it. The chillas are wholesome and delicious for that great start to a busy day.
They don't require any fermentation hence they are quick to make and can be made in just under 30 minutes.
If you want a little crispy chilla try adding some rice flour to the besan mixture.
I personally make these chillas for a quick light dinner or even lunch as a one-dish meal. Serve them with green chutney Garlic Chutney, Coconut Chutney or even ketchup.
Let's see how to make Cabbage besan chilla with basic ingredients in your home kitchen.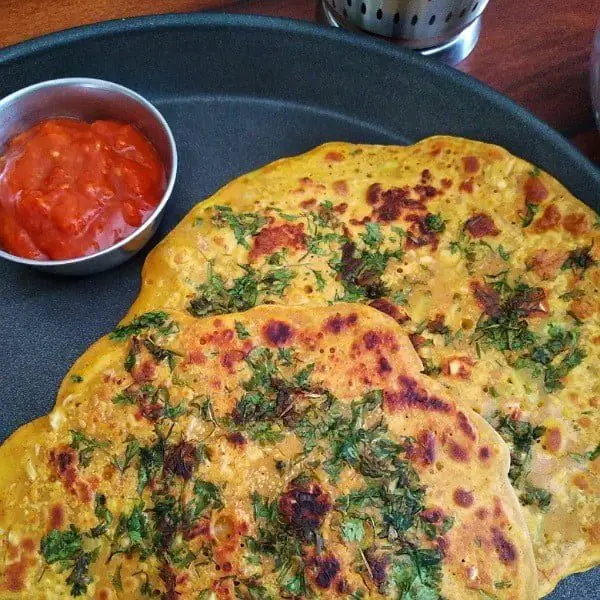 Serves: 3 Persons ; Makes 7 pancakes.
Prep time: 15 Minutes
Cook time: 15 minutes
Cooking level: Easy
Taste: Spicy
1 cup finely chopped Cabbage
1/2 cup Besan (Gram Flour)
1 teaspoon finely chopped Green Chilies
1/2 teaspoon Turmeric Powder (Haldi)
1 teaspoon Carrom Seeds (Ajwain seeds)
2 tablespoon Coriander Leaves finely chopped
1 teaspoon Red Chilli Powder (Optional)
1/2 teaspoon Coriander Powder (Dhaniya Powder)
1 tablespoon Ginger Garlic Paste
1 teaspoon Garam Masala
Salt to taste
Oil for cooking
In a deep bowl add the above ingredients except for oil & water. Mix well. Check the seasoning.
Now add half a cup of water little by little and mix well.
The batter consistency should be of a dosa batter.
Heat a non-stick skillet, and grease with oil.
Pour a ladleful of batter and spread it lightly using the back of the spoon.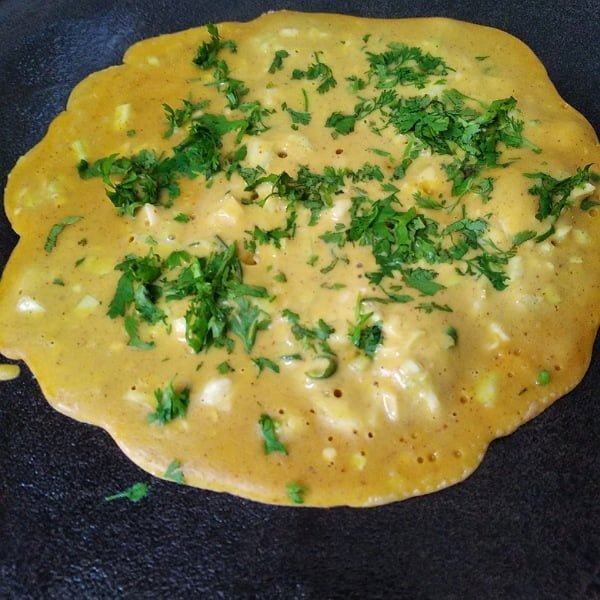 Cook the cabbage chilla on a medium flame. No need to cover.
Drizzle oil on the edges and cook till they are golden brown from both sides.
This batter will make approximately 7 medium size cabbage besan chillas.
Thank you for stopping by…..
If you like recipes like these, let's connect on Instagram & Facebook.
Use the hashtag #thespicycafemumbai to feature on Instagram and Facebook.
If you like us to deliver the recipes straight to your inbox then do subscribe to our weekly newsletter.
For newbie bloggers: In case you are a beginner blogger, do check my other blog eralivine.com for tips on blogging especially for beginners.