This post may contain affiliate links. As an Amazon Associate, I earn from qualifying purchases.
Farasbi in English means french beans. This is a dry stir fry every day sabji. This is served with flatbreads or with dal rice. This nutritious vegetable is prepared almost in every household across India. This is a diabetic-friendly, fiber-rich, vegan and no onion no garlic recipe.
French bean sabji is a mildly spiced vegetarian flavourful nutritious stir fry vegetable that is super simple and quick to make. This recipe comes together in under 30 minutes.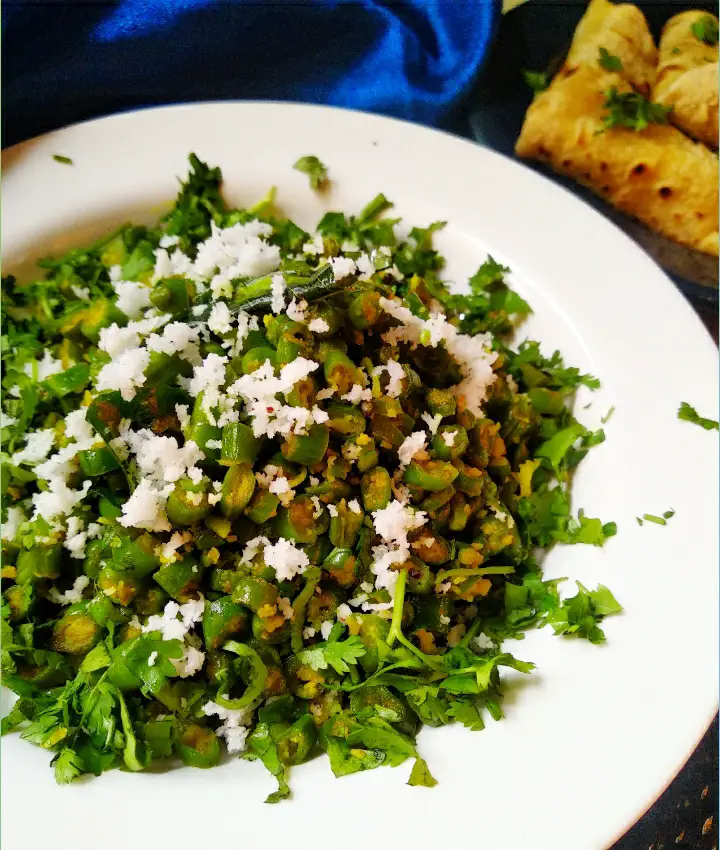 This sabji makes a delicious side dish to any meal. Growing up I used to eat this sabjii along with dal rice instead of any flatbreads. To this day I prefer having this with Maharashtrian amti bhat, sambar bhat or Maharashtrian varan bhat.
Not many ingredients are required to make this dish. This is a dry vegetable sauteed dish made with tender french beans along with fresh grated coconut and spices.
Beans sabji is light and filling which makes it perfect stir fry for family lunch or small get-togethers. This vegan french beans sabji makes a perfect option for a lunch box along with roti, chapati or phulka.
This nutritious sabji is low in calories and can be consumed by people of all ages. What I like most about this vegetable is its availability. French beans are available throughout the year and when I am in need of a last-minute side dish for meals I try to make this sabji often.
This may look very similar to the south Indian dish beans bean poriyal but it is slightly different in taste. You do not need too much oil to make this recipe hence this makes a perfect option for everyday meals. This french bean sabji is perfect for a plant-based diet with so many health benefits.
These beans are packed with dietary fiber along with a good source of vitamin K, vitamin C, folate, and manganese. One cup serving of cooked beans provides about 45 calories which makes it perfect for weight watchers too. Being high in fiber it aids in weight loss and is diabetic friendly too.
This is a dry recipe wherein tender french beans are sauteed in tempering and mild spices and later finished with freshly grated coconut. A very little water is used when making this dish just to cook the beans.
To make french beans sabji / farasbi chi bhaji , I have used:
French Beans: I have used 250 grams of french beans here. I chopped them very finely as I want them to cook faster and still have a crunch.
Coconut: I have used the flesh of the freshly grated coconut. This imparts a nice flavour and little sweetness to this dish.
Spices & Herbs: I have used turmeric powder, asafoetida (hing), coriander-cumin powder along with green chillies and finely chopped coriander leaves (cilantro).
Seasoning: I have seasoned this stir fry with salt and just a pinch of sugar. Sugar is optional here.
Oil: I have used a tablespoon of sunflower oil today.
Water: I used just 1/4th cup of water just to cook the beans. This is a dry dish hence water should be added very little.
Let's see how to make French Beans Sabji / Farasbi Chi Bhaji with simple basic ingredients in your home kitchen.
Serves: 2 Persons
Prep time: 10 minutes
Cook time: 20 minutes
Cooking level: Easy
Taste: Mild Spicy
250 gms French beans / Farasbi finely chopped
1/2 cup Fresh Grated Coconut
1 teaspoon mustard seeds
1/4th teaspoon Hing (asafoetida)
1/2 teaspoon Turmeric powder
5-6 Curry leaves
2 Green chillies roughly chopped
2 teaspoon Coriander powder
1 teaspoon Cumin powder
A pinch of Sugar (optional)
Salt to taste
2 tablespoon Coriander leaves finely chopped
1 tablespoon oil
1/4th cup Water
To make this recipe I have finely chopped the french beans. You can cut the beans slightly elongated too.
Heat oil in a pan, add mustard seeds and let them crackle.
Once mustard seeds starts crackling add hing (asafoetida), turmeric powder, curry leaves and green chillies. Saute for 15 seconds.
Add the finely chopped french beans and mix well. Add 1/4th cup of water. Cover and cook the beans for 5-7 minutes.
Now add sugar, salt along with coriander powder and cumin seeds powder. Mix well.
Cook till the french beans are tender without covering the pan.
Once the beans are cooked, add grated coconut and coriander leaves, mix well. Saute for 2 minutes.
French beans sabji / farasbi chi bhaji is ready.
Serve with flatbreads or as a side dish with meals.
Thank you for stopping by…..
Did you like this recipe? Do try & share the picture by tagging us on any of our social handles or use the hashtag #thespicycafemumbai on 

Instagram 

and 

Facebook
If you like us to deliver the recipes straight to your inbox, then subscribe to our weekly newsletter.
Happy Cooking!