This post may contain affiliate links. As an Amazon Associate, I earn from qualifying purchases.
Bread upma is an Indian snack recipe made using leftover bread. This is a quick and easy vegan recipe.
Bread upma is known by several names such as pavacha sheera, phodnihca pav, bread poha, bread sheera, pav upma to name a few. Here Pav means bread.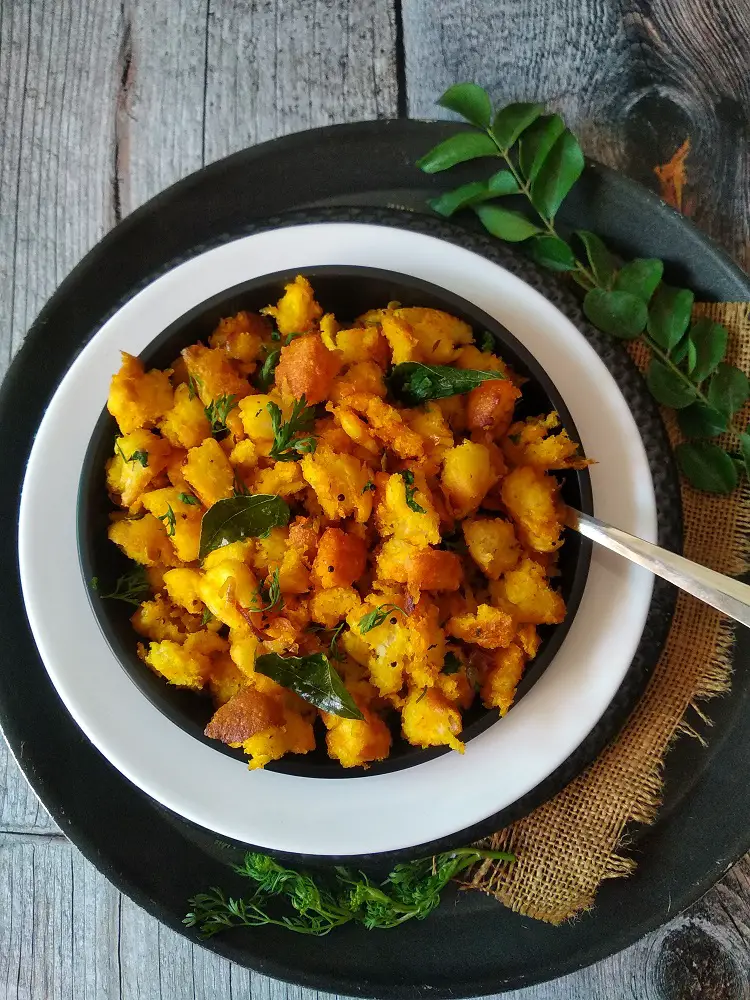 About Pavacha Sheera (Bread Upma)
Bread upma is one of the quickest, tasty, and easy-to-make recipes that is best served with a hot cup of tea or coffee. This makes a perfect option for breakfast or evening snacks.
This savoury tempered bread upma comes together within 30 minutes and is loved by all.
This recipe is a great way to use up the leftover bread. Being such a simple straightforward recipe you will not go wrong with this. This is perfect for beginners and bachelors.
At home, we love to make it with Indian loaf bread popularly known as laadi pav (buns) instead of slice bread. The texture of laadi pav is quite dense which adds perfect depth to this dish.
There is however no hard and fast rule to use a particular bread. You may use any local bread available to you. You may use wheat bread, multigrain bread, loaf bread, white bread, french baguette literally any bread available.
Also instead of using leftover bread, you can use fresh bread too.
To make this bread upma, soft tender bread pieces are tossed in onion tempering along with earthy spices and herbs. This is an addictive snack and an instant hit with kids.
Sometimes when you realize the bread that you bought is about to expire and had to be finished quickly this recipe comes in handy.
I have kept this recipe very simple using just onions but you may also include vegetables of your choice such as boiled peas, tomatoes, broccoli, carrots, bell peppers, boiled sweet corns, boiled chickpeas to enhance the taste and increase the nutritional value of this dish.
Sometimes even eggs are added which makes it an ideal breakfast dish with the perfect balance of protein and carbs.
At home, we often make this recipe for a quick brunch or evening snack. The spicy flavourful tender chunks of bread literally melt in your mouth.
lngredients
Pav (Indian dinner rolls) – I have used 6 bread buns here that I tore into small pieces with my hands. You may also cut the bread with knife into small chunks.
Onion – I have used one large onion which I have finely chopped.
Spices & herbs – I have used turmeric powder and red chilli powder here along with flavourful curry leaves.
Seasoning – I have used salt to taste and a teaspoon of sugar to balance the taste of this dish.
Oil – I have used sunflower oil to stir fry this upma.
Variations
You can add vegetables like capsicum, carrots or green peas to enhance the taste and nutrition.
You can also add scrambled eggs to enhance the protein intake of the dish.
Serving Suggestions
This bread upma is served on its own. For kids, you can drizzle some tomato ketchup.
This bread upma pairs best with tea & coffee.
Storage Option
This is best when served immediately. If kept for long time, it becomes sogggy and does not taste good.
Related Recipes
Step-by-Step Bread Upma Recipe With Pitcures
How to make Bread Upma Recipe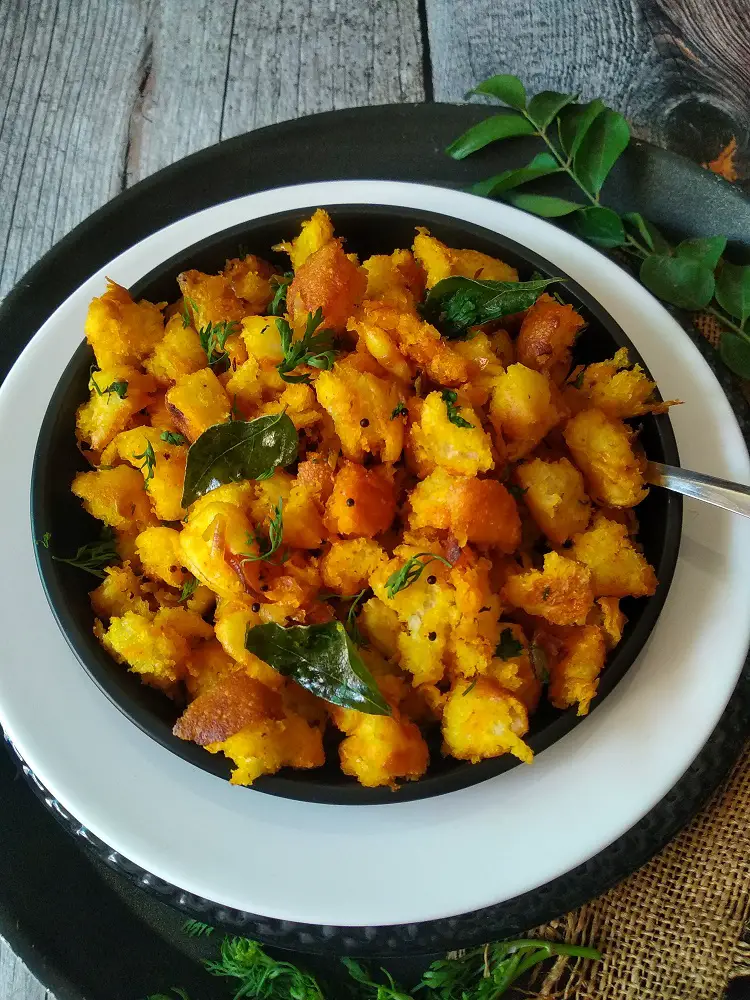 6 Laadi Pav or 1 Pack of Slice Bread
1 Big Onion finely chopped
6-8 Curry Leaves
1 teaspoon Mustard Seeds
1/2 teaspoon Cumin Seeds
1/4th teaspoon Hing (Asafoetida)
1/2 teaspoon Turmeric Powder
2 teaspoon Red Chilli Powder
1 teaspoon Sugar
Salt to taste
1 tablespoon Oil
1/2 cup Coriander Leaves finely chopped
Suggestion: Try to use a non-stick pan for making this bread upma – savoury bread bites
Tear small pieces of bread by hand, cover and keep aside.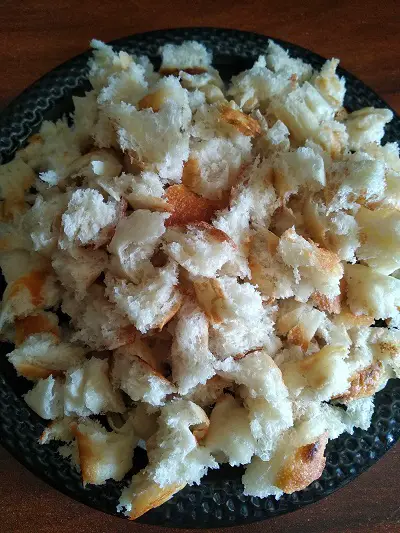 In a saucepan/kadhai heat oil, add mustard seeds and let them crackle. Add cumin seeds and let them turn golden brown. Now add hing (asafoetida), curry leaves.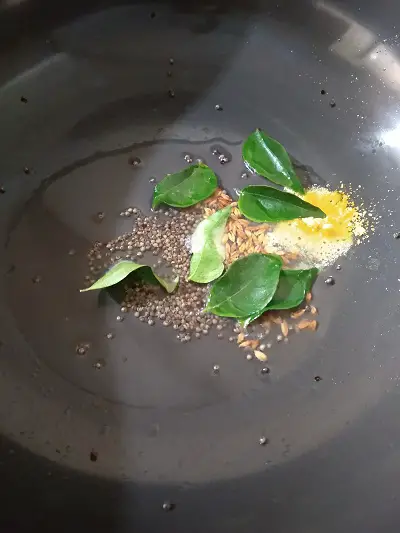 Mix the tempering and finely chopped onions.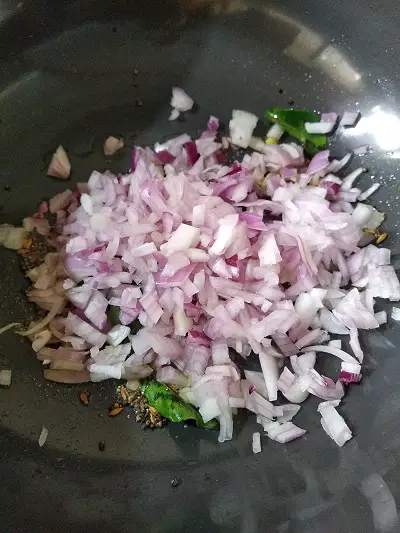 Saute onions till they are tender.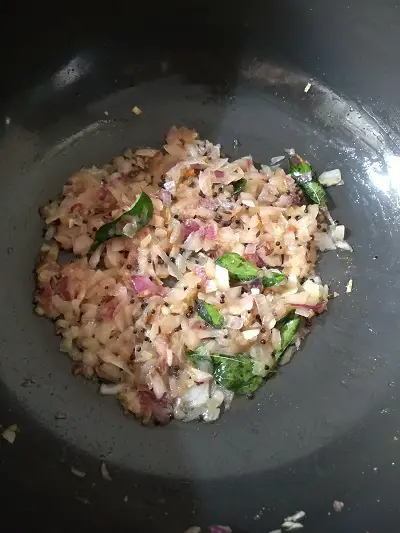 Add turmeric powder, red chilli powder and mix well.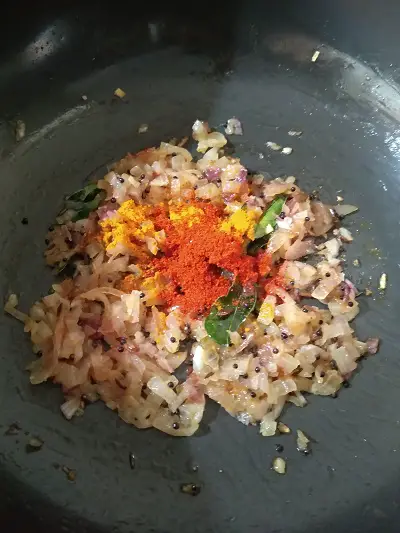 Add bread along with salt and a teaspoon of sugar and mix everything.
If you feel the bread has gone too hard then sprinkle a little water over it. (normally try to avoid)
Note: Some like to have crunchy bits of bread slices and some like soft and moist so hence sprinkle water only if you would like your upma to be a little soft otherwise skip this step completely
Cover the lid for 2-3 minutes and let the bread get nicely infused with the spices. Stir occasionally in between.
Lastly, add finely chopped coriander leaves and serve hot.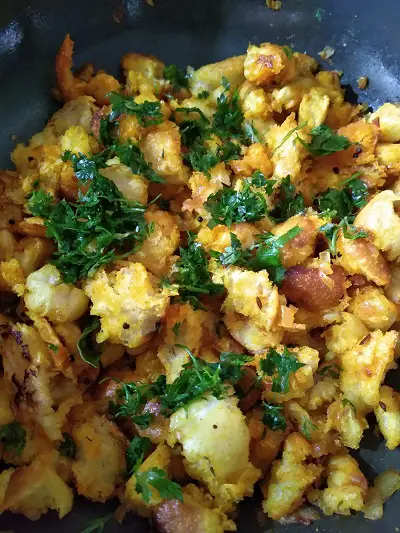 This bread upma – savoury bread bites goes best with tea or coffee by the side.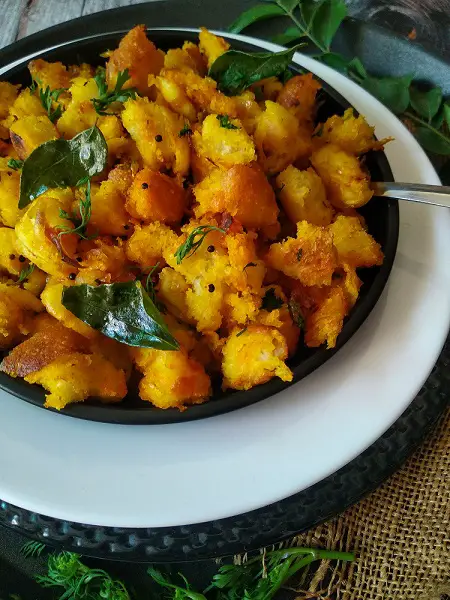 Children like to enjoy them with ketchup by the side.
Suggestion:
Instead of using red chilli powder, you may use finely chopped green chillies for this recipe.
You may add garam masala powder to enhance the taste of this bread upma.
This bread upma also taste good without onions too. So if do not eat onion garlic then also this is going to taste delicious.
If you like recipes like these, let's connect on YouTube, Instagram & Facebook. Thank you for stopping by, I would really love to know your thoughts on this recipe.
Also, do check out my Lifestyle Blog eralivine.com if interested.