This post may contain affiliate links. As an Amazon Associate, I earn from qualifying purchases.
Gajar in English means carrots and halwa is the Arabic word for sweets. Gajar halwa also known as gajaracha halwa, carrot halwa, carrot pudding, gajar ka halwa is a popular Indian dessert recipe. This is a rich sweet dessert made mostly during winters when red carrots are in season.
King of all Indian Sweets!!! as it's called Gajar Halwa (Carrot Pudding) is a vegetarian recipe loved by everyone.
In India, every household makes this recipe in its unique ways. Mainly this halwa is made using milk, sugar, ghee, khoya (mava), nuts and grated carrots.
This is an easy, tasty and delectable Indian dessert that is served during festivals and special occasions such as Diwali, Holi, weddings,thread-ceremony, party and get-togethers. This gajar halwa never fails to impress the crowd.
I always prefer to use the red carrots that are mainly available during winters for making this carrot halwa. Those are soft, tender and juicy, unlike the orange carrots.
Other recipes from the blog
Making gajar halwa can seem difficult but it's not, it's just a little bit time-consuming but easy to prepare.
The traditional gajar halwa is made using carrots along with whole full-fat milk, ghee (clarified butter) and sugar. Sometimes khoya or mava that is evaporated milk solids are used which gives this carrot halwa a nice creamy and mouthfeel texture.
During winters when red carrots are in season, having a bowl full of carrot halwa sitting in my refrigerator is a must. It's like one of those family traditions at our place. An essential element during winters!
The other thing I absolutely love about this carrot pudding is that it has a pretty long shelf-life. It stays good for almost 8-10 days in the refrigerator hence making a big batch of this halwa always comes in handy.
In India, you will come across many halwa variations made with lentils like moong dal halwa where yellow moong dal is used, then dudhi halwa ie bottle gourd halwa that is prepared by grating bottle gourd and cooking it in ghee along with milk, mava / khoya, sugar and milk.
Then there is sooji ka halwa that is semolina pudding. This sooji ka halwa is most common and is whipped up quite quickly unlike moong dal halwa, carrot halwa and dudhi halwa.
There are three popular methods in which this gajar halwa is prepared.
1 By using just milk and sugar – this is the traditional method. It's quite time-consuming as it is cooked on low flame as the process of evaporating milk takes time.
2 You can make Gajar ka Halwa with condensed milk.
3 By using khoya / mava which is an evaporated milk solid.
I have made this gajar ka halwa with khoya. Using khoya or mava reduces the cooking time since less amount of milk is used. This winter delicacy is the most preferred choice for many Indians when it comes to choosing their favourite Indian dessert.
Having a warm bowl of this flavourful, delicious gajar ka halwa topped with crunchy nuts served during cold, chilly winter evenings will surely uplift your mood.
Carrots: I have used red carrots here which are tender, soft and juicy.
Khoya / Mava: Using khoya gives this gajar halwa a nice mouth feel and makes the halwa creamy.
Milk: I have used 1 cup of full-fat milk.
Sugar: I ended up using 3 cups of sugar.
Ghee: I used 2 tablespoons of ghee for cooking the carrots.
Spice: I have used roughly crushed cardamom seeds here which gives a nice aroma & flavour to this halwa.
Let's see how to make Gajar Halwa with basic staple ingredients in your home kitchen.
Serves: 4 Persons
Prep time: 15 minutes
Cook time: 30 minutes
Cooking level: Easy
Taste: Sweet
750 gms Red or Orange Carrots
3 tablespoon Ghee (Clarified Butter)
150 gms Khava / Khoya / mava
1 cup Milk
2 cups sugar
4-5 Cardamon Pods
Sliced Almonds
In a pan add 1 tablespoon ghee and khava / khoya. Saute for 5 min on medium flame till its raw smell fades away. Transfer onto a plate to cool down.
In the same pan add rest of the ghee, peeled & grated carrots and cook on low to medium flame. Keep on stirring occasionally. 
After 5-10 minutes add milk and cook for another 5-7 minutes till the carrots are tender and raw smell fades away.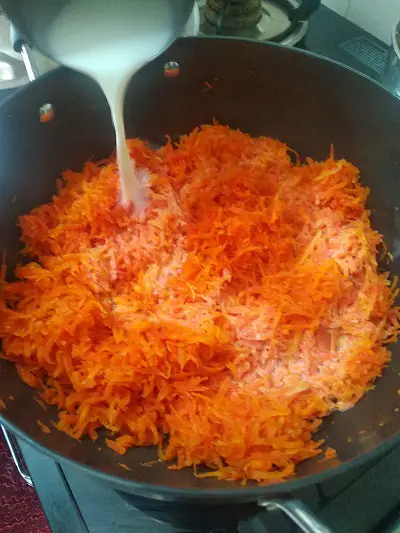 Add sugar. I have added two cups here. The sweetness depends upon how sweet the carrots are and your personal preference. Hence add accordingly.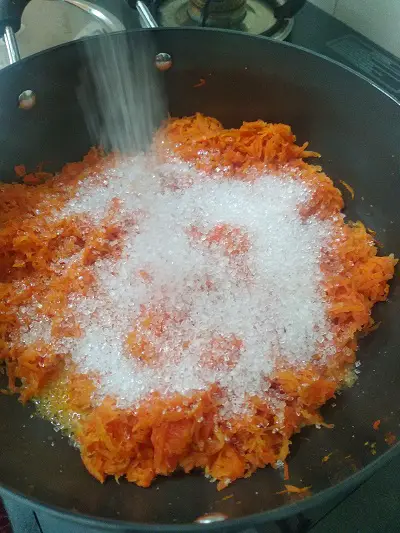 Add roasted khava / khoya and mix well till its nicely incorporated into the carrots.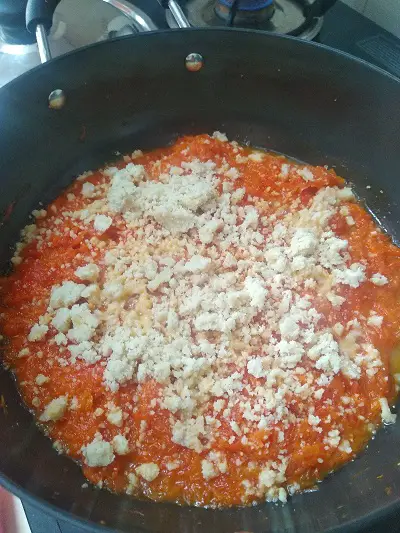 Add sliced almonds and crushed cardamon seeds and mix well.
Gajar Halwa (Carrot Pudding) is ready!
Garnish with sliced dry fruits of your choice.
If you like recipes like these, let's connect on Youtube, Instagram & Facebook.
Thank you for stopping by, I would really love to know your thoughts on this recipe.
If you like this recipe or make this recipe do leave a comment and share the picture. I would love to see your creation.
Use the hashtag #thespicycafemumbai or #thespicycafeofficial to feature on Instagram and Facebook.
You can subscribe to my weekly newsletter to get more recipes, tips, and special updates directly in your mailbox.
For newbie bloggers: In case you are a beginner blogger, do check my other blog eralivine.com for tips on blogging