This post may contain affiliate links. As an Amazon Associate, I earn from qualifying purchases.
Chinese Bhel is a popular street style Indo-Chinese recipe made using fried Hakka Noodles.
Over the years as Indo-Chinse cusine became popular, many roadside food stalls started serving lip-smacking Indo-Chinese fusion food such as Chinese Pakora (Fritters), Chinese Spring Dosa, and many others. 
But among them, the most popular Indo-Chinese street food is Chinese Bhel.
In the evening all along the Indian streets, you will find one or other carts that would serve this flavorful bhel.
Made with fried noodles, tossed with colourful vegetables and garnished with crunchy spring onions. 
This is a sweet, tangy, spicy vegan & vegetarian recipe.
One thing you need to make sure of is that, prepare this bhel just before serving, as the fried noodles tend to get soggy over time due to the addition of sauces and veggies.
You can have this bhel as it is or as a starter for your Indo-Chinese meal.
So let's see how this Chinese bhel using deep fried hakka noodles and colourful veggies along with some sauces in your home kitchen.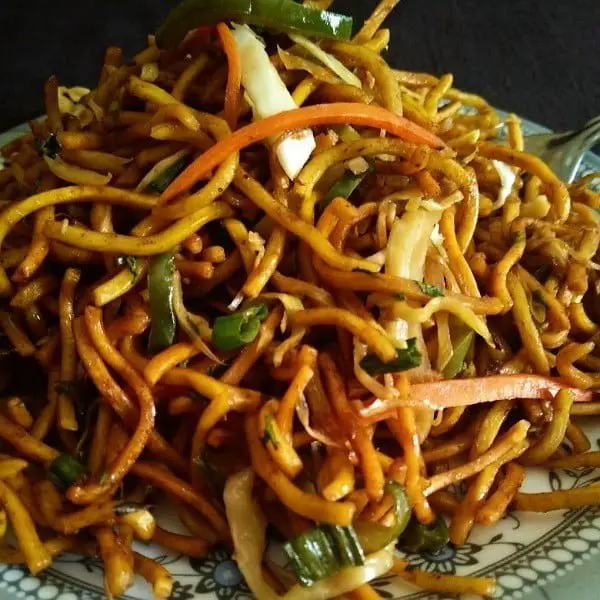 Serves: 2 Persons
Prep time: 30 Minutes
Cook time: 7 minutes
Cooking level: Easy
Taste: Sweet, Tangy & Spicy
1 1/2 cup Fried Hakka Noodles
1 cup Grated Carrots
1 cup Shredded Cabbage
1/2 cup bell peppers
1/4th cup Spring Onion Greens finely chopped
Salt if needed
For Sauce:
1 tsp Minced Garlic  
1 tbsp Red Chili Sauce 
2 tbsp Tomato Ketchup
1 tbsp Soy Sauce
1 tsp Vinegar
Noodles:
In a big saucepan add 2 liters of water and bring it to a boil.
Once the water starts boiling add the store-bought Hakka noodles and cook the noodles as per instruction on the cover.
When noodles are cooked, drain the water completely & drizzle 2 tsp of Oil so that the noodles do not stick to each other.
Now once cooled, deep fry them in oil over medium flame till they are crisp and golden in colour.
Your fried noodles are ready.
In a bowl, add minced garlic, red chilly sauce, soy sauce, tomato ketchup, and vinegar, and mix well.
In a mixing bowl, add carrot, green bell peppers, cabbage some spring onion greens, fried noodles and above prepared sauce. Keep aside some spring onion greens for garnishing.
Mix all the ingredients well. Check for seasoning and if required add salt as per your preference.
Chinese Bhel – Spicy Tangy Fried Noodles is ready.
Garnish with finely chopped spring onions and serve. 
Note:
Here instead of making fried noodles from scratch, you can use readymade store-bought fried noodles to save you time.
If you like recipes like these, let's connect on Youtube, Instagram & Facebook. Thank you for stopping by, I would really love to know your thoughts on this recipe.
Also, do check out my Lifestyle Blog eralivine.com if interested.