Theplas are the integral part of Gujrati Cuisine. Theplas are soft Indian flatbreads typical of Gujarati cuisine that are made using either Wheat flour (Gehu Atta), Besan (Chickpea Flour), Bajra (Pearl Millet) to name a few.
These theplas are staple in most of the Gujarati households. You will find these delicious traditional Gujarati theplas, made almost daily for regular meals and also prepared for travel or picnics.
You don't need any fancy complicated ingredients to make these theplas. Basic homemade ingredients are used in making this flavorful flatbread.
The most basic thepla is the one that is made without using any vegetables but instead some aromatic spices & herbs such as red chilli powder, turmeric powder, coriander powder, ajwain (carrom seeds) are added. This thepla is known as Masala Thepla.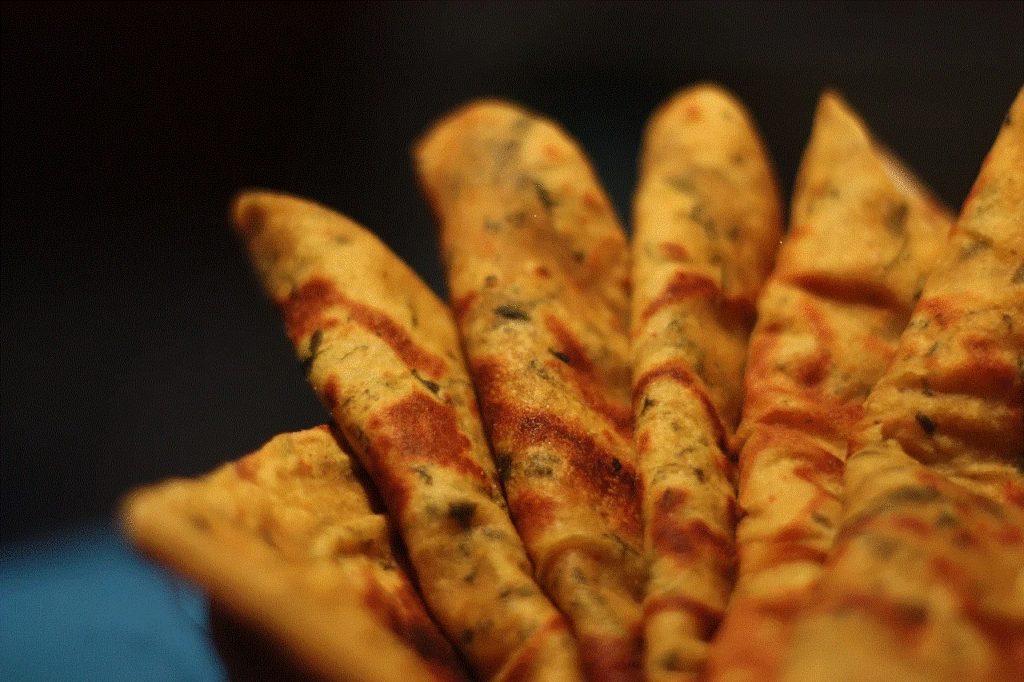 Whereas to make vegetable thepla such as Methi (Fenugreek Leaves) , Mooli (Raddish), Dudhi (Bottle Gourd) , Cabbage, these vegetables are finely chopped or grated and then added to the flour along with yogurt and besan (chickpea flour).
Theplas are easy to make and best for light dinners, for lunch box or as a healthy tea time snack instead of munching upon deep fried foods.
Theplas has longer shelf life. They stay good for 3-4 days at room temperature. If you are going to make theplas for long journey then do not add yogurt in it. Adding yogurt will reduce the shelf life of thepla. If yogurt is added while making thepla then consume them within 48 hours.
You may freeze them in refrigerator to extend their shelf life but I would not recommend as they losses their fresh taste and health benefits.
At our home we like to have these flavorful theplas with chunda, boondi raita and homemade kairi pickle (Raw Mango Pickle). Also we have these thepla with side dish such as sukhi aloo ki sabji or sweet potato sabji. These are the go to options at our home.
PARATHA
Parathas are famous Indian flatbread that are most popular in North India. Made using All Purpose Flour (Maida) or Wheat Flour (Gehu Ka Atta) and stuffed with vegetables. These are thicker than normal roti or thepla.
There are various kinds of parathas, which includes plain paratha, laccha paratha, stuffed parathas or sometimes the vegetables are mixed in the dough itself and paratha is prepared.
Parathas are mostly eaten during breakfast or as a tea time snack. The most common and famous stuffing used in these parathas is the mashed aloo mixture that is tangy and spicy. These are known as Aloo Parathas.
Apart from aloo paratha other alternatives includes cauliflower paratha (gobi paratha), radish paratha (mooli paratha), paneer paratha (cottage cheese paratha), palak paneer paratha (mixed veg of spinach & cottage cheese), dal paratha (lentil paratha) to name a few.
These hefty parathas are usually served with a dollop of homemade butter on top and are eaten along with pickle, raita, yogurt or vegetable curries.
Parathas are healthy and can be good option for weight loss diet as a one dish meal if and only if they are cooked with less amount of oil and stuffed with healthy vegetables. Omit butter and potatoes for healthy option.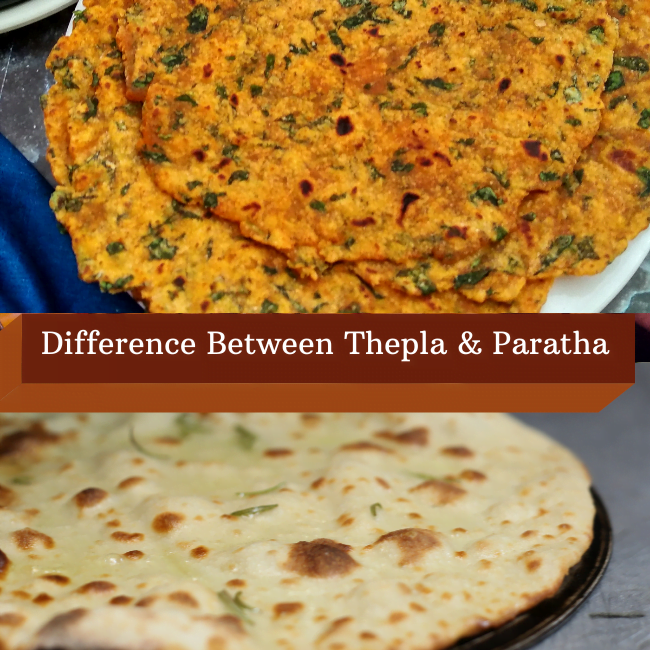 So now that we classified what Thepla and Paratha are. Let's see some unique difference in these two delicious flatbreads that are immensely popular Indian snacks all across the country.
1 Theplas are normally prepared with whole wheat flour (gehu ka atta), bajra atta (pearl millet) and besan (gram flour).
Whereas for making paratha Maida ( All Purpose Flour) or Wheat flour (Gehu Ka Atta) is used. Sometimes both these flour are mixed together to make parathas.
2. While kneading dough for thepla curd is mixed with the flour and kneaded into a dough that is not soft nor stiff.
For parathas soft dough is kneaded by using only water.
3.Thepla have shelf life of 3-4 days at room temperature, making them perfect snack item for journey. They can also be stored in refrigerator for up to 4-5 days.
Parathas on the other hand do not last long and are best consumed in a days time. Parathas are best when consumed hot instead of cold. Refrigerating paratha is not recommended, it will loose its crispiness and becomes soggy.
4. To make theplas, vegetables and spices are added directly in the dough and kneaded together whereas parathas are made by stuffing the filling of vegetables.
5. Theplas are purely vegetarian, made using fresh vegetables that are chopped or grated.
Parathas can be made veg and non-veg both. The stuffing can be of vegetables, keema or eggs.
6. While making thepla you need to mix everything together in one bowl, the vegetables, flour, spices and knead a dough.
For parathas, you need to make the dough seperately and stuffing seperatly.
The most popular paratha that is loved by everyone is aloo paratha made using mashed boiled potatoes that are spiced perfectly giving it a nice spicy and tangy flavor. Also egg and keema parathas are famous non-veg options that are consumed for the meals.
The most popular thepla which is made and loved all over the country is Methi thepla. Made using fresh green fenugreek leaves (methi leaves) that are plucked, washed and chopped finely and mixed in the dough along with spices and herbs.
Conclusion: No matter the difference between thepla and paratha, we Indians love these two popular flatbreads immensely! Don't we? After all food is food, it nourishes the body and mind. So keep eating, enjoy eating!
Thank you for stopping by…..
Did you like this topic? Do share the post by tagging us on any of our social handles or use hashtag
#thespicycafemumbai

on

Facebook

and

Twitter
If you like us to deliver such useful topics straight to your inbox then do
subscribe to our newsletter.