This post may contain affiliate links. As an Amazon Associate, I earn from qualifying purchases.
Kobi cha zunka is a typical Maharashtrian style recipe prepared by sprinkling roasted besan (gram flour) over the cooked kobi (cabbage) which is infused in basic spices.
Kobi in English means cabbage. At home, instead of calling it kobi cha zunka we normally call it peeth perun kobi chi bhaji.
"Peeth Perun" means a sprinkling of gram flour (besan). This is a typical Maharashtrian dish is almost made in every household but with lots of variations.
This is a vegan recipe that is rich in vitamins and proteins. I have added onions here but this recipe can be done without using onions and it still tastes good.
In Maharashtrian Cusine, you will find many such vegetables that are made using this technique. Some of them are, Spring Onion Zunka, Shimla Mirchi Zunka (Capsicum Besan Zunka)
Cabbage zunka is simple, quick, and easy to make. It does not need a lot of prep beforehand.
Using minimal ingredients & spices this dish tastes amazing. This is made for everyday meals that are best served along with chapati, dal rice.
Being a dry vegetable dish it can be easily packed in a lunch box along with roti.
This recipe can be made in just under 30 minutes. Cabbage / Kobi is a great source of vitamin K & vitamin C and a great source of dietary fiber. Besan (gram flour) on the other hand is a good source of protein and nutrition..
This is a typical Maharashtrian dish that is tempered with mustard seeds, hing (asafoetida) and then sautéed along with basic spices. Sprinkled with roasted besan (gram flour) which gives this vegetable a wonderful rich taste and texture.
Growing up this was the go-to dish that I loved to eat with phulka (flatbread) and varan bhat (dal rice). This vegetable makes an excellent tiffin option.
Cabbage / Kobi: I have used 500 grams kobi / cabbage which I cut length-wise. You can chop it finely too. It depends on personal preference.
Besan (Gram Flour): I have used unroasted gram flour here. The quantity of gram flour (besan) depends on how dry you want the zunka to be. So one has to add the besan accordingly.
Onion: Using onion in this recipe gives a nice flavour to this dish. I have used one big onion which I cut lengthwise.
Spices: I have used basic spices like red chilli powder, turmeric powder, cumin and coriander powder.
Seasoning: I have used salt and sugar for seasoning. Sugar helps in balancing the taste of this dish.
Let's see how to make kobi cha zunka / kobi peeth perun bhaji with minimal basic ingredients in your home kitchen.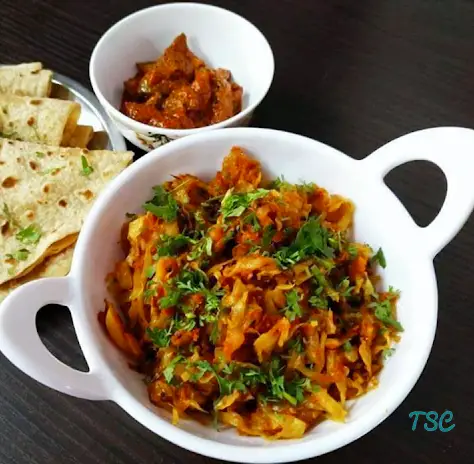 Prep time: 5 minutes
Cook time: 20 minutes
Cooking level: Easy
Taste: Mildly spicy
500 kg Cabbage cut lengthwise
1 Onion cut lengthwise
1 teaspoon Mustard Seeds
1/4th teaspoon Hing (Asafoetida)
1 teaspoon Red Chilli Powder
1/4th teaspoon Turmeric Powder
2 teaspoon Coriander Powder
1 teaspoon Jeera Powder
1/4th cup Coriander Leaves finely chopped
Salt as per taste
1 teaspoon Sugar
3 tablespoon Besan (Chickpea Flour) 
2 tablespoon oil
In a non stick kadhai heat oil and add mustard seeds, let them splutter. Add hing (asafoetida), turmeric powder, and onions and saute for 2 minutes on a medium flame.
Once the onions are sauteed add cabbage, salt, sugar and mix well. Do not use water.
Cover and cook the vegetable for another 5 minutes stirring occasionally. Now add red chilli powder, jeera powder, and coriander powder and mix well.
When cabbage is 80% done, use a sieve (strainer) and sprinkle besan evenly over the cabbage and mix well.
Check for seasoning. Cover and cook the vegetable until the rawness of besan fades away and the cabbage is well cooked. Lastly, add coriander leaves and mix.
Cabbage Zunka – Peeth Perun Kobi Bhaaji is ready.
Serve hot with a flatbread of your choice.
Note:
As besan is used in this recipe without the use of water, it is highly advisable to use only nonstick utensils while preparing the dish.
In case you are using different metal utensils then cover with a lid adding little water over the lid so that the vegetable does not burn.
You may also roast the besan first and add that to the cabbage, so the zunka will cook faster.
If you like recipes like these, let's connect on Youtube, Instagram & Facebook.
Thank you for stopping by, I would really love to know your thoughts on this recipe.
If you like this recipe or make this recipe do leave a comment and share the picture. I would love to see your creation.
Use the hashtag #thespicycafemumbai or #thespicycafeofficial to feature on Instagram and Facebook.
You can subscribe to my weekly newsletter to get more recipes, tips, and special updates directly in your mailbox.
For newbie bloggers: In case you are a beginner blogger, do check my other blog eralivine.com for tips on blogging