This post contains affiliate links. As an Amazon Associate, I earn from qualifying purchases.
Kande pohe is a classic Indian breakfast recipe originating in the west coast of India especially in Maharashtra and Gujrat. Kande means onion, finely chopped onions are used in this recipe. Pohe or poha means flattened rice/ beaten rice that is parboiled at first and then flattened. This is a healthy iron-rich vegan breakfast recipe.
Poha also known as pohe, pauwa or aval is one of the most sought breakfast all over India. Made with flattened rice, onions, green chilles this kande pohe is served with a hot cup of tea or coffee.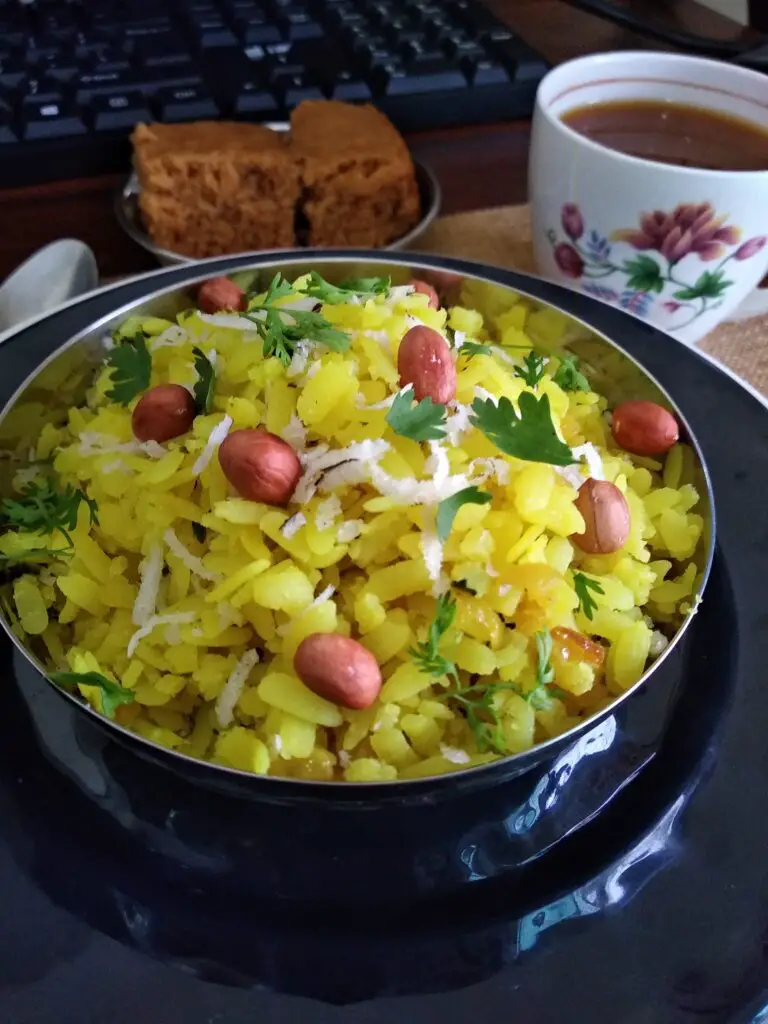 There are many variations of making pohe. The most popular is kande pohe, that is pohe made with finely chopped onions, then there is batata pohe which is potato pohe in which thin slices of potatoes are used either with finely chopped onions or without onions. Boiled green peas are also added sometimes in making poha which enhances the taste, texture and boosts the nutritional value of this poha, this one is known as matar poha.
Many times finely chopped tomatoes are added in making pohe. So mainly it depends upon region to region and also on the personal taste which kind of pohe variation one makes.
At our home, we love to have kande pohe but on some days we opt for batata pohe (potato pohe) too, just for a change. Whatever may be the versions of making pohe. Each variation is unique and delicious!
Making kande pohe is very easy and quick. Hence it's the favored breakfast dish. It's a delicious comfort food best for breakfast or even as an evening snack.
In Indian homes, when unexpected guest arrives they are mostly offered kande pohe along with hot beverages as it can be made under 15-20 minutes. It's that much famous and comforting. Pohe is loved by all from kids to elders.
In the morning all along the streets of Maharashtra, you will notice cart vendors selling this kande pohe that is topped with sev along with a wedge of lemon. Sev is an Indian snack made using gram flour. They are finely made noodles that are deep-fried and served as a topping in various Indian dishes.
Apart from selling this on carts, many restaurants also serve kande pohe especially in the morning time as it is mainly eaten as a breakfast dish.
Kande pohe are loved by kids too. In our childhood, we used to carry kande pohe for our mid-day break.
Pohe/Poha (flattened rice) is easily available in any Indian grocery store. Always make sure to use a thick variety of pohe/Pohe for making this recipe.
As poha is already parboiled before flattening, it helps cut down the cooking time considerably making it a perfect breakfast option when in hurry during the hectic mornings.
This flavourful healthy kande pohe are best served hot and garnished with roasted peanuts or shev or pomegranate kernels. While serving kande pohe, lemon juice is squeezed on top which not only enhances the taste of the pohe but also helps the body absorb iron efficiently.
This humble dish requires very basic and few staple ingredients and you are good to go! Making kande pohe is so simple that nothing much can go wrong with this recipe.
This is a perfect beginner's friendly and bachelor-friendly recipe.
The only thing to remember here is to use a thick variety of poha and not the thin one.
To make kande pohe, I have used:
Poha/Pohe (Flattened Rice): I have used a thick variety of pohe (flattened rice)
Onion: One big size onion is used in making this recipe. For me, the more the onion the better the taste.
Herbs & Spices: I have used turmeric powder, curry leaves and green chilles that impart a flavour to this dish.
Oil: I have used oil for tempering the pohe. I normally use rice bran oil for cooking.
Seasoning: Traditionally a teaspoon of sugar is always added in making pohe. Hence I normally add a teaspoon of sugar to balance the taste and salt as required.
Lemon Juice: Used when serving. A squeeze of lemon juice over kande pohe enhances the taste and helps the body absorb iron efficiently. I would highly recommend not to skip this step.
To Garnish: I normally garnish kande pohe with roasted unsalted peanuts and fresh scrapped coconut and coriander leaves (cilantro).
Let's see how to make kande pohe / poha with simple basic ingredients in your home kitchen.
Serves: 3 Persons
Prep time: 5 minutes
Cook time: 15 minutes
Cooking level: Easy
Taste: Spicy
2 cups Pohe (thick variety) / Flat beaten rice (thick variety)
1 Big Onion
6-7 Curry Leaves
3-4 Green Chilles
1 teaspoon Mustard Seeds
1/4th teaspoon Hing (Asafoetida)
1/2 teaspoon Turmeric Powder (Haldi)
1 teaspoon Sugar
Salt to taste
1/4th cup Coriander Leaves / Cilantro
Fresh scrapped coconut for garnishing (optional)
Lemon Juice while serving
2 tablespoon Oil
Using a sieve / strainer, wash pohe (flatend rice) under clean tap water. Drain the water and set aside.
In a kadhai / pan, heat oil. Once oil is hot, add mustard seeds and let them splutter.
Add hing (asafoetida), turmeric powder, curry leaves, finely chopped green chlles and saute for about 15 seconds.
Add finely chopped onions and cook till translucent.
Once onions are cooked, add the soaked pohe/poha (flattened rice) along with salt and sugar. Mix well.
Cover the pan for about 3-4 minutes, stirring occasionally.
After 3-4 minutes of cooking the poha, add finley chopped coriander leaves and mix well.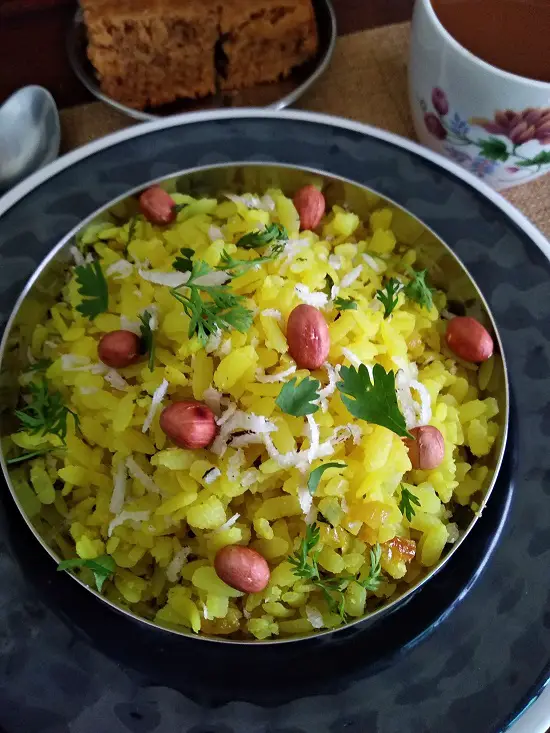 Traditional Kande Pohe is ready.
Garnish kande pohe with roasted peanuts and freshly scraped coconut or with juicy pomegranate kernels or fine besan shev.
Sprinkle lemon juice over kande pohe just before serving.
Thank you for stopping by…..
Did you like this recipe? Do try & share the picture by tagging us on any of our social handles or use the hashtag #thespicycafemumbai on 

Instagram 

and 

Facebook
If you like us to deliver the recipes straight to your inbox then do
 subscribe to our weekly newsletter.
Happy Cooking!