This post may contain affiliate links. As an Amazon Associate, I earn from qualifying purchases.
Valache Birda is a simple flavourful coconut-based vegan curry.  Vaal in English means Field Beans or Hyacinth Beans.
This recipe is also popularly known as Dalimbi chi usal or Vaal Usal and is one of the traditional Maharashtrian recipes. The sprouts used are known as kadve val.
Kadve val is famous in Maharashtrian and Konkan cuisine. These kadve val / field beans are slightly bitter in taste. These val / field beans are soaked in water, sprouted and deskinned before they are used for cooking.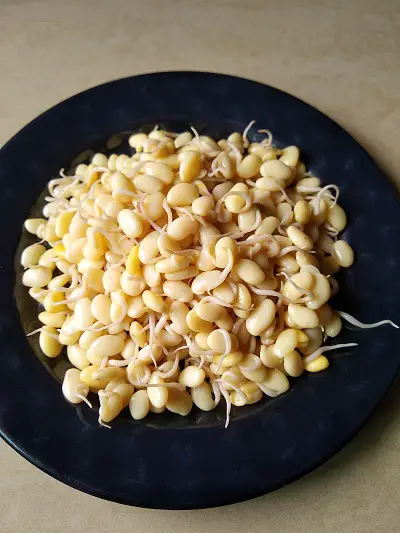 The healthy legume is rich in iron and fiber. In India, the recipe varies from state to state. In the North, this bean curry is made in onion tomato-based gravy and in the Southern parts you will find it made in coconut-based gravy.
Valache Birda / Field Beans Curry is prepared at our home every fortnight or so. This curry makes a perfect weekend lunch for us. We serve this with chapati or phulka. The dry version of this dalimbi usal / curry makes a perfect tiffin option for work.
One thing peculiar to Maharashtrian Brahmin cooking is the addition of jaggery in their curries and dals. Jaggery is a sweetener, an unrefined cane sugar. In case you do not have jaggery, use palm sugar or normal sugar for the curry. Jaggery is added to balance the flavour of the dish.
In Maharashtrian cuisine, you will find legumes such as harbara (black chickpeas) green mung beans (hirvi mug dal), moth beans (matki), Chavli (Black Eyed Bean), kala vatana are used extensively. I always make sure to stock up these legumes which come very handy when not in a mood to prepare vegetables or dal.
Including legumes in everyday meals is a great way to get your daily intake of necessary nutrients, especially for a plant-based diet.
To make any pluses or legumes the main step is to soak them in water overnight or at least for 4-5 hours before cooking them. This helps in getting rid of bloating when consumed and helps legumes cook faster.
Similarly, these kadve val / field beans are soaked, sprouted, peeled and are used for cooking. It takes a lot of time to peel individual beans hence in India many people tend to buy it sprouted and deskinned directly from the market. You may also get a pack of these sprouted and peeled beans at the supermarket.
Valache Birda / Field Beans Curry is one of the most nutritious legume curries. This is a vegan curry best paired with chapati, phulka, roti or steamed rice.
To make this curry, we start by making flavourful coconut & coriander paste that is spiced up with green chillies and garlic. This flavourful paste can be used in multiple vegetable preparations.
As we have used fresh coconut, this curry tends out to be slightly sweeter which balances the bitterness of the vaal / field beans.
To make Valache Birda / Dalimbi Usal / Field Beans Curry I have used:
Kadve Val / Field Beans: I have used 250 grams of sprouted and deskinned val / field beans. I normally purchase the sprouted one from the market.
Fresh Coconut: I have used freshly scraped coconut here. You may use dry coconut too but the taste would differ.
Coriander leaves (Cilantro): The addition of cilantro adds lots of flavour to this dish and gives that luscious green colour. I have used half a cup of coriander leaves for making this curry.
Herbs & Spices: Green chilies and garlic are the only two ingredients that are used to spice up this curry and make it flavourful.
Seasoning: I have used jaggery here as in traditional Maharashtrian cuisine use of jaggery is done more than sugar. But you may also use brown sugar or white sugar here.
Oil: I have used rice bran oil for making the tempering.
Water: For cooking the beans.
Let's see how to make dalimbi usal / valache birda / sprouted field beans curry in your home kitchen.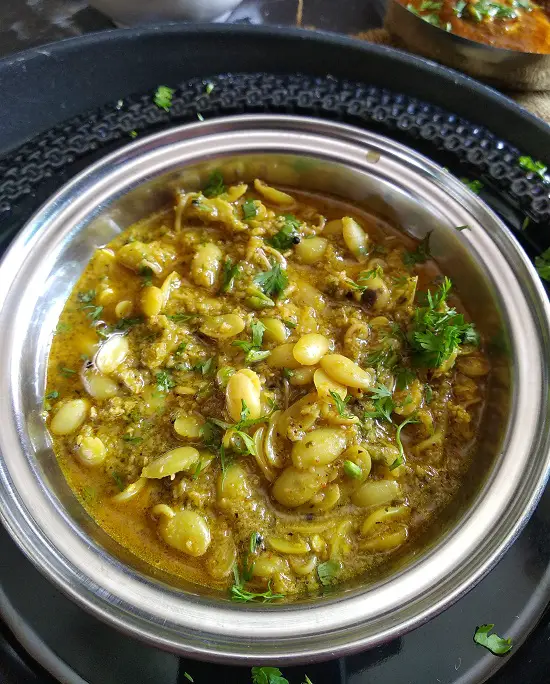 Serves: 3 Persons
Prep time: 15 minutes
Cook time: 15-20 minutes
Cooking level: Moderate
Taste: Spicy
2 cups Sprouted and Skinless Kadve Val (Field Beans)
1cup Fresh Scraped Coconut
1/2 cup Coriander Leaves
5-6 Garlic Cloves
4 Green Chillies
1 teaspoon Mustard Seeds
1/4th teaspoon Hing (Asafoetida)
1/2 teaspoon Turmeric Powder
2 teaspoon Gul / Jaggery OR 1 teaspoon Sugar
Salt to taste
Water for cooking the beans2 tablespoons Oil
First, let's start with making coconut & coriander paste.
In a blender, add freshly scrapped coconut followed by coriander leaves (cilantro), roughly cut green chillies, peeled garlic cloves. Without water blend it to a fine paste.
Our coconut masala is ready.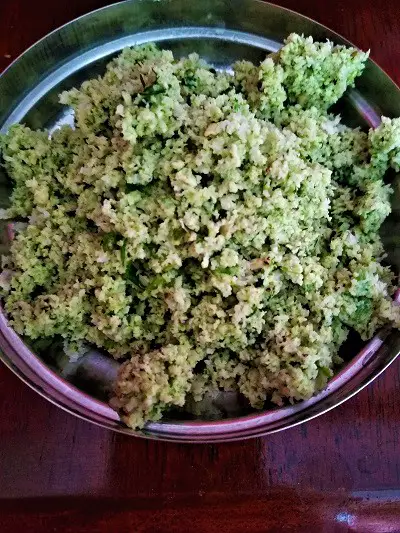 Let's start with making the curry now.
In a thick bottom saucepan heat 2 teaspoons of oil. Add mustard seeds and allow them to crackle. Add hing (asafoetida), and turmeric powder followed by coconut masala.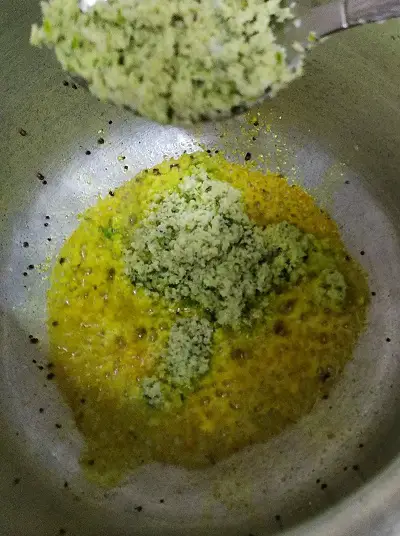 Saute this masala on a medium flame for 2 minutes.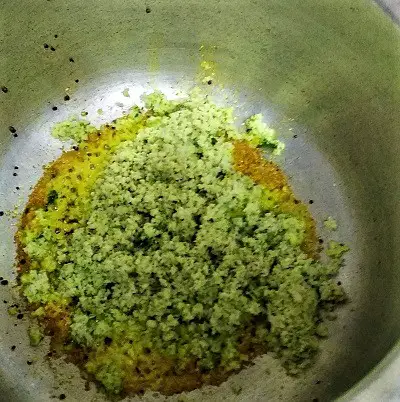 Now add the sprouted skinless vaal / field beans and mix all the ingredients well.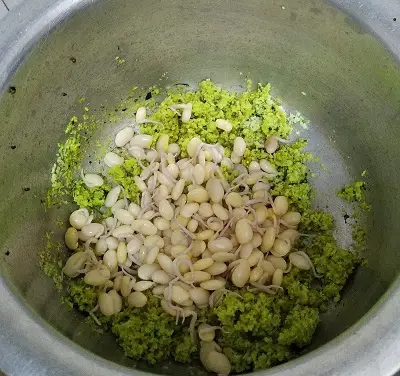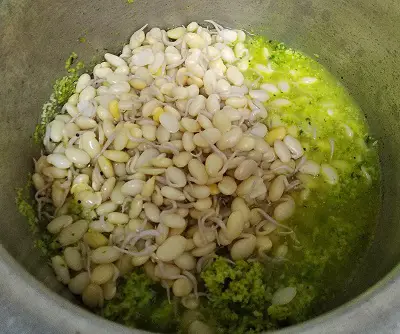 Add 2 cups of water to this masala along with salt, jaggery (or sugar).
Cover and cook the beans / vaal on a medium flame for 10-15minutes.
Add water as per your requirement for the gravy. Keep on stirring occasionally.
Cook till the beans / vaal gets nicely cooked.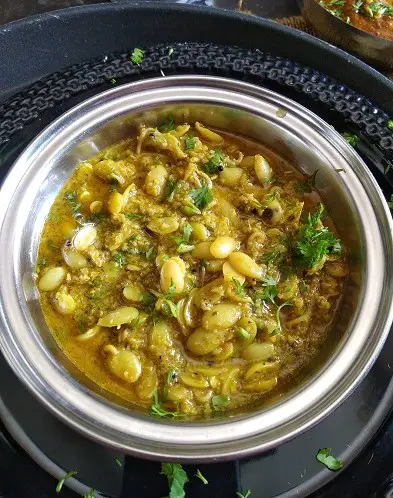 Vaalacha Bhirda / Vaalachi Usal / Dalimbi Usal / Sprouted Field Beans Curry is ready.
This sprout curry goes best with flatbreads and steamed rice.
In flatbreads it goes very well with chapati,roti or millet roti (bhakri) also its taste good with bread.
Note:
Instead of field beans / kadve vaal you may use any kind of sprout available but the taste will differ. I sometimes use green mung beans.
You may store the coconut masala in the refrigerator for about 4 days and use it when needed.
Thank you for stopping by, I would really love to know your thoughts on this recipe.
If you like this recipe or make this recipe do leave a comment and share the picture. I would love to see your creation.
If you like recipes like these, let's connect on Instagram & Facebook.
Use the hashtag #thespicycafemumbai to feature on Instagram and Facebook.
You can subscribe to my weekly newsletter to get more recipes, tips, and special updates directly in your mailbox.
For newbie bloggers: In case you are a beginner blogger, do check my other blog eralivine.com for tips on blogging especially for beginners.