This post contains affiliate links. As an Amazon Associate, I earn from qualifying purchases.
Chana masala is a popular Indian curry made using black chickpeas that are called Desi Kala Chana. This Kala chana is an Indian variety of Chickpeas. They are dark brown in colour and are smaller compared to normal chickpeas.
This chana masala is a delicious, protein-packed curry that is low in the glycemic index making it diabetic friendly dish. Served with roti, phulka or rice, this chana masala is a sure shot for delicious comfort food. This is a vegan, diabetic-friendly and nutritious Indian curry recipe.
Chana masala also called harbaryachi usal in Marathi is a quick and easy to make dish if you have boiled chana / harbara ready at hand. Black chickpea / desi chana is such a popular legume that is made almost in every household as well as in restaurants across India. There are a variety of ways in which this chana masala recipe is done depending on region to region.
This healthy legume is rich in protein, high in fiber, and has a good source of antioxidants along with vitamins & minerals. 
In India, this recipe varies from state to state. In the northern parts, this chana masala is made in onion tomato-based gravy and in the south, you will find it made in coconut-based gravy. Whatever may be the variation, it is one of the most loved legumes all across India.
We often make chana masala / harbaryachi usal at home for weeknight dinners. This one tops our list of favourite meatless Monday vegetarian recipes.
This curry is healthy, nutritious and delicious at the same time. We serve this with chapati, phulka and with cooked steamed rice. The dry version of this chana masala / harabara usal makes a perfect tiffin option along with roti.
Including legumes in everyday meals is a great way to get your daily intake of necessary nutrients.
This is how boiled harbara / chana/desi chana / black chickpeas look like
To make any pluses or legumes the main step is to soak them in water overnight or at least for 4-5 hours before cooking them. This helps in getting rid of bloating when consumed and helps legumes cook faster.
Traditional harbara usal/ chana masala recipes is made using an onion-tomato base along with a dash of ginger garlic paste which enhances the flavour of this dish. The recipe that I am sharing today is a personalized version. It's quite rustic unlike the traditional version of chana masala which includes tomatoes and cumin.
Black Chickpeas (Harbara / Kala chana): I soaked the chickpeas in water overnight for approximately 8-9 hours. It helps in cooking these legumes faster and avoids unnecessary bloating too.
Onion: Indian curries are incomplete without an onion tomato base. They impart a nice flavour to the dish and give a nice texture to the dish. However, I have skipped tomatoes here as per my personal choice.
Spices: Spices such as garam masala, and coriander powder are added to this curry.
Seasonings: I have added a teaspoon of sugar here to balance the taste of curry and salt to taste.
Water: To cook & adjust the consistency of the curry.
Oil: For tempering.
Let's see how to make Harbaryachi usal / Chana Masala / Kala chana masala with simple basic ingredients in your home kitchen.
1 Cup Harbara / Desi Chana / Black Chickpeas
1 Onion finely chopped
1 tsp Mustard seeds
1/4th tsp Hing (Asafoetida)
1/4th tsp Turmeric Powder
1 tsp Red Chilly Powder
1 tsp Coriander Powder
1 tsp Garam Masala Powder
1/2 Lemon (Optional)
 Coriander Leaves to garnish 
Pinch of  Sugar (Optional)
Salt to taste
2tbsp Oil 
Now before we start making this harbara usal / chana masala, we need to do some beforehand preparation of soaking this black chickpea in water overnight or at least for 4-5 hours.
Once soaked overnight, drain the water and wash the harbara / chana / chickpeas under running tap water.
Add 3 cups of water to the soaked chickpeas and pressure cook till 7-8 whistle.
They should be perfectly cooked and tender.
Tip: You can soak and boil chickpeas beforehand and store them in an airtight container and refrigerate them. They stay good for a week. Use them within a week when needed.
In a kadai / saue pan heat oil. Add mustard seeds and let them crackle.
Add hing (Asafoetida), turmeric powder and finely chopped onions. Saute the onions till they are translucent and cooked properly.
Now add coriander powder, garam masala powder, red chilli powder and mix well.
Add the cooked harbara / chickpeas along with salt, sugar.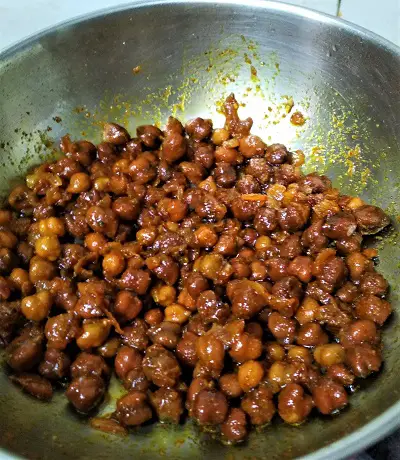 Add a cup of water (adjust the water as per the consistency you require).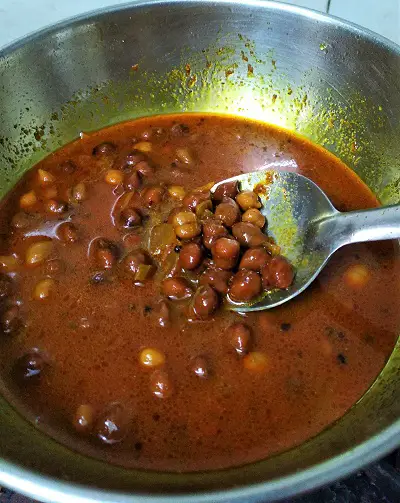 Cover the pan with a lid and let the chana / chickpeas cook on steam for 3-4minutes. Stir occasionally.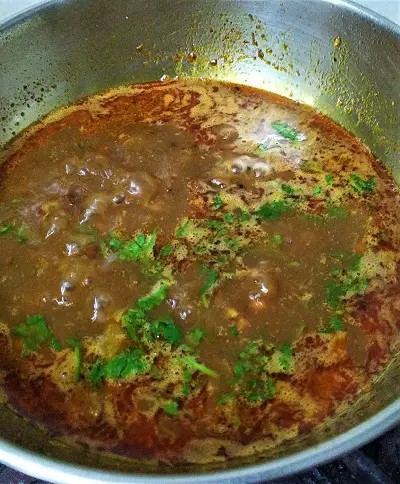 Harbaryachi Usal / Chana Masala is ready.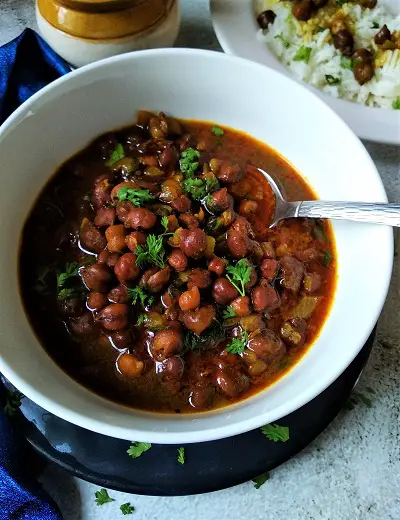 Garnish with coriander leaves and squeeze lemon over it. Serve hot with flatbread or rice.
This curry also goes well with a loaf of bread.
Note: 
Instead of black chickpeas, you may also use the normal garbanzo peas for this recipe.
I have not used tomatoes in this recipe, if you like, you can add finely chopped tomatoes along with onion and cook the masala till the tomatoes are tender.
I personally like to have a semi-dry version of this chana masala when serving with flatbread. If you want to make a semi-dry version just add 1/2 glass of water and you are good to go.
If you like recipes like these, let's connect on Youtube, Instagram & Facebook.
Thank you for stopping by, I would really love to know your thoughts on this recipe.
If you like this recipe or make this recipe do leave a comment and share the picture. I would love to see your creation.
Use the hashtag #thespicycafemumbai or #thespicycafeofficial to feature on Instagram and Facebook.
You can subscribe to my weekly newsletter to get more recipes, tips, and special updates directly in your mailbox.
For newbie bloggers: In case you are a beginner blogger, do check my other blog eralivine.com for tips on blogging