This post may contain affiliate links. As an Amazon Associate, I earn from qualifying purchases.
Pav bhaji is an iconic dish of Mumbai. A delicious blend of vegetables cooked in creamy butter using aromatic Pav Bhaji masala then served with a dollop of butter on top along with soft buttery toasted buns by the side! no wonder this dish is called "The King of Indian street food".
This popular Indian street food is served with a generous amount of butter topped with onion and tongue-tingling lemon juice. Pav Bhaji is hugely popular all across India. This fiery lip-smacking vegetable is perhaps one of the best ways to get your kids to eat their veggies!
At our home, we make this delicious veggie at least twice every fortnight. Being so super addictive it gets over in a jiffy. Making pav bhaji certainly needs pre-preparation, but being said that, it's very easy to make this delicious pav bhaji at home.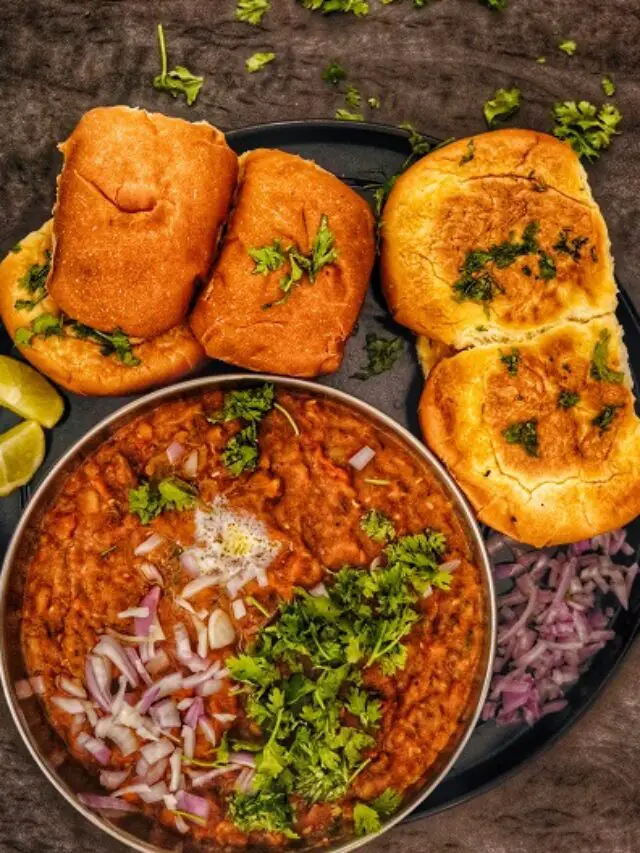 The base ingredients are normally the same at every street stall and in many homes. Basic masala of onion, tomato, and capsicum (green bell peppers) makes the base for this pav bhaji.
I often get asked what veggies do I normally put into making this pav bhaji?
The veggies that I personally use are onion, tomato, capsicum, potato, cauliflower and peas. These are the staple at my house.
Apart from these, let's see what other commonly used vegetables go perfectly in making this finger-licking delicious pav bhaji.
Related Street Food Recipes
Here is the list of veggies that can be added to making this tasty pav bhaji:
Onions – The base of this pav bhaji starts with onion and tomatoes. Finely chopped onions are used in making this pav bhaji. I always prefer red onions over white. They taste good and get nicely caramelized during cooking.
Tomatoes – Tomatoes are used extensively in making pav bhaji. Again tomatoes are the base vegetables that help to get that tangy flavour and that vivid red colour to this dish. Make sure you use dark red tomatoes in this preparation.
Capsicum (Green Bell Peppers) – Pav bhaji is basically smooth in texture and the addition of capsicum adds a nice crunch to this veggie. In India, however, basically, green bell peppers are used that are more savoury than their other counterparts such as yellow or red peppers. Make sure not to add too much red capsicum as it can sweeten the dish.
Potatoes – This is the most favoured base vegetable that the Street side vendors normally use. Potato is a hard veggie and blends very nicely with all the masalas. Being the most basic ingredient for this dish, potatoes are the number one veggie that is included in making this pav bhaji.
Cauliflower – Again being a hardy veggie, cauliflower imparts perfect flavour and texture to this dish. Normally street vendors avoid using cauliflower as they are quite expensive for a streetside budget. But at home, this is the most healthy veggie that one can add to oomph up the nutrient quotient.
Carrots – Carrots also go very well in this recipe. However, you need to make sure not to add too much of carrots as they can sweeten the pav bhaji which is the least anyone would want.
Beetroot – Some vegetables determine the red luscious colour of this fiery pav bhaji and that's when beetroot comes into action. Again you need to be very careful while adding beet as again it might sweeten the pav bhaji. Half a cup of beetroot would be sufficient to add to this recipe.
Green Peas – Green peas fresh or frozen can be used in making this recipe. They add nice texture and taste to this dish. When fresh peas are in season, always go for them instead of frozen ones. You might notice a little difference between both the two when used in this recipe. I always prefer fresh peas. I normally stock green peas in batches when they are in season and use them when needed.
Cabbage – I myself have never used it in making pav bhaji but I have tasted it once. Cabbage is very pungent, hence not many would go for this option. But in case you want to, you may try adding little cabbage to this preparation.
French Beans – Again I have never used this veggie in pav bhaji, but I surely intend to one day! The addition of this super-healthy beans sounds delicious. Last week I had pav bhaji at my friend's place and that was the first time that I discovered that she had put French beans in the bhaji. The taste was amazing, and now I am too eager to try these beans out next time I make my pav bhaji.
Plantain (Raw Banana) – In case you are not using potatoes, you may use plantain as the base vegetable. Plantains (Raw Banana) are not sweet when they are hard and raw. Hence choose carefully when picking out plantains. Do not use mushy or overripe plantain (Raw Banana) as they will make the dish sweet.
Apart from all these above-mentioned veggies, use any vegetables that you have in your refrigerator, usually try the hardy veggies. Pav Bhaji is perhaps the easiest way to use up all the vegetables that are sitting in your refrigerator for quite some time now!
Also, make sure not to opt out on potatoes, potato is the main vegetable here. Also to make a vegan pav bhaji, skip the butter and use oil instead or vegan butter for that matter.
Conclusion: No matter what the standards of making this vegetarian marvel, you can use any vegetables you choose as long as you are comfortable with the taste and texture.
If you like recipes like these, let's connect on Youtube, Instagram & Facebook. Thank you for stopping by, I would really love to know your thoughts on this recipe.
Also, do check out my Lifestyle Blog eralivine.com if interested.